Racecomp Engineering "Regular Guy" for GR Chassis
Finally, a performance spring designed with function over form is available for the latest Subaru Impreza STI. Incorporating the knowledge gained from designing a growing list of suspension and brake performance parts for the true track day and autocross enthusiast, Racecomp Engineering is proud to announce the latest addition to their line up. The Regular Guy Functional Lowering Springs for the 2008+ Subaru Impreza
STI are designed as the ultimate performance spring upgrade for the newly redesigned GR chassis.
Paying special attention to the completely new rear suspension design of the GR chassis, the Functional Lowering Springs provide a mild 5mm drop front and rear to maximize the extremely limited suspension travel available. Shorter bumpstops are included front and rear to take things one step further, resulting in more bump travel than stock. Rarely does an aftermarket spring set-up add suspension travel, but in this case it is a crucial design aspect that improves performance while helping to maintain a civil ride on the street.
Spring rates of 320 lbs/in front and rear are intended to work with the completely new rear suspension of the GR chassis, which has a lower motion ratio in the rear than previous Imprezas. In addition, the OEM dampers have been carefully examined on a shock dyno to match the new spring rates to the dampers.
Racecomp Engineering's goal was to help cure the crippling understeer that adds to lap times at the track and autocross course. Studying the design of the new GR suspension, a new performance spring has been produced that adds to available bump travel, matches the excellent OEM dampers, and works in conjunction with the new rear motion ratio. The result is a car that handles extremely well from corner entry to corner exit.
Continuing the "Regular Guy" theme from previous Racecomp designs, the springs are colored black for a low key look. Coupled with the minimal drop, most people would be hard pressed to find anything different from stock….until the road curves.
Specfications:
5mm drop front and rear
320 lb/in front and rear
Shortened bump stops included front and rear (12mm shorter front, 18mm shorter rear)
Retail-$425
$395
'04+STI, WRX and wagon springs available('02-03 fitment with '04+ rear topats)
Racecomp Engineering
Yellows-$375
Blacks-$375
Wagons-$375
GTWorx Camberplates
GTWorx are the same as the pics but painted black.
'08 STI, WRX and Legacy front-in stock
'02-07 GD Chassis front and rear-in stock
H&R Coilsprings for '08+ STI
1''drop frt/rr.
I installed a set in an '09 STI and the rideheight looked awesome and it was very comfortable, works well with the stock dampers.
Retail-$399
$385
Function:
• Infinitely adjustable within german TUEV-tested adjustment parameters
• Shortened struts for increased spring travel
• Trapezoidal threads for simple height adjustment
• Three different damping technologies for individual adjustment
• Elastomer bump stops with integrated dust boot protection
• Easy to read documentation
• Ready to use comprehensive solutions
• Visually perfect – safe and unique motion dynamics
Quality:
• Strut housings in inox-line stainless steel technology
• Anodized aluminum spring collars and add-on pieces
• High-quality, high-tensile racing springs
• Special ventilation and sealing system
• High-quality damping components
• Hardened, chromium-plated piston rods
• Special guide and sealing systems
• Pistons with V-shaped Teflon seals – optimal sealing with minimal friction – temperature-resistant, durable damping technology
'05+STI and '08 STI and WRX in stock
PM me for special pricing
Whiteline Suspension
'08+ STI, WRX, Legacy, and New Look Forester
Front/rear swaybars
BSF30Z-22mm adj. frt
BSF30XZ-24mm adj. frt
BSF35Z-22mm adj. frt
BSF39Z-22mm adj. frt
BSF39XZ-24mm adj. frt
BSR49Z-20mm adj. rr
BSR49XZ-22mm adj. rr
Front and rear endlinks
KLC39-front adj.
KLC044-rear adj.
KLC066-rear adj.
Max-C race upper camberplates
Front upper strutbars
Lower 4 pt stressbars
Front roll center kits
Anti-lift kits-Race and comfort
Rack bushing
Rear diff. inserts and subframe lock bushings
04+ STi, 02+WRX, 2.5I sedan and wagon
Whiteline fixed front camber/casterplates
Front/rear swaybars
Front and rear endlinks
Roll center kits
ALK-race and comfort
Front/rear upper strutbars
Rack bushings
Rear subframe locking bolts
PM or call me for discount pricing
I have access to Bilstein, H&R, Eibach and Koni
Pm or call with your suspension questions
'04-09 STI-DTC 30, HP+ and HPS
HB453W.585 Hawk Brake Pads
HB180W.560 Hawk Brake Pad
HB453N.585 Hawk Brake Pad
HB180N.560 Hawk Brake Pad
HB453F.585 Hawk Brake Pad
HB180F.560 Hawk Brake Pad
'02-07 WRX-HPS and HP+
HB352F.665 Hawk Brake Pad
HB434F.543 Hawk Brake Pad
HB432F.661 Hawk Brake Pad
HB452F.545 Hawk Brake Pad
HB178F.564 Hawk Brake Pad
HB179F.630 Hawk Brake Pad
HB432N.661 Hawk Brake Pad
HB452N.545 Hawk Brake Pad
HB178N.564 Hawk Brake Pad
HB179N.630 Hawk Brake Pad
DBA Standard Slotted Rotors
STI-'04
654SL DBA Brake Rotor
654SR DBA Brake Rotor
655SL DBA Brake Rotor
655SR DBA Brake Rotor
WRX-'02-07
650SL DBA Brake Rotor
650SR DBA Brake Rotor
644SL DBA Brake Rotor
644SR DBA Brake Rotor
653SL DBA Brake Rotor
653SR DBA Brake Rotor
DBA 4000 Slotted Rotors
'02-07 WRX('06-07 rears only)
4650SL DBA Brake Rotor
4650SR DBA Brake Rotor
4653SL DBA Brake Rotor
4653SR DBA Brake Rotor
'05+ STI DBA 4000 slotted
42654SL DBA Brake Rotor
42654SR DBA Brake Rotor
42655SL DBA Brake Rotor
42655SR DBA Brake Roto
r
05+ Legacy GT Front DBA slotted
42650SL DBA Brake Rotor
42650SR DBA Brake Rotor
DBA 5000 Slotted Rotors
'05+ STI(frt)-
5654SLR DBA Brake Rotor
PM or call me for brake pad and rotor pricing
Prodrive Big Brake Kit-'02-07 WRX, Legacy and 2.5I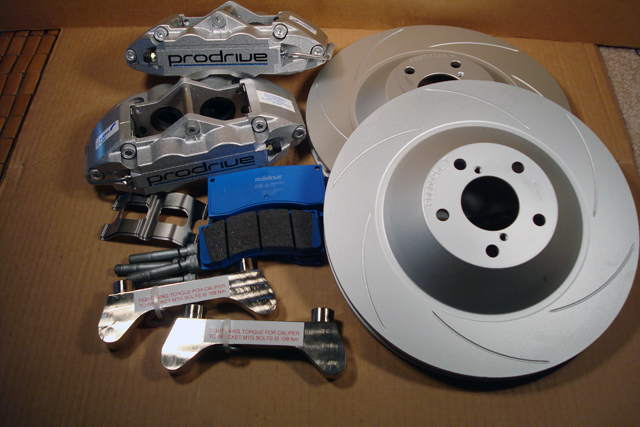 This kit features upgraded discs, calipers and pads for maximum braking performance.
4-piston front calipers are machined from lightweight aluminum to minimize unsprung weight.
330mm slotted discs featuring 48 curved vanes for greater cooling capacity.
Kits come with SBS brake pads chosen to complement the characteristics of the discs to offer greater stopping power and fade resistance without compromising cold braking performance.
This kit is manufactured by Alcon for Prodrive.
Availability: Fits the front of 5 x 100 Subaru's.
PM or call me for pricing
Steel braided brake hoses(all models)-$120set
ATE brake fluid(Blue and Clear)-$22/ltr
.