Quote:
Originally Posted by
beaviscih
While I recently completed an EJ20G swap into my '98L I'm picking up another EJ20G (couldn't pass up the deal...
http://forums.nasioc.com/forums/show....php?t=1854408
). This will be my first engine tear down / rebuild. Goals are pretty simple, a fresh engine that I'm comfortable pushing the boost to 20-22psi. Budget is under $2k (I will do all the work excluding porting/polishing). Before I dive off in this I would appreciate some suggestions / opinions (I know - that's asking for trouble ). Here is what I'm thinking...
EJ20K Heads - just stock, no porting, possible deal pending
Forged Pistons - what type? Can I use these?
http://forums.nasioc.com/forums/show...hlight=pistons
ACL Bearings - still looking for the part number
EJ20G Head Gaskets - (I'm having trouble finding the part number in the system - but still looking)
ARP Head Studs - need to find the part number
TDO5 Turbo - send it off for a port/polish
USDM Oil Pump - ported
DW 650cc Injectors - from my EJ20G
Ider Pulleys / Belts / Seals / Gaskets - Duh
LinkG4 Ver1-6 EM (currently running my EJ20G)
Anything else I'm Missing?
Thanks in advance.
Matt M has some pistons that he said will work for the block, though you might be able to use the ones you have and just use new rings:
http://www.japanparts.com/db/partsli...=034-026-12033
You can also make a #3 thrust on the crank (maybe it was USDM crank mentioned though I thought it was the phase 1 crank mentioned) and use USDM Forged Pistons.
I saw a complete and I mean complete gasket set from a UK seller, though Rallitek has Gaskets for the EJ20K Heads.
Bearings Part Numbers and Makes=http://www.aclperformance.com.au/SubaruEJ20G.htm
Head Studs I'm almost positive are: 260-4701 used for EJ20/EJ22/EJ25/etc. engines
Head porting with the heads I have will net you as much or more flow than EJ207 heads which are considered the best heads out there so that'll be a major upgrade.
Maybe go with an 18G since it will net some major gains over the ported TDO5 or even a big 16G, while not being much different in terms of spool/lag. You can find a solid used 18G for $400-$500 or buy a new Evo III Big 16G from Blouch for I believe $650 right now.
Maybe some DW 790's since they are really cheap and practically a trade for the 650's you have. Larger never hurts.
Some photos of the closed block I was telling you about in case you wanted a freshly pulled one to work on along with freshly pulled heads
.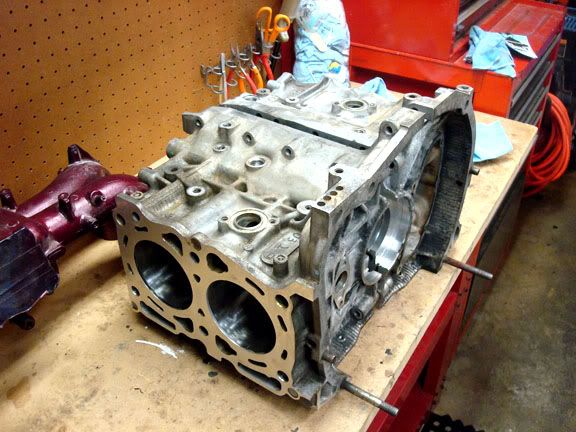 Hopefully others will be in here for assistance, though Matt is definitely a guy of great knowledge in this arena as is Marnix.