156,xxx miles, 5spd, tow package, AC, interior 9/10, exterior 8-9/10.
VIN: 4S3BK6755X6316685
asking 5,200
Car has been really well taken care of. Tranny shifts like butter. There's one dent that took off paint on the passenger side door, other than that, no rust! I believe it was a California car because there's a CA stamp on the manual. Wheels do not have a scratch on them! For the price I have an extra set of gold snowflake wheels I'll include as a winter set. Inspected until 3/10.
Car was overheating when I picked it up. The previous owner had the Water pump, thermostat, radiator cap, timing belt, tensioner and all pulleys replaced. It still overheated so I knew it had to be the head gaskets. I had the head gaskets, crank and cam seals, oil separator plate, valve cover set, water pump o-rings and o-ring behind the oil pump replaced. Heads were also decked, and subaru coolant was added. Have receipts for all parts.
I have driven it all the way to philly and back and have had no issues. I believe there is a small leak from the power steering pump, may end up getting to fix it since it wont be too hard. Also the sunroof needs help to open and close. The track may just need to be taken apart and greased.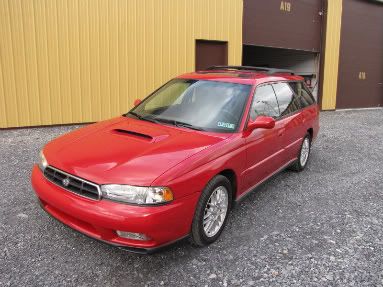 More pics at
http://s216.photobucket.com/albums/c...mr5225/Legacy/
Can reach me best by pm or e-mail at
[email protected]
Located in Mount Joy, PA 17552