hello my fellow Subaru lovers. i have been with the Brand for almost a decade now, but it's time to move on and i'm selling my Race Car.
The Car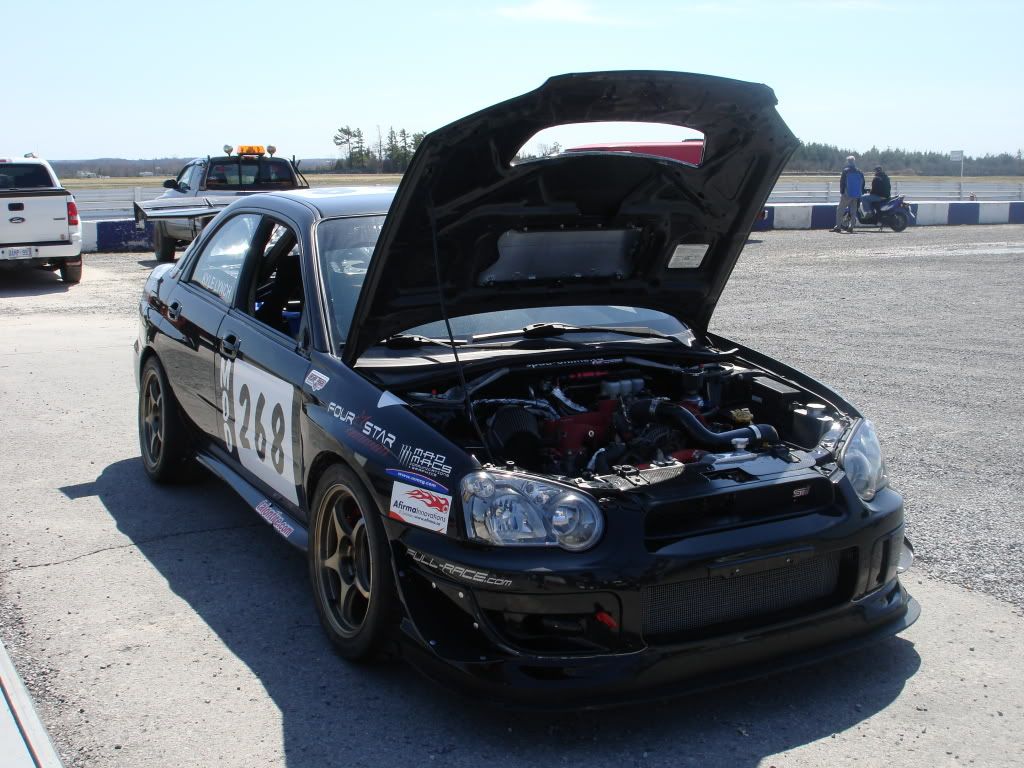 Engine
* 2.5L STi Sleeved Block
* CP pistons
* Pauter Rods
* 12mm ARP studs
* almost completely helicoiled block
* 12mm oil pump modified
* Kelford ex-276/10.7mm int-278/11.3mm cams
* +1mm int/ex Ferrea Racing valves
* Ceramic coated pistons/sides anti friction
* Ceramic coated combustion chamber, exhaust ports & valves
* Race bearings
* Full-Race GT3076 Complete kit with intercooler with HPC coating
* Custom high heat DEI titanium turbo blanket
* One off Moroso Oil pan
* Trust Titanium Exhaust
* Autronic SM4 ECU
* DBW controller
* Koyo Big Rad
* HUGE Engine oil cooler
* Element competition catch can
* Custom 3.5l Swirl pot
* UR fuel rails
* 800cc injectors
* Bocsh 044 and Walbro 255 fuel pump
* 90l modified OEM fuel tank
* VP Race MS109 race gas
Handling
* Hotbits DT 2way adjustable coilovers with external canisters
* 10kg fronts - 9kg rear springs with 8,7,6 kg springs
* Cusco rear trailing arms and lateral links
* Whiteline race ALK
* 6 gun racing ball joint extenders
* re-located rear lateral links
* Welded or pillow ball bushings all over
* Rev Labs racing quick rack
* Subaru spec-c Power steering cooler
* GT Spec H-Brace
Drivelin
* Cusco RS rear dif
* DLS stage 5 rear axles and hubs
* 05 bearing swap front hubs
* Hardened or pillow ball bushings all over
* Excedy Triple Carbon Clutch
* Cusco hardened motor and drive line mounts
* Carbon fiber drive shaft
Interior/Safety
* Ronnie O'Brian roll cage - world challenge spec (all 4 suspension points) meets and exceeds CASC rules
* Completely stripped and gutted
* Lexan rear window
* OMP RS-P.T. seat
* OMP TARGA steering wheel
* Sparco 6 point Hans belts
* Defi Gauges (boost, egt, oil temp & pres, water temp)
* WC LATHE WERKS OMP style shift knob
* OMP fire extinguisher w/ external pull
* Innovative AFR with Gauge
* external power cut switch
* All-view rear view mirror
* Flocked dashboard
Exterior
* JDM front bumper
* Custom front splitter
* Voltex type-V rear wing
* Modified OEM hood
* WRX white hood scoop
* Chargespeed Canards
Brakes
* Ap racing brakes
* Ferodo ds3000 brake pads
* Tilton 3-Pedal Floor-mount pedal assembly - 600s
* SS lines
Wheels and Tires
* 17x9 Enkei RFP1
* 17x9 5Zigen FN01R-C Hot
* 255/40/17 Toyo R888 75% left
* 255/40/17 Pirelli p zero corsa 100% left
Spares
* OEM trunk with STI spoiler
* OEM front bumper
* OEM full brakes
The car has been maintained with out regard of cost. All oils have been changed very regular if not after every race weekend. The engine has just been rebuilt putting in 4 new pistons, rods and race bearings so there will only be dyno break in miles on the short block. The transmission was completely torn down and build with all new gears, sliders, syncros and it's even smother then the day i bought it as Subaru has new superseding parts.
All most all of my work has been done by Frank Sprongl Four Star Motorsports Four Star Motorsports: and has put 1000's of hours into this car and it shows. The car is putting down 425-450 WHP (depeding on how much you push it) with VP racing MS109 Race gas. The car is very fast, and has a wicked pull! For the 2009 season i was able to do constant 1:30-31 with 255/40/17 R888 in traffic at Mosport Internation Raceway with a best time 1:28.8.
here are some videos i've made:
kyle lynch on Vimeo
there has been only one incident with with car where the back quarter panel was hit, we bent only one lateral link and slight body damage. All have been repaired.
The car will be sold as is and with out any warranty and i can arrange world wide shipping.
Viewing can be made by appointment only. Car is located 45min west of Toronto, Canada.
SERIOUS BUYERS ONLY! NO PART OUTS!
asking Price $45,000 USD
thank you for viewing