No love for the DOM 2?
I'm running the DOM 2.0 which is the same as a DOM 3.0, but it's not ball bearing. It is a 52 lb/min turbo. It is on my built (short block, stock EJ255 heads) motor. I was tuned this summer and on e85, at 21.5 psi, I made 373 whp on a mustang dyno with an ambient temperature of 107 degrees (AZ summer FTL). When it hits, it hits HARD.
The spool is not bad, especially with the 6spd. I was at ~20psi by 4000 RPM.
If you find one for a good deal, I would definitely recommend it, but if you're looking new, then pay a bit more and get the DOM 3 with the ball bearings as it is a more robust turbo.
Also, don't forget that there are a lot of things that can aid spool. You can EASILY reduce spool RPM by coating/wrapping (or both
) your headers, uppipe and compressor housing. Porting in these areas will help a lot too. I've seen spool decreases of 200+RPM by retaining this heat in the exhaust system. I have not done this yet, but I will be doing it soon.
EDIT: My dyno graph. The scale is all wonky and the dyno's boost gauge is off (reported a max of 20.8, but other tools measured 21.5 psi). Anyway, the green curve is the boost and it was right around 19.9 to 20 psi at ~4K rpm. I need to get a better plot.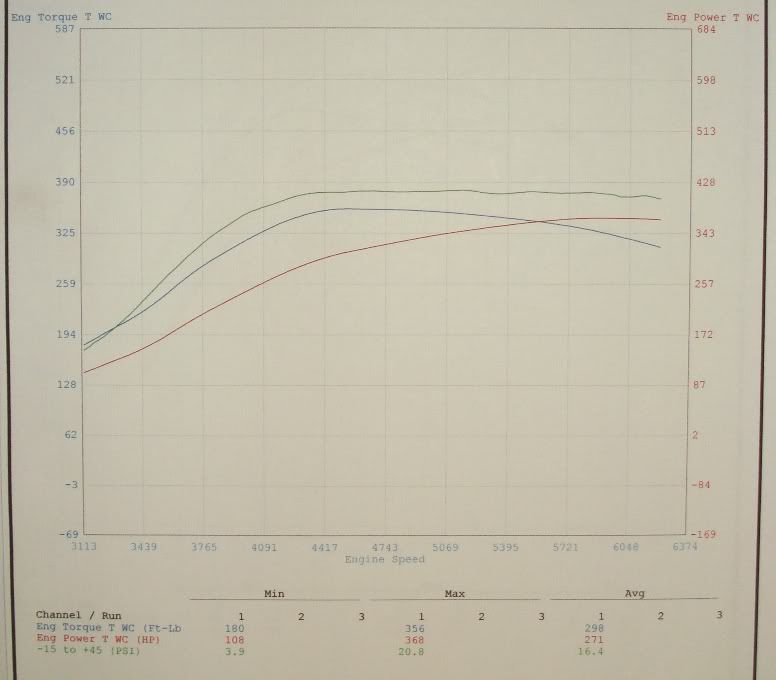 Better plot without boost: