More new goodies for the install
Coilovers installed and installing the MSI rear sub frame. Installing the rear subframe requires removing the rear spare tire bracket and minor modification of the rear gas tank.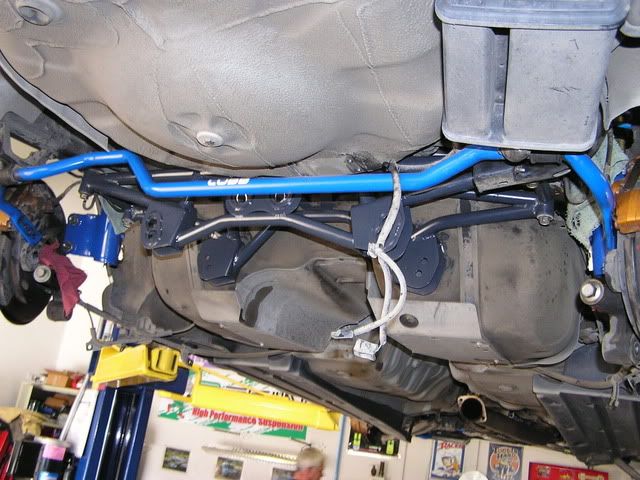 Rear subframe installed with MSI rear lateral links. With the car being decently low we opted to use the upper mounting points on the sub frame. If you car is near stock ride height you might want to use the lower mounting points.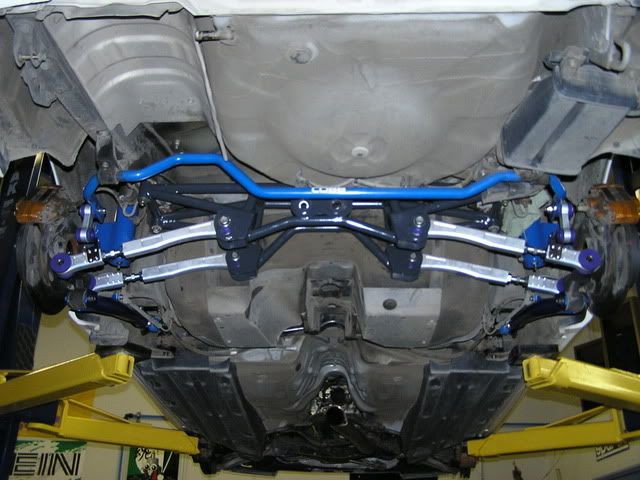 Cusco rear trailing arms installed
Rear end almost all the way done
Car back on the ground and ready for fun.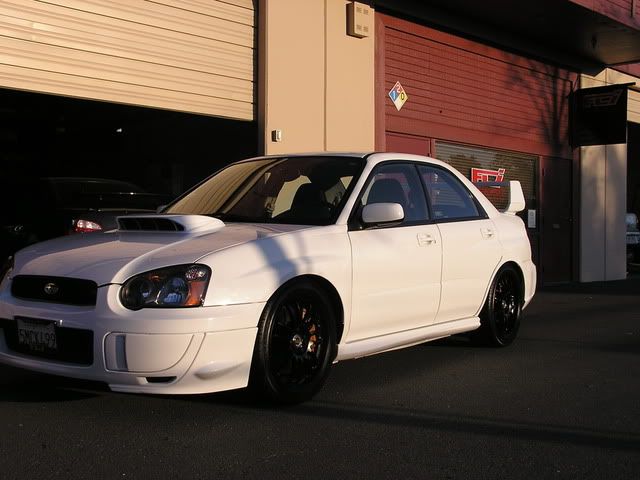 Overall the change in the car from Tein Flex coilovers and COBB sway bars to this was nothing short of amazing. The car is solid and very planted in the corners with only a hint of over steer on corner exit if you really have your foot planted. With the DMS 50mm coilovers dialed down street driving is not bad at all either only a touch firmer then some of the RCE Tarmac 2 we have put on in the past. The only down side to the car is the rear diff noise which can drone at free way speeds but that was to be expected.
The addition of the MSI rear subframe really helps stiffen up the rear end of the car dramatically. Short of seam welding and a roll cage I do not think there is a better way to stiffen the rear of your car. I am very happy with the way the car performs overall and am looking forward to some more track sessions where I can fine tune the suspension for even better handling.
05 STI
Engine
ATP GT30
APS FMIC
APS fuel rails
PE 850cc inj
APS TBE
Tomei Headers
COBB AP ver2 with FLI protune
Suspension:
DMS 50mm Tarmac coilovers
COBB front and rear sway bars
MSI front and rear endlinks
MSI rear sub frame
MSI lateral links
MSI Anti lift kit
Cusco trailing arms
Powerflex steering rack bshings
Powerflex rear beam mount bushings
Powerflex front control arm bushings
Carbontectics rear LSD
Alignment Specs
Front camber -3
Rear camber -2
Toe out front and rear
For more info on this carat the Hoopa Hill Climbcheck out our blog at
http://fliblog.wordpress.com/2009/08...ll-climb-2009/
and for the Stage 4 power package look here.
http://fliblog.wordpress.com/2008/12/10/985/
If you have any questions about anything you have seen please ask.
Ryan
Fine Line Imports
www.finelineimports.net
http://fliblog.wordpress.com/