For sale is a brand new Whiteline Roll Center Adjustment kit (KCA313) bought for my 2007 STI but no longer interested in installing it because of Auto-x rules.
Seen here, brand new in box: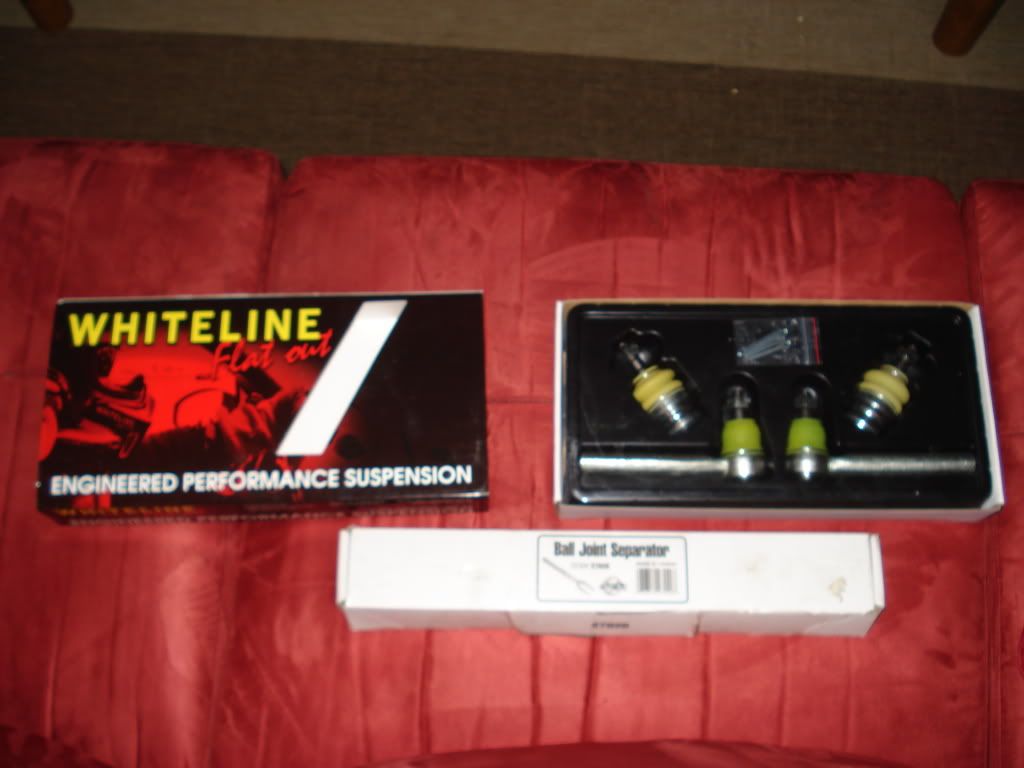 Also comes with ball joint separator needed for install. This kit was issued after the recall and is the newest version available.
$190 + shipping obo
"Roll Center Kit incorporates 2 x steering arm tie rod ends and 2 x ball joints and is designed to raise front roll-center geometry after lowering the vehicle with Control springs and also improve on the original bump-steer geometry. Changing front suspension geometry by raising roll-center, results in substantial increase to roll resistance and significant reduction of suspension compression of outside front wheel during cornering through improved weight transfer distribution. While bump steer correction via extended tie rods, aids in minimizing steering angle input during suspension articulation.
Lowering the ride height of your Subaru Impreza WRX & STi is can be a very effective modification, enhancing handling by creating a lower vehicle center of gravity and giving the car an aggressive look by minimizing wheel gap. Unfortunately, once the stock ride height has been altered, the front end roll-center is modified as well, which can actually make your car handle worse than stock when carving out those deep corners. The suspension gurus at Whiteline have developed the perfect cure to this ailment, the Whiteline roll-center kit.
The Whiteline Impreza WRX & STi roll-center kit, also called the ROCK kit, realigns the suspension geometry of your lowered Subaru, raising the front roll-center and creating a substantial increase in front roll resistance and a significant reduction in suspension compression on the outside of the front wheels during cornering. While it may not sound like much, the advantages to this theory are drastic. The Whiteline ROCK kit for the Subaru WRX & STi will improve front end weight distribution, maintain a better camber angle and ultimately improve front end grip. You will also experience a reduction in understeer as well as improved steering feel, precision and overall vehicle stability. A great modification for a stock WRX/STi, but an absolute must if your car is running with a lowered ride height.
Bump-Steer Kit: Another negative side effect of lowering your car can be the induction of bump-steer. Bump-steer is the concept of bumps or imperfections in the road causing a car to steer off-track on its own, without any driver input. This is described by many Subaru drivers as needing constant direction correction when steering over a bump. This annoying and sometimes even dangerous effect is the result of poor suspension geometry when a vehicle is lowered below factory specs. Many WRX & STi owners simply learn to live with this issue, but that is no longer necessary. Whiteline has developed their WRX & STi specific tie rod replacement, known as the bump-steer correction kit. The Whiteline bump-steer correction kit extends the factory front end tie-rods to keep the axles at nearly the same distance from the frame at the steering box, eliminating axle tilt and subsequently curing bump-steer. This kit is specifically designed to work in conjunction with the Whiteline roll-center kit and is highly recommended for any and all lowered cars especially those that see daily or any street driving. Whiteline includes their bump-steer kit in every WRX/STi roll-center kit for the perfect totaly suspension solution."