We are having a special on ALL Buddy Club Coilovers!
For this month only, you can get
Genuine Japanese coilovers
(from a reputable Brand) for a little bit more than the cheaper alternatives!
D1 spec
-
PM for price, too low to advertise!
D1 SPEC DAMPER from Buddy Club is the choice complete suspension setup with resemblance of the RACING SPEC damper's excellent attributes. It is cost effective and is well rounded for the budget minded weekend club racer. With optional urethane isolated aluminum upper mount design, engineered spring rates, 15 level damper adjustability, and ride height adjustment capabilities, the D1 SPEC DAMPER can accommodate any driver's preferences.
1. Ride-Height Adjustable
2. 15 Level Adjustment
3. Mono-Tube type shell case
4. Exclusive Buddy Club Springs
5. Beautifully Finished
6. Specialized Pillow-Upper Mount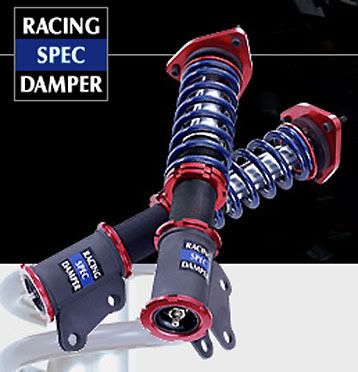 Racing Spec
-
PM for price, too low to advertise!


The Racing Spec Damper Kit is a high performance sports suspension kit designed by engineers using a vast quantity of data that Buddy Club has accumulated in the past 15 years using its high performance aluminum damper (ie. spec 30.1 Racing Damper) on various racing cars and tuned cars, focused more on the proper damper size, spring rate, dampening, stroke length for customer's use in winding roads and race tracks
1. Adjustment bracket
2. 15 Level Adjustment
3. Single tube type shell case
4. Specialized Pillow-Upper Mount
5. Spring seat / lock seat
6. Original spring
7. Inverted front shocks!
For more information, please visit our website:
Sonic Motor - Power and Performance
If you have any questions or concerns, please PM or post.
Our Address:
315 Cloverleaf DR STE C
Baldwin Park, CA 91706
626-363-9036
Email:
[email protected]
Aim: carparthookup
I'm online during regular business hours.
Open Regular Business Hours
Mon-Friday
9am-6pm
Sat.
9am-3pm
Sun.
Closed