Here's whats going on: I don't have what you would call a tremendous amount of storage space around here. So, what happens is tons of stuff gets kept at my house, and more specifically, and most often, my bedroom!! Just lot's of random things seem to collect in there. But after stopping and trying to take stock of all this last night, I ran out of time, slept on my couch, and woke up to this, this morning in my bedroom:
Yes, that is my bed under there and I'd like to sleep in it again!! And aside from my room stuff seems to migrate everywhere in my house!!! Here's my patio: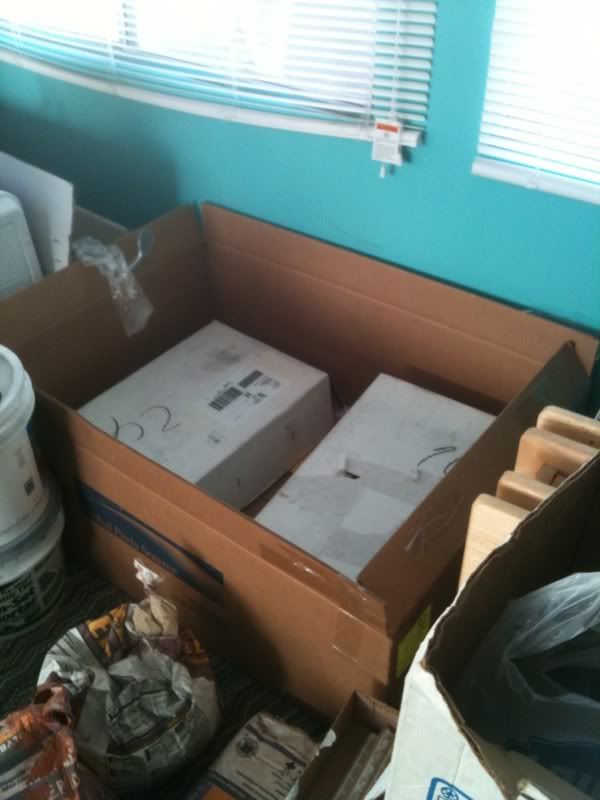 Tons of Misc. Whiteline stuff everywhere
SO........What I'm getting at here, is I'd like for all of it to be gone!!! Especially before the end of the year, as in the beginning of next year I need to make big orders of stuff for new inventory, but also need somewhere for everything to go (NEATLY)!!!!
What I'm going to do: So what I'm going to do is make you folks a list of whats here. Like I said it's all somewhat sort of random and Misc. products, you pick what you want, buy it, and I send it to you, and yay everyone's happy!!
Pricing:
For everything will be what is called "MAP" or "minimum advertised price". Basically what that means, it's the lowest price I'm allowed by the manufactures to sell their products for.
But.......There will be exceptions on a few things!! There are some things that are open box (well technically package). These are mainly things that I've used for display at events at my booth, repacked and now obviously must sell for less since the packing has been opened. For this things you will have to call or PM. I hate doing things that way but just for this sale that's the way it will need to be. And it's only for a few things anyway!
Shipping etc.....:
There's no etc.... Prices posted are total "out the door" delivered to your door prices!!

But I saw it for less at (insert name's) website???:
Well then their violating "MAP", and being naughty!! Eventually, their going to get in trouble with manufacturer. And you don't want to buy things from naughty people right?? (Especially before X mas, remember Santa is watching LOL!!!)
So, on with the list of things that really, really, need to go!!
The list...
WHITELINE STUF
F
Swaybars:
BSR49XZ-22mm Adj.front/Fits 08-2010 STI- (open box, call/pm)
BSF39Z-22mm Adj. rear/Fits 08-2010 STi (open box, call/pm)
BSF36Z-22mm Adj, front/Fits 04-07 STi (open box, call/pm)
Anti lift kits:
KCA319A-Sport bushings/Fit's 94-01 Impreza "GC body" Impreza and older Legacy's ($205)
KCA359-Sport bushings/Fit's 02-07 WRX/STi ($240)
Endlinks:
KLC26-Solid rear/Fit's 02-07 WRX ($128)
KLC39-Spherical Adj. front/Fits 04-2010 STi ($138) "I have two sets of these"
KLC38-Spherical Adj. front/Fits 02-07 WRX ($138)

Misc. cool stuff:
KSB751 diff/outrigger bushings/Fits all Impreza's 02-07 ($36) "I have 2 sets of these"
KSR206 steering rack bushings/Fits 05-07 WRX/STI ($63)
KCA335 offset mount camber/caster Adj. mounts front (think group N but with some alignment adjustment) ($180)
BRAKE STUFF

Hawk Pads:
HB180N.560-HP Plus/Fits-04-07 STi rear brembo calipers ($102)
HB179N.630 HP Plus/Fits- WRX 06-07 rear ($102)
HB178N.564 HP Plus/Fits WRX 06-07 Front ($116)
HB179F.630 HPS/Fits WRX 06-07 rears ($79)
HB178F.564 HPS/Fits 06-07 WRX Front ($88)
Stoptech Lines
:
950.47501/Fits WRX 02-07 Rear ($75)
RCE Stuff:
RCE "Black" "normal guy" springs for GR chassis 08-2010 STI. ($359) "These springs are so awesome for the GR!! Somebody really needs to buy these already!! I have two set's of these. I need to order a rear spring for one set though (thanks a bunch UPS!!! ) The other set is ready to go!!
So there it is!! That stuff is all here, and needs to get gone already LOL!! I can probably have these things in the mail for you the same day you order (so their going to get there pretty quick)!! Or if your really eager, you can drop by and pick stuff up!!
If you folks have any questions on specifics about what anything is or does, or where it goes or anything just post your question in this thread, so I can answer it and everyone can see the answer.
And Finally......
As things are purchased or ordered (when I get money for them) I will remove them from the list. When the list is empty (or almost at least) I'll close the thread. (So this thing outta be closed by tomorrow night right folks??LOL!!!)
To buy stuff, Send money to
[email protected]
paypal account for the amount listed, and just let me know what it is your sending me money for in the notes, along with the address where it's going As soon as I recieve payment I'll e-mail you a Purchase order along with a tracking number as soon as one is developed!
Thanks much everyone!!
-Anthony
818-395-9342