EVERYTHING IS SOLD
Hey guys, I'm going back to stock so I have a few items for sale.

FS: STANCE GR+ Coilovers
-Approximately 17,XXX miles on them
-15 way dampening/stiffness adjustable
-Pillowball camber adjustable mounts on all fours (fronts and rears)
-Inverted monotube design
-I have both the WRX (5x100) and STI (5x114.3) hub attachments so they can fit either model.
-I believe they fit 2002 - 2007 models. Please correct me if i'm wrong. They were on my 04 WRX.
-Never been abused...I never took them on the track, autocross, rally, drag, or racing, just been used for daily driving.
The coilovers are still in really good condition. The only problem is the passenger front coilover adjustable dampening knob came off, so you cant adjust dampening on it. It is currently set at 7, right in the middle. I am selling them as is, so you can have it fixed/rebuilt if you want, but other than that, everything is in perfectly good working condition.
Asking Price: $600
This is a very reasonable price so please no low-ballers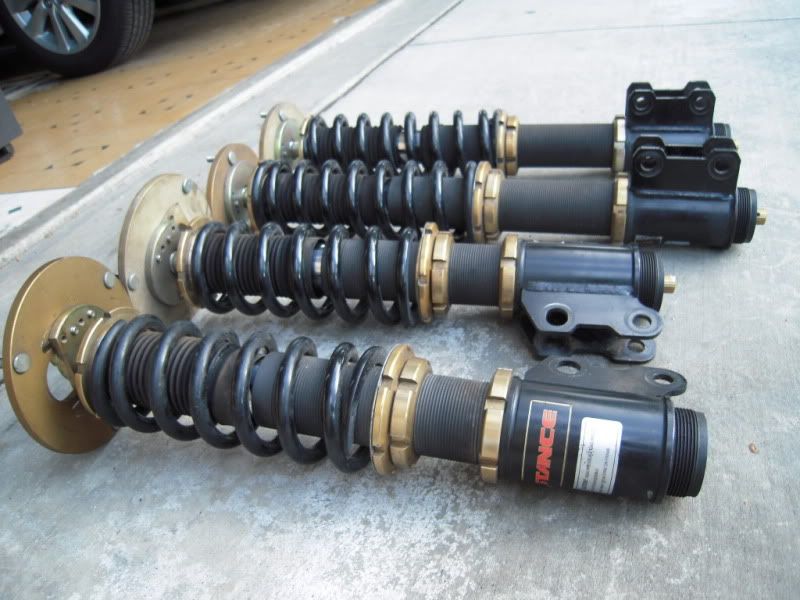 Kyowa Rims

-Black with a red lip
-18x8 fronts and 18x9's in the rear with offset +35
-Two of them have a 3.5" forged lip for a staggered look
-Two of the wheels includes tires: Dunlop Direzza DZ101 225/40/18
-The other two wheels have tires, but they are no good and needs to be replaced
-Good condition, but there is a slight curb rash on two of the wheels lip. No major dent, just paint chip
Asking Price: $600
Here are pictures of the two with the forged lip and tires. The other two are the exact same design minus the forged lip.
Wheel Mate Lug Nuts
I also have black close-end aftermarket lug nuts for the rims too. They come with 20 lug nuts and the key.
Asking price: $10
Here is my WRX with everything installed.