iam selling my tv setup to get a 50''. i have the receipt when i bought it from bestbuy and the original box. i didnt use the tv much because i spent a majority of my time out to sea. my lose is your gain. i paid over 2k for the tv and stand together. 2111.19 to be exact. tv is flawless in every aspect possible. picture quality is just unreal. a true HDTV.
contact brian *****757-362-4731*****
you get the hd tv
sony stand
original receipt and original box
also willing to sell my entertainment system for an aditional $500. paid 1700 for it 5 years ago it the SONY SAVA-D900 look it up if you want more info. it rocks the house with surround
some pics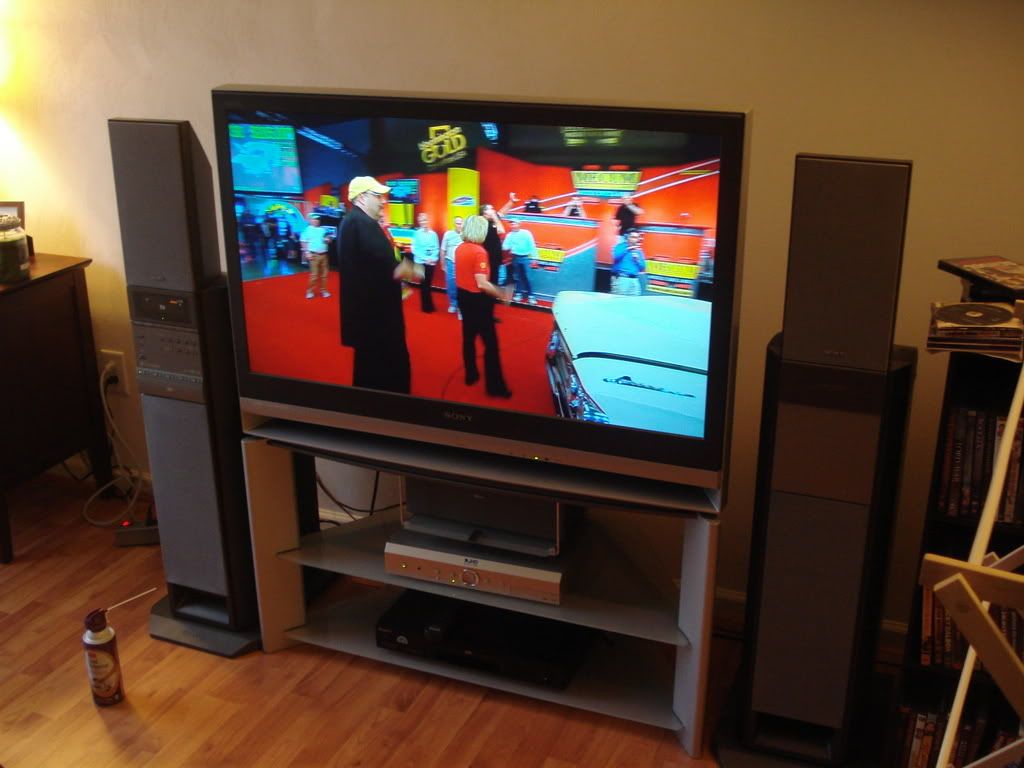 from sony
Enhance your home entertainment experience with the KDF-E42A10 Grand WEGA™ 3LCD Rear Projection HDTV. The KDF-E42A10 features a new design with a thin dark black bezel, a compact body and barely visible speakers located at the bottom of the set. This television also features high-definition picture quality and delivers natural color reproduction and exceptional brightness levels due to 3LCD technology. Additional features include the Sony WEGA Engine™ system to deliver detailed picture quality from any compatible video source by minimizing the digital-to-analog conversion process and the WEGA GATE™ Easy Operation Guide, which allows you to easily navigate to TV functions, including favorite channels, TV channel list and external input list or settings.
3LCD Panels
The 3LCD technology at the heart of Sony's Grand WEGA™ televisions provide a bright picture, with high detail and natural color. These three key benefits are immediately apparent when viewing a Grand WEGA™ TV. You can expect to see an incredibly detailed picture with eye-popping colors. Sony uses three tiny LCD panels (0.73" or 0.87" depending on model) with a combined resolution of over 2.76 million pixels on the smallest panel and over 3 million pixels on the larger one. The light from a high output UHP lamp shines into a filtering system that splits the beam into red, green, and blue light streams. Each color goes through its own LCD panel, which passes or blocks the light. The three beams are then recombined and sent to the projection lens.
Cinema Black Pro
Cinema Black Pro is an exclusive Sony function designed to improve contrast expression especially in darker scenes. The Cinema Black Pro function is enabled by using either one or both of two features - Iris Control and Advanced Iris. The Iris Control function sets the maximum size of the iris opening and sets the overall level of brightness. There are six settings that allow the user to adjust the iris opening to best match the room lighting conditions. The Advanced Iris function is a dynamic adjustment that automatically opens and closes the iris according to the gamma level of the picture on the screen. There are four different adjustments. The "High" setting is ideal for movies and music video content. And the "Off" setting works great for sports and news content.
HDMI™ and PC Connectivity
Designed for maximum versatility, Sony's Grand WEGA™ line is equipped with a comprehensive range of input interfaces. The HDMI (High-Definition Multimedia Interface) is the first industry-supported, uncompressed, all-digital audio/video interface. HDMI technology supports enhanced or High Definition video, together with multi-channel digital audio to provide matchless image and sound reproduction. The PCD input (HD-15-pin) offers easy connection to your PC, allowing you to use your high resolution Grand WEGA XBR TV as a computer monitor.
WEGA GATE® User Guide
Explore and navigate your Sony® BRAVIA™ television effortlessly with the WEGA GATE user guide. You can easily change your settings or access your favorite TV channels and external inputs. Simply touch the WEGA GATE button on the remote control to activate the comprehensive graphic menu. Your eyes remain on the screen instead of searching in the dark for tiny buttons on the remote control.
Video
Display Resolution : 1280 x 720
Horizontal Center : +50 to -50
Native Resolution : 720p
Vertical Center : +50 to -50
Vertical Size : Yes
Viewing Angle : Right/Left: 170°, Up/Down: 170°
Weights and Measurements
Dimensions (Approx) Depth : 14 1/8" (357mm)
Dimensions (Approx) Height : 28 1/2" (722mm)
Dimensions (Approx) Width : 39 3/8" (999mm)
Dimensions (Approx.) : 39 3/8"×28 1/2"×14 1/8" (999×722×357mm)
Weight (Approx.) : 61lb. 12oz (28kg)
Audio Features
A/V Synch : Off/1/2/3
Auto Mute (on no signal) : Yes
Auto SAP : Yes
Digital Amplifier : Yes
Dolby® : Dolby® Digital
MTS Stereo Decoder : Yes
SRS® : SRS® TruSurround® XT Audio Effect
Simulated Surround : Yes
Speaker On/Off : Yes
Tone Control(s) : Treble, Bass
General
Aspect Ratio : 16:9
Screen Size : 42 inches1
Power
Internal Power Supply : Yes
Power Consumption (in Operation) : 210W
Power Consumption (in Standby) : Less than 17W
Power Management : Yes
Power Requirements : AC 120V, 60Hz
Video Features
3D Comb Filter : 3D Digital Comb Filter
Advanced Iris : Yes
Advanced Video Menu : Yes
Auto Adjustment (PC) : Yes
Black Corrector : High, Medium, Low, Off
CineMotion® Reverse 3:2 Pulldown Technology : Yes
Clear White : High, Low, Off
Color Space : Wide, Normal
Color System : ATSC, NTSC
Color Temperature : Cool, Neutral, Warm 1, Warm 2
DRC® Mode : High Density, Progressive, Off
DRC® MultiFunction Circuitry : Yes (DRC MF V1)
DRC® Palette Presets : Custom 1
Direct Digital II Circuitry : Yes
Display Mode for PC Input : Video, Text
Display Technology : 3LCD
Game Mode : On/Off
Game Picture : +5 to -5
Gamma Compensation : High, Medium, Low, Off
Image Shift : Auto, Level 1, 2, 3, 4
Live Color Creation™ Technology : High, Medium, Low, Off
Noise Reduction : Yes
Phase (PC Only) : Yes
Picture Mode : Vivid, Standard, Custom
Pitch (PC Only) : Yes
Video Processing : Yes (WEGA Engine™ HD System)
Wide Mode : Yes
Audio
Audio Power Output : 24W Total (12W x 2)
Sound Enhancer : Dynamic, Standard, Custom
Speakers (Total) : 2
Service and Warranty Information
Limited Warranty : 1 Year Parts / 1 Year Labor
Convenience Features
Auto Channel Programming : Yes
Built-In AC Adaptor : Yes
Caption Vision : On, Off, Program
Channel Jump : Yes
Channel Label : Yes
Channel Surf : Yes
Clock : Yes
ID-1 Detection : Yes
Info Banner : Yes
Label Inputs : Yes
Menu Color : Yes
Multiple Language Display : English; Español; Français
On/Off Timer : Yes
Parental Control : Yes
Picture Freeze : Yes (with side-by-side viewing)
Power Save Mode : Standard, Reduced, Picture Off
Program Guide Access : Yes
Programmable Timer : 2 Event
Show/Hide Channels : Yes
Sleep Timer : 15, 30, 45, 60, 90, Off
WEGA GATE™ Technology : Yes
Regulation and Standard Compliance
Energy Star® compliant : Yes
Inputs and Outputs
Analog Audio Input(s) (Total) : 5 (4 Rear/1 Side)
Audio Out (Fixed) : 1 (Rear)
CableCARD™ Slot : 1 (Rear)
Component Video (Y/Pb/Pr ) Input(s) : 1 (Rear)
Composite Video Input(s) : 1 (Rear)
Digital Audio Output(s) : 1 (Rear)
HDMI™ Connection(s) : 1 (Rear) with Audio Input
PC Video Input(s) : 1 (Rear)
RF Connection Input(s) : 2 (Rear)
S-Video Input(s) : 2 (Rear)
General Features
Channel Fix : Yes
Closed Captions (CC) : Yes
TV System
Tuner (Cable) : Clear QAM
Tuner (Terrestrial) : 8 VBS, ATSC, NTSC