After my last car ended up with moderate engine, body, and water damage (see below)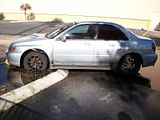 I was forced to start over or settle for something less - but I was able to find a needle in a hay stack.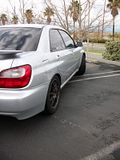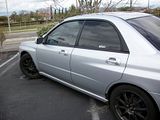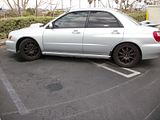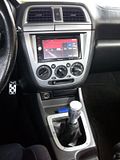 although I kept a large majority of the parts from my last car - I sold the the suspension components (Tien Flex w/EDFC, whiteline lateral links and roll center kit) in favor of the OEM ride - it's strikingly low and yet comfortable! The STI v7 seats are with the new owner who plans to rebuild.
Sure it has a couple (2-3) scratches or dings but they all do at this age. And ya it's missing side skirts but at least it doesn't have ghetto ones scratching the paint like my old car.
What it does have - was hard to find in a WRX around here.
Working a/c
Well kept SUPER lightly modded (JIC strutbar that's it)
under 100k
0 squeaks
Everyone says it looks 'newer' or 'shinier' well actually it is one year newer but still it just has a shine to it that my 02 didn't
And I got it for under what lots of idiots out there are trying to charge for sub-grade Suby's - some of the entertaining offers I found on my search:
9800 for an 02 with full leather interior, but dents all over and some of them rusting.
9000 for an 02 with 100k miles - the ad said MANUAL - it was an automatic
The kicker was when I drove 105 miles to look at a car advertised as a WRX - when I got there it was an 04 RS - and yet the used car lot swore up and down it was a wrx model. He still wanted 8950 for it.