I have been doing turbo and exhaust manifold porting on the side since mid-2003, I have done well over 250, both before becomming a vendor, locally, and while a registered vendor here on NASIOC.
We all know that having your turbo ported and polished is well worth having done and yields great improvements in throttle response, low-end torque, and spoolup. But let's face it, while it's not super-expensive, in today's economy, many people just don't have the funds to have it done.
I have come up with a solution that I think will help out a lot of people.
I am now offering a "Budget" port/polishing service for turbos and exhaust manifolds. But please don't mistake the fact that I am calling it a "budget" port for me saying you get "budget" results. The results are REAL, and they're closer to what you get out of a full P&P than most would ever expect.
What is the difference between my full P&P services and my "budget" P&P service? I have managed to cut the labor time and cost of materials down by sticking with doing the most important elements of the P&P.
Most of the gains from a P&P come from the inlet of the exhaust side of the turbo and the ports where the manifolds meet the heads. In fact, when it comes to spoolup and low-end throttle response, that is almost exclusively where the gains come from. There are gains from working in other areas on the turbo and manifold, but the "meat" of the gains that most people are looking for comes from the inlet ports.
In other words:
If you are looking for low-end torque and faster spoolup, IT'S ALL YOU
ACTUALLY
NEED when it comes to the turbo P&P work. On the manifold there is a bit of a larger difference due to the work not being done to the crossover pipe, but I assure you, the gains are definitely very real, and for the price I am charging, I feel well worth it. It also leaves you free to pick up an upgraded crossover pipe if you would rather do that then have me do the full P&P job including the work to the crossover pipe.
Honestly, for most people, what I am talking about on the manifolds and turbo are all they will really need.
I am a big proponent of "bang for the buck," and I really feel nothing else offers the amount of gains for the money that this service offers.
Now a snippet from my previous porting thread, explaining why you should consider having a "professional" do the work for you rather than taking this job on yourself.
"Why pay someone to do it for you?
Because it's something that, while not brain surgery, is easy to mess up in such a way that you start to actually lose performance. Especially on the turbos. Want to do it yourself and don't know how? Ask me and I'll help you out. But I always recommend that if you aren't 100% rock-solid-sure you can handle it, don't chance it. I have seen a lot of ruined turbos from people overporting or enlarging the wastegate passage, or gasket matching too far so that it's larger than the gasket. Even a tiny spot can cause a leak. Not hard to avoid, but not hard to mess up either. It's also one of those things that is really tough to do right without the proper tools. A lot of people suggest using a dremel. That just isn't realistic if you want a good port. It would take you forever (seriously, 4-5 times longer) to get the same results that you get with a large air compressor and the proper high-speed grinding abrasives and bits."
But a picture is worth a thousand words (and we all know how long-winded I tend to be), so let's take a look, shall we?
This is what I am talking about. That work on the inlets of the manifold is what you get with the "budget" manifold porting service. (high temp ceramic painting not included)
Just for reference, here is an untouched manifold and turbo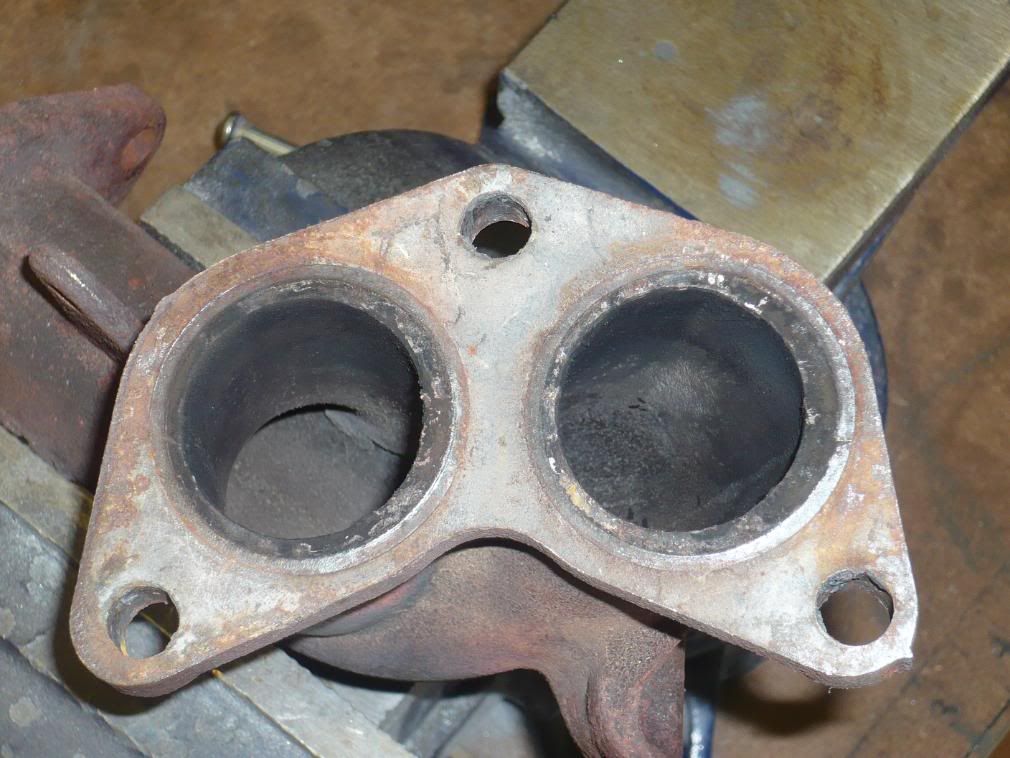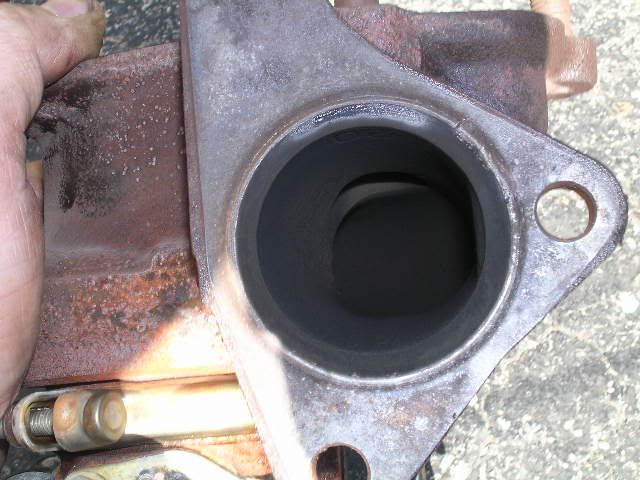 See the difference? That black ring around the ports on the untouched manifold and turbo is a WALL that your exhaust gasses slam into. This causes a ton of turbulence, which slows the exhaust gasses down, which slows the spool of your turbo, and robs you of throttle response and torque!
Got a new turbo? Do you REALLY want to install it like THIS?
Neither would I.
So, what are we looking at for pricing?
Manifolds: $110 THIS INCLUDES RETURN SHIPPING TO YOU!
--This includes opening up, reshaping, and polishing the inlets at the head side on the 2 elbows.
Turbos: $90 THIS INCLUDES RETURN SHIPPING TO YOU!
--This includes opening up, reshaping, and polishing the inlet on the exhaust side of the turbo, as well as minor reshaping of the wastegate passage to help prevent boost creep.
I am also offering something I call the
"Bang for the buck killer torque package"
(insert dramatic music here)
This is a package of both the manifold and turbo porting service.
For a low
$175 shipped!
you get a savings of $25 when you do them both at the same time.
I also am offering porting services on throttle bodies for a special price of
$50 INCLUDING RETURN SHIPPING TO YOU!
Here is just some of the feedback I have had on my porting work:
Quote:
If you need PnP work done, just send your goods to Dave. Quick turnaround and masterful porting. Good guy too, he knows his shiznit about Suby's!
Quote:
These guys did an awesome job on my VF-43! It looks beautiful! I plan to get tuned in about a month or so and I'll post back with the results. Thanks Defiant!
I could go on, but you get the point