Yes, I work for them,... but that means nothing less than the fact that I have first hand experiences and results of the products.
When someone has another brands brake kit and inquires with me about upgrading to Brembo discs...I still offer the same advice. I could sell a few dozen sets of rotors per month if I wanted to, but I turn down sales specifically for the best interest of the customer, regardless of what brake kit they have.
Here's an image of the modification required for the 328x28mm discs...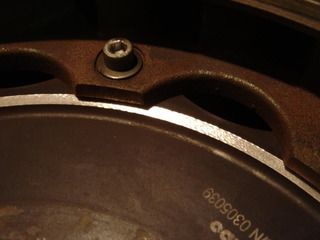 And here's an image of just one possible result due to the many variances of the products that I described in my previous post...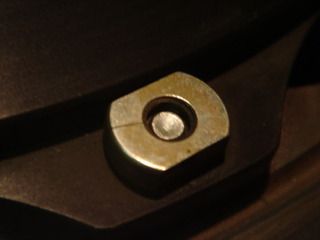 I do consider cracked hardware to be potentially "catastrophic".
Other results have been cracking of the disc itself near the rotor flange...excessive wear to the aluminum bell...and excessive steering wheel judder due to runout. These are problems that are
NOT at all
common with Brembo brake kits when the proper disc and hardware are used.
And even if there have been some people who have not had any of these unfortunate results, the fact that there is a significant percentage of people who have is more than enough reason to offer a bit of warning to future consumers.
The modification to the hat is
NOT
the main problem with using another brands discs on our hats, although that does immediately void the warranty of that item because it is no longer able to be used with a Brembo disc. (this is most upsetting to the owner of the kit because after he incurs the problem due to bad advice, it is now much more costly to return the kit back to original condition). The
MAIN
problems are due to the subtle, but obvious differences in the components,...rotor rings and hardware.
I'm not going to get into the inherent design issues with the other brands trying to supply discs for Brembo hats, but when you compare the components side by side there are distinct differences.
Common sense approach...
If you call StopTech directly, they will not take responsibility for the results of using their discs with another companies brake kit,...so what does that itself tell you?
To further prove the point,...Because of the small, but consistent demand for people wanting to try and save money by going to a cheaper disc, they have started producing full assemblies which include their own hats to avoid the recognized problems.
Feel free to pursue that route if you want,...but my advice to the OP was to take a look at his personal experience with the Brembo discs and compare that with the results of people with other brands. Saving money on an initial purchase sounds like a good idea, that is, until you realize that the actual VALUE is in the product that lasts significantly longer with less consumable wear and replacement over time.
There's a reason Brembo costs more initially, but is still the #1 choice among serious enthusiasts and in every level of professional racing alike. But that's a different thread topic all together.