I have a 2003 (Bugeye WRX) with about 86,000 miles on the chassis. The engine and tranny are from an 05. The transmission has about 25K miles on it now and shifts like butter. No worries of weakness or notchy shifts. The motor has about 60K miles on it now. I've owned three WRXs and this is definitely one of the nicest shifting Subarus I have EVER driven. She's got some mods, too.
What stands out about this WRX is it's paint job. (The pics show the wing with risers, it doesn't have those anymore-they block rearview mirror vision for me.)
**ALWAYS HAD STOCK BOOST THROUGH THIS ENGINE***
Stage 2 Utec (could use a re-tune for even more power, it's on an extremely conservative daily driver map right now).
STI pink top injectors.
3" exhaust all the way back.
Headers.
Underdrive pulleys.
Short ram intake.
MRT front and rear strut tower bars.
Morrette "look" light mod.
Lowered with a nice, aggressive stance.
Other suspension upgrades include links and sway bars.
I have a full set of slotted/drilled rotors and pads for all corners that I won't be able to put on any time soon. Also have the A/C belt. A/C was charged, but belt was removed when under drive pulleys were installed.
ACT 13LB lightened flywheel, helps protect tranny/syncros and drops RPMs drastically between shifts.
The clutch is a 6 puck Kevlar clutch, takes some getting used to it grabs at high rpms, will never blow out-it's invincible.
There is only one "bad" thing about the WRX and that's its rebuilt title. Hold on, keep reading on... I wouldn't have bought it if I didn't think it was up to par. This drives as straight as the new WRX I bought off the showroom floor. The R title is due to a front end accident the previous owner had in 05. Fixed by professionals at a repair shop, and cleared by NY state certified inspection station to clear it. (They are one of the strictest in the nation when it comes to rebuilt titles). The title is completely transferable. There is just a brand on it that scares people away from the car the evil "Rebuilt/Salvage." It handle amazingly well, lowered with front and rear sway bar, no roll at all its on rails. No tracking issues, tire wear, or alignment issues. If I did not tell you, you would be hard pressed to tell it was a salvage. I have used this for a daily driver while my outback sedan had work done to it and it drives wonderfully!
I am loading older pics, but the car still looks the same.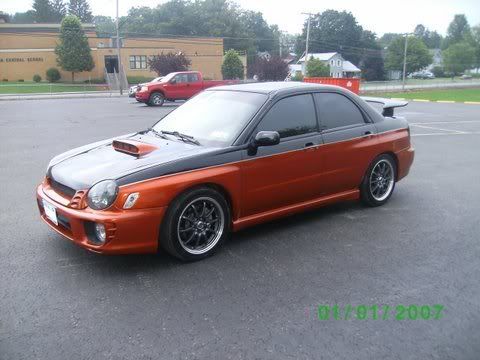 http://s35.photobucket.com/albums/d1...0and%20tranny/
The paint needs wet sanded and buffed again any body shop can do that 2 hours of work and a buff job and it would be good to go. The paint is 800 dollars worth of material the orange has metallic flake in it, and the black has rainbow flake in it gets a lot of looks definitely not your average paint it really pops in the sun. Shines up now but does need wet sanded to reach its full potential. Interior is clean, I take the time to clean it weekly, Im even OCD enough that I lint roll the seats, I cant believe how many people don't clean out there cars even monthly.
*****TRADES I AM INTERESTED IN: *****
**I am interested in Jeep Grand Cherokee OVERLAND/Limited and/or 4x4 pickup trucks with extended cabs.**
Please email me at
[email protected]
or text me at 614-439-2945 with any questions.