I have a few suspension combo's for folks that are looking to upgrade dampers for RallyX or off road use.
02-07 RS/WRX
Feal inserts valved for gravel+king springs+group N tops
Non adjustable-$1620
Adjustable damping-$1800
Good combo for GD folks looking to do some RallyX, or some moderate off roading. King springs are available in either stock height, or lift (aprox1.2-1.5" lift). They also provide a 30% increase in spring rate. These coupled with Feal inserts gravel valved, are a good combo for blasting over the rough stuff. The increase in response and handling are drastic, and the valving helps to control the suspension over surface irregularities, resulting in more tire on the ground more of the time. The group N tops help with feel and steering response as well as not acting like a secondary spring with the increased spring rates.
08+Impreza/WRX
King springs+Feal inserts/shocks valved for gravel-$1280
For the newer chassis Impreza folks looking to upgrade for RallyX or moderate off roading. You get a set of King lift spring coupled with Feal gravel valved inserts/shocks. The front damper is a insert similar to the older Impreza's while the rear get's a new shock, both valved for gravel use, resulting in a huge improvement in handling over rough surfaces.
04-07 STi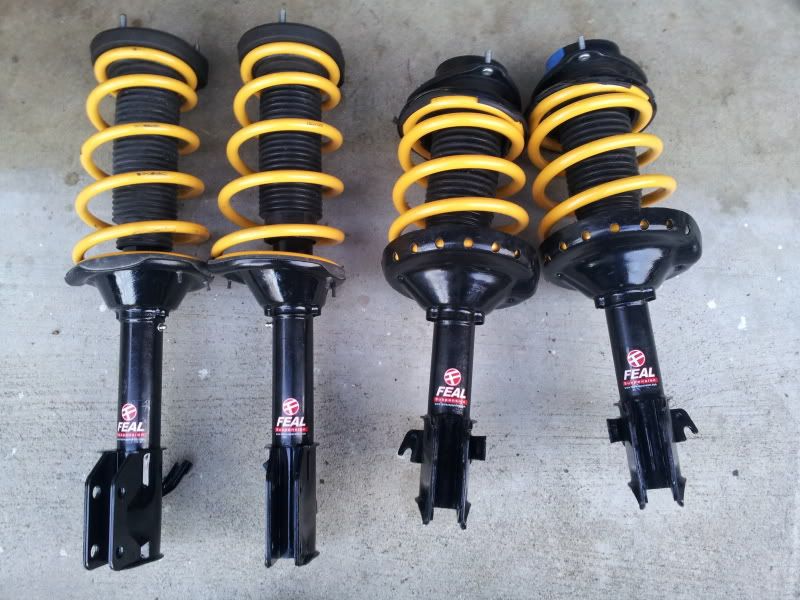 Feal rebuilt/revalved for gravel stock STi struts+king springs+group N tops-$1295
STi folks are lucky enough to get a pretty darn good damper right off the bat. Pair that with a rebuild/revalve for gravel from Feal, add in King springs, and group N tops and you have a pretty sweet dirt set up. You can add in Zirc's in the rear for $20 bucks to keep them lubed and prevent stiction.
08+ STi
(Sorry guys, no picture for you yet haha)
King springs+Feal rebuilt for gravel struts/rear shocks-$1215
You get upgraded rebuilt/revalved oem front struts (similar to the older chassis rebuilds) and Feal valved for gravel rear shocks. Paired with King springs for increased ride height and spring rates.
I'm always happy to answer questions, so feel free to ask!
[email protected]
cell: 818-395-9342
-Anthony