ST4100055200 STi Group N Gearbox Mount 5MT
ST410224S030 STi Gearbox X-Member Cushion Set
ST350104S000 STI 5MT short shifter kit
ST35036ST000 STi Group N GEAR SHIFT LEVER CUSHION RUBBER
ST413104S020 STi Group-N diff bushing assembly (DIFF MEMBER ASSY REAR)
ST440314S000 STi Group N MUFFLER HANGER SET
ST410404S000 STi Group N PITING STOPPER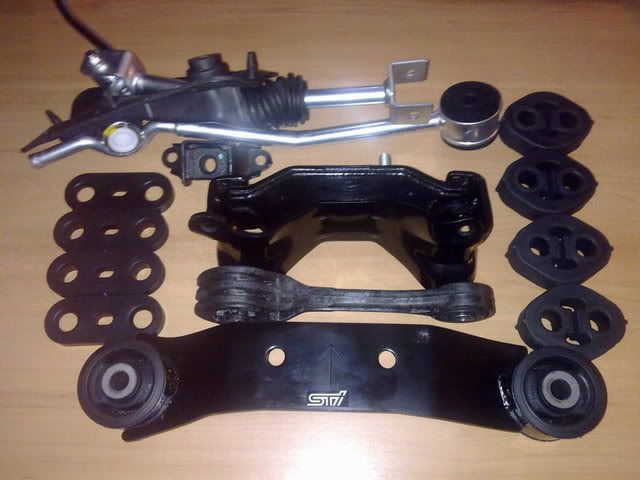 Ok spent the day installing these, some thoughts on these after two days.
Firstly NVH is up, if you cant stand gearbox whine then don't do this. Also you can hear the engine much more, you can feel the vibration of the engine at the lights and the engine note is much louder up the range (from pitch stop I suspect). If you have off
Off Throttle Clutch Rattle
its going to be a lot louder unfortunately. However the clutch rattle now going to be constant (sounds and feels like you're driving through standing water now actually) rather than on off as the slack in the gearbox goes up and down the drive train like water hammer. Plodding along the highway (2K rpm) not that noticeable but it is there. In terms of loudness (at 3K) is the same as having noisy tyres but if you roll your window down you wont notice. Also depends how loud your exhaust is, I have quiet tyres and a stock STI exhaust.
The pitch stop I'm not sure how beneficial it is but it does transmit engine noise. At night you can even faintly hear the fanbelt and tappets at the lights. Personally I dont mind, it masks the noise of the gearbox mount so its fine by me. When driven in anger it sounds great though, especially when the engine spins down it makes a cool noise/vibration in between shifts. However in terms of NVH, if you plod along at 2-3K rpm, all of this inst that noticeable until you hit the loud peddle. I think thats fine, unlike NVH from suspension/tyres, this you can control and makes the car sound angry with the windows up.
STi short shifter is ok but not that noticeable in terms of reducing throw length. I suspect a quality aftermarket SS will be better in terms of use and are way cheaper. The throws are more precise, however I suspect if you just replaced the shifter cushion bushing you?d get some improvement. So just buy the shifter cushion and save your money if you?re considering a STI SS kit. The STi rear diff assembly does its job but I?d save my money and get a TIC klunk killer bushings instead and save $100. The group-N muffler hangers I bought since I suspected a cluck was from my exhaust, it wasn't. I only put two on on each side of the exhaust and boy are they are hard. Now the exhaust will not move at all, didn't notice any NVH, so buy two if you want a muffler that doesn't move at all.
The good news - performance, when driven in anger the power is immediate now, it punches harder and when you?re hammering through the gears the NVH actually sounds great as the car whines and roars angrily, its character has changed to a more aggressive car. Gearbox slack is almost gone, no more clanging of the drive train at low speeds or when downshifting. I thought it was the diffs but it's the mount and bushings that twist every time you put the power down or off. The WRX gearbox mount is so soft that you can move it with one finger, the middle was clean from the upper inner rubber touching the base. The cross member cushions were really soft too, when we jacked the car up you can move the tranny side to side by hand, this robs you of power delivery. I get wheel spin through the first three gears on wet and dusty/loose surfaces, I didn?t before, again since the power is immediate it will break traction more easily as it punches harder now.
I suspect the benefits will be much more apparent in cars with a lot more power than standard. Also STI owners probably wont notice as much, standard wrx bushings are very soft. The STI gearbox mount is solid like the group-N mount but not as hard as the group-N. Again cars with more power will benefit. Think this is what people are noticing when they upgrade to an STI, they mention the better power delivery/turbo kick is much harder, I suspect the lack of drivetrain slack is part of the equation IMO You can probably just the STI 5MT mount rather than group-N to avoid some NVH perhaps? I suspect you're going to still get NVH anyway since its a solid mount, I'm am unsure of the amount NVH compared to the two, STi owners that got a Group-N mount can comment on that.
So in summary,
for WRX owners there is a lot of slack in the drivetrain costing you power delivery. If you want it gone (better power delivery) get the transmission mount(STI or Group-N), STi cushion set, TIC Klunk killer bushings, and Group-N shifter cushion. However be aware NVH goes up (linear increase with revs) but its personal preference if you like hearing the engine and gearbox. I am unsure if STI owners will notice much benefit, STI bushings are harder than standard WRX bushings throughout the car.
REF: OEM WRX mount vs Group-N, STI is the same as Group-N but not as hard rubber.

Transmission assembly, replace mount (6) and cushions (3 and 8 ), sold as a set of four.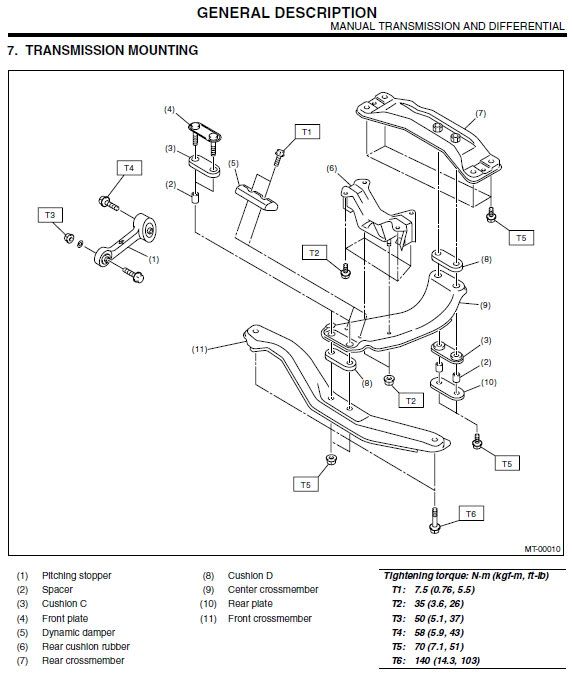 Pitch Stop
One month on
I have removed the pitch stop, muffler hangers and transmission mount. With the exedy clutch rattle I got, I over the noise. I bought another standard OEM mount and its harder, so the one I had has deteriorated over time and went soft. I removed the pitch stop and honestly didn't notice anything apart from reduction in noise, again probably notice in cars with much more power than standard(?)