Shop: Motion Lab Tuning
Dyno Type: DynoCom FX5000-AWD
Temp: 58F
Boost: 21psi
Fuel: 93OCT
Target AFR: 11:1
SAE Corrections: Default Corrections
Peak HP at RPM: 373whp @ 5250 RPMs
Peak Torque at RPM: 392wtq @ 4850 RPMs
Transmission: Stock 5speed
Gear: 3rd
Engine Management: Cobb Accessport Speed density software
Engine/Power Modifications:
Motion Lab Tuning Pro Built ML500+ Shortblock
Stock cylinder heads
Blouch Performance 440XT
Perrin TMIC
AEM CAI
Perrin "Stealth-back" turboback exhaust
Tomei UEL manifold
GTSpec EWG Up-pipe
TiAL Sport 44mm wastegate
Perrin Parallel fuel rail kit
DeatschWerks 1000cc injectors
DeatschWerks 65c intank fuel pump
Fluidampr harmonic balancer
GrimmSpeed 3-port EBCS
This is a very nice 2011 WRX we did for a customer recently. Satin white pearl paint and the gunmetal OEM wheels make it a sleeper on the outside. Under the hood its totally decked out with some of the best brands on the market. This shows that good parts selection and a well built engine translates to power on the dyno. The Deatschwerks fuel components performed flawlessly with plenty of headroom left for e85 tuning in the future. The Blouch Performance 440xt turbo lays the power down. Our new AWD DynoCom dyno has been compared to the old mustang dyno we used to utilize on several occasions. Horsepower readings are about equal, with torque being slightly higher on the Mustang dyno for whatever reason. Car is still on the stock clutch.
One last little note, this run shows a little rich as we discovered the OEM BPV to be leaking. He is deciding which valve he would like and then we can throw a few more PSI at it to see if we can hit 400 at the wheels.
Final HP/TQ Graph: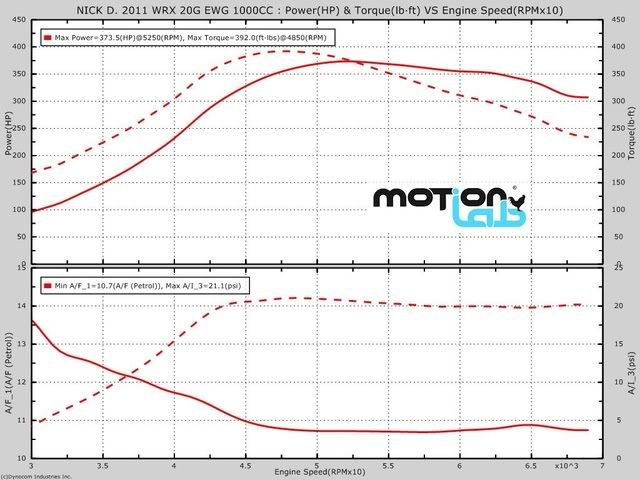 Follow whats going on at the shop on our Facebook page
Motion Lab Tuning - Automotive - Charlotte, NC | Facebook
Thanks for looking!
Alex Goodwin
AlexG@motionlabtuning.com
MotionLabTuning.com - Engineering Performance