Still making headway on figuring this out, but it looks fairly simple now that I've read it 100 times.
Here's a link to the instal on a honda s2000:
S2000 PLX Device M-400 M-500 Install - - Andrew's Website
I am going to use this as a guide, but with the exception of the proper connections on the STI ECU.
****AFAIK*** here's the pinout diagram for the 05 USDM STI which is the same as the 2006 USDM STI... I have yet to definetively confirm this though.
http://northursalia.com/modification...04_STi_ECU.pdf
Or:
http://svt4u2try.com/tmp/MSA5T0613A255122.pdf
Diagram:
Install notes added: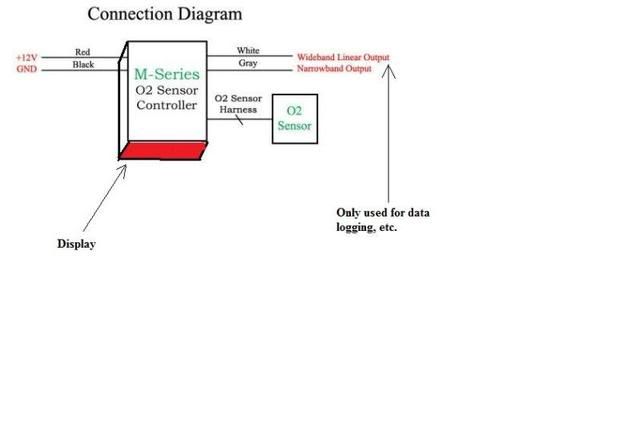 Instructions:
A. Replace the stock narrowband 02 sensor with the plx wideband o2 sensor.
B. Make 3 wire connections/splices from the PLX's wire harness to the ECU's wire harness:
(1) Connect/splice 12v+ (as close to ECU as possible)
(2) Connect/splice ground (as close to ECU as possible)
(3) ***Connect/splice narrowband input (which is the gray wire on the PLX harness) to the wire on the ECU wire harness which carries the normal narrowband input to the ECU (from the stock narrowband o2 sensor when it's normally there). This is how we are not only using the PLX for a wideband, but also letting it substitute for the stock narrowband.
C. Add a 20 ohm 10 watt resistor (Radio Shack part#271-132) in b/w the 02 heater power and 02 heater ground wires on the ECU harness. This fools the ECU into thinking that the stock factory 02 sensor's heater circuit still exists. Apparently this can get hot, so it needs to be mounted with that in mind.
D. *OPTIONAL PER YOUR NEEDS* Install the noise filtering capacitor (0.1uF 50V ceramic capacitor) across Chassis GND and O2 Signal Input as close as possible to the ECU. This eliminates unwanted electrical noise and increases close loop ECU performance. ***This capacitor is not illustrated in the PLX pdf instructions. It is described in more detail in the M300 installation instruction pdf.
Per PLX: Ignore this step if you only intend on using the M-200/M-250/M-300 as a stand alone system. If you plan to integrate the M-200/M-250/M-300 with stand alone engine management systems, piggy back systems, data loggers or any other devices that utilize the two analog outputs (white, gray wires), noise filtering capacitors must be installed near the application. The included capacitors filter out unwanted electrical noise produced from your vehicle's ignition and other onboard systems. This provides added signal integrity for more accurate, reliable and consistent measurements. Any 0.1uF 50V ceramic capacitor will work.
I do not plan on adding these as I will not be using this to log
Since I think I have this down, I will be attempting to wire-it-up soon