Hello Ya'll,
I have a 92 Rodeo for sale that would make a perfect winter/beater car. I purchased it off the truck's second owner, after finding it on craigslist. I've owned it over 1 year, and am not in a rush to sell it. It is 100% reliable and has never let me down. Before I purchased it, I did a compression test on it, and the numbers varied between 155-ish and 165-ish. The truck doesn't burn ANY oil, coolant, or any other fluids. I've been impressed with it, and it's a TANK in the snow. I get about 22 MPG on the interstate, and about 16-18 in town.
I purchased it to use as an extra car, grocery getter, severe winter car. I was happy I did, as this past winter in VA sucked! The interior is VERY clean, and the outside, has some character.
Details:
-1992 Isuzu Rodeo 4x4 (4hi/4lo) 170,900 miles
-3.1 L Engine (IIRC, 120hp/170tq)
-5spd tranny
-Manual Locking hubs
-Manual mirrors, windows, and locks
-Rear Wheel ABS
-A/C, heat, etc all work
-Jensen CD player with I-pod hookup
Extras:
-Class 3 Tow hitch with all hardware, wiring, and the ball thingy
-Front Brush guard
-Rear tire bike rack
-Service Manual
Things I've done while I've had it:
1.) Tires! I installed a set of almost new 31*10.5*15" BF Goodrich Tires I got from a used tire place. I paid $200 for them. The pics below were what I had replaced. (not the new tires)
2.) Oil changes!
3.) Coolant flush
4.) Alignment
5.) New alternator ($109)
6.) New serpentine belt ($60)
7.) Replaced ALL the bushings in the rear leaf springs ($80 worth of bushings, $350 worth of labor)
8.) New all weather front floor mats
9.) New wiper blades
10.) New struts for the rear lift glass
11.) Purchased a used front brush guard (again, off craigslist,
)
12.) Cleaned/ Shampooed the interior/ seats
13.) New battery
Things the previous owner did:
1.) Clutch/ throwout bearings/ pressure plate: Replaced within 10K miles
2.) Repacked the bearings in the manual hubs
Known issues (MINOR!):
1.) Some of the dash backlights don't light up, only in the cluster with the speedometer, etc. Previous owner installed LED's to illuminate at night. Looks cool, so I haven't purchased the little bulbs to make the OEM lights work.
2.) Every now and then when it rains and you don't drive the car for several days, the parking brake light and rear abs light on the dash both stay lit. As soon as you drive around and the car warms up, both turn off. Must be a bad contact somewhere. This really isn't an issue, and doesn't happen often, I just wanted to mention it. It's done it about 4 times since I've had it.
3.) Exhaust system has a minor leak in it, near the block.
4.) A/C works, but in town when stopped with the A/C on, the compressor makes a noise and the car gets this buzzy vibration. This does not happen when driving. Weird. Replacement compressor is ~$200 when I checked, should that be the cause of the problem. It didn't bother me enough to investigate. Plus, I mainly drive the truck in the winter and it doesn't do any of the above with the fan/ heat on.
5.) Minor rust behind rear wheels (see pics)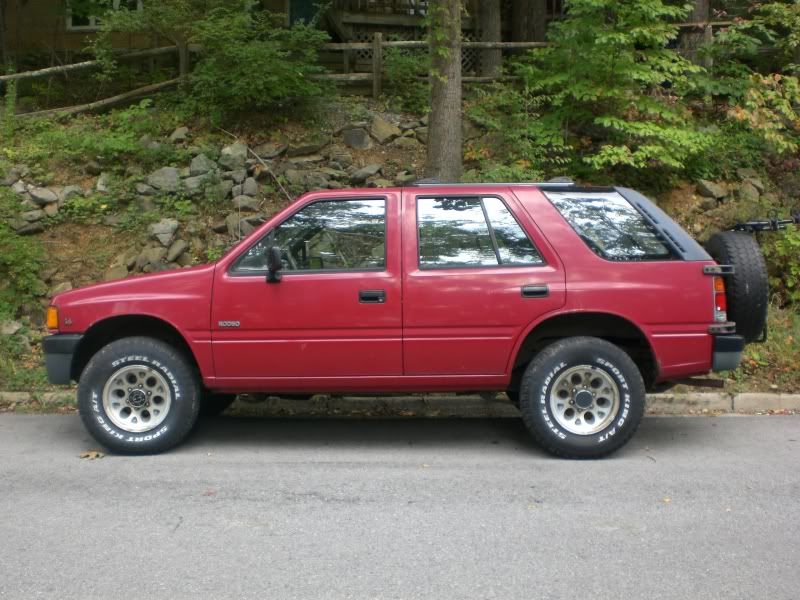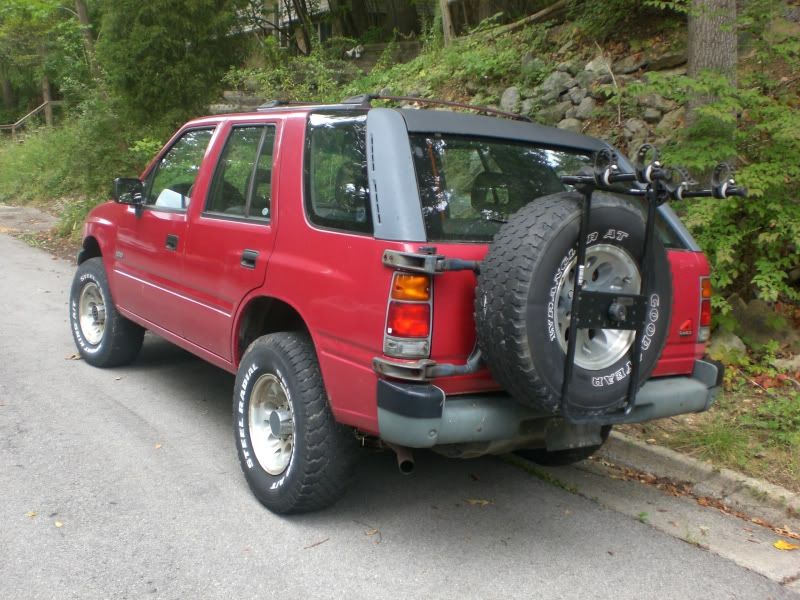 I know many people (including myself) are weary of Isuzu products. Well, for 1991-1992, many Isuzu vehicles, including the Rodeo, had GM power and drivetrains!
The 3.1 engine in this truck is the same as the 3.1 GM engine, which was used in such vehicles as the Camaro in the early 90's. Later versions of this engine include the GM 3.4 and 4.3 L engine (as well as some others), both of which are bolt in engines to the 1992 Rodeo.
I found this attractive because it meant cheap parts!
Price: $1700
The truck has a tough feel to it. I love driving it and would keep it, but I will be moving across country in about 9 months. I can't take it with me. The truck is reliable, and would be perfect for a winter beater or as an off-road toy.
Thanks.
Truck is located outside Roanoke, VA