So I bought it this bike about 3 months ago. I planned to ride it often because I have a lot of free time and I figured in the end it would be a good way to save money. I bought it brand new for $595 from a local bike dealer. Since then the price of the bike has gone down on Danscomp. The bike is sick to say the least:
This is the Fit Eddie Cleveland Tech Signature Series. The reason why it's called the Tech series is because the rides that have signature bikes in this are extremely technical riders. Eddie Cleveland is know for grinding with out pegs and just being a sick all around rider. So the bike is extremely light, and extremely tough. Its a full chromoly frame with removable U-brake mounts and cable guides, integrated headtube drilled for gyro tabs if you want to have them put on(eventhough nobody uses them anymore), 1-1/8" chromoly fork with tapered legs, 2-pc chromoly bars with 8.25" rise, Tektro U-brake and lever(works very well), 3-pc tubulas chromoly cranks sealed, 14 mm rear cassette with 9T driver, 3/8" sealed front hub, 36H Alienation Rims, Kmc 710 chain, 21" toptube, and only 24.2 lbs. I also have 2 sets of pegs. One set is on the bike on the right side.
This bike will fit in the back seat of your Subaru
, or atleast it fits in the back of my 07 wrx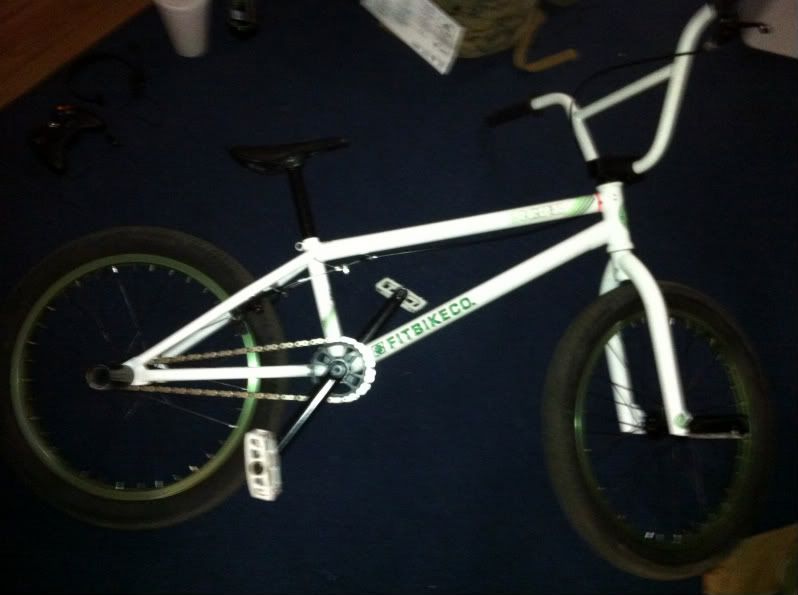 The reason why I'm selling this beautiful bike is I hurt my back at the gym, so my bike riding days are over. This happened a week after I bought the bike, and I've been waiting it out to see if it gets better but it hasn't. I have put maybe 3 hours of riding time on the bike. It has never been layed down, never abuse, no scratches, bend, breaks, repairs, it still has the original tubes! Brand new you can get the bike of Dans Comp for $539 before shipping. I am looking to get $450 for it. The bike is brand new, so this would be a steal. This is obo, and trades are welcome so PM me with an offer. Thanks for looking!