Well, it's time to do some upgrading. I have had this setup for the last few years and it has always worked great for me.
I am upgrading to a bigger turbo and have come to the conclusion that a 44mm wastegate is a better fit for me at this point. I was having surge issues at about 40psi on my old turbo. Turned the boost down and it was fine. I have just reached the limitations of a 38mm. I am currently in the process of building a tubular exhaust manifold and full V-band Dp/Up pipe, so I don't need this setup anymore. Open Dump FTW.
Thing is though, I could use this setup on my new build, but it was custom made by Vishnu Performance for their Stage 3 kit and instead of hacking it up to get a 44mm wastegate to fit, I rather it go to a fellow turbo 2.5rser.
Few specs:
- Complete rotated setup
- I had two turbos on this DP/UP/wastegate. A GT30R and PTE6262. Both of them fit perfectly
- It is a T3 4 Bolt
- Fits a .63ar or .82ar turbo exhaust housing
- 2.5" SS Up-pipe
- 3" SS downpipe w/v-band clamp connection
- Everything covered with DEI exhaust wrap and spray
- Tial 38mm Wastegate w/fresh rebuild. Dump tube merges back into exhaust. Sorry, no Open dump here.
- Fits the stock 2.5rs crossmember. No need to go out and buy a turbo crossmember.
- Three threaded spots on the DP to hook up your wideband or O2 sensors.
- Direct bolt-on except for the other end of the DP. It uses a 3" V-band connection to attach to the rest of the exhaust system.
- Uses the oem exhaust manifold. I used the oem manifold for a while until I moved to a Borla header. But any 2.5rs manifold will work. (see pics)
You get:
- Vishnu 3" rotated downpipe
- Vishnu ss 2.5" up-pipe
- Tial 38mm wastegate
Also available:
- 3" vband testpipe
- high flow cat vband
- 3" axle back vband
- magnaflow muffler with vband connections
Trying to sell everything as a packaged deal.
sold!!!
Got questions? PM me or AIM: Benjamindmarcus
Few new pictures: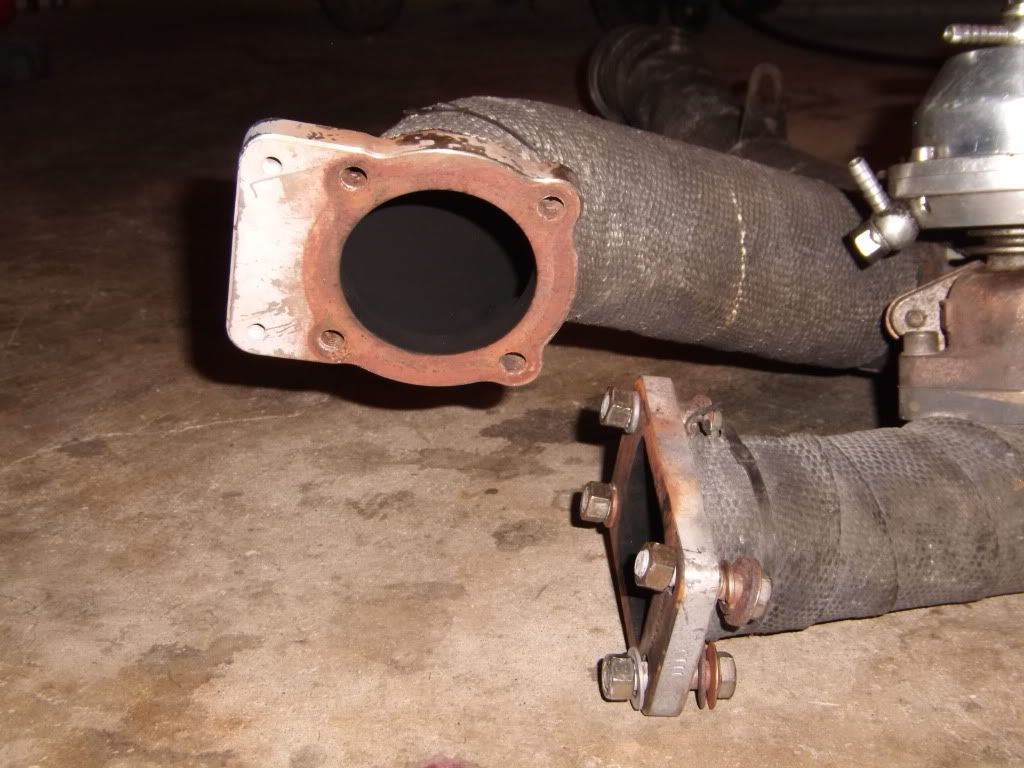 OLD PICTURES: