Hello all, I've recently caught the WRX bug and have been looking to get into one. I'm looking to trade my jeep for one, preferably a wagon. If you are interested, the easiest way to contact me is email at sholzer17 'at' gmail.com. The jeep is located in Blacksburg, VA and I am willing to work out traveling to work out a trade
Here are the specs on my Jeep.
1997 Wrangler Sahara (highest trim for this year) 4.0l I6 129,500 miles
light mods:
1.75" coil spacer lift (<500 miles)
2.5" coil spring lift (just purchased, <10 miles not installed)
adjustable rear trac bar (BN never installed)
Like new 31" BFG ATs (<3000 miles), and 31" Goodyear MT/R with about 50% tread and full size, matching spare wheel
New soft top (<3000)
Sony HU
Sony sub in center console
Sound bar with dome light and kicker speakers
H4 Headlight conversion (stock lights you have to replace the whole housing, now just a bulb)
Drop in HID kit 4300k (bi-xenon)
Custom cat-back exhaust with flowmaster 40 muffler
and a legit pool ball shift knob lol (14 ball, and it actually works very well as a shifter, feels nice in your hand)
I just bought this back in May and have done a couple things to fix it up. When I bought it, the clutch hydraulics were on the way out, so I replaced the whole system with a brand new MOPAR brand replacement. It also came with a plain steel wheel for a spare with a stock sized tire that didn't hold air, basically it had a useless spare. I found a matching wheel on craigslist and bought a used 31" MTR to go along with it as a spare.
Let me know if you are interested and thanks for looking!
This was when I first brought her home, i.e. no lift.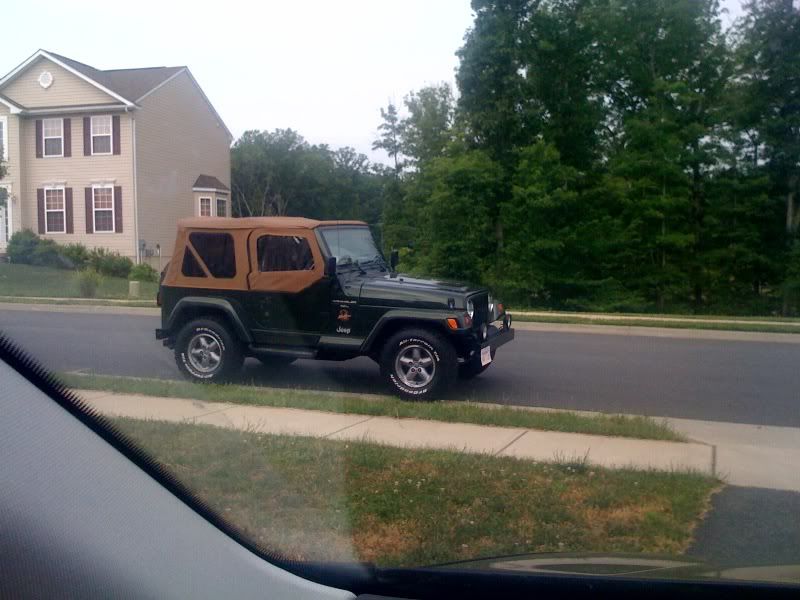 Update:
Here are some pictures. Note the Jeep is really dirty right now, haven't had a chance to clean it well with classes and living situation. Also on the gauges picture, no lights are on, I just had the key turned to show mileage. If you want any more specific pictures, I'll be glad to snap a few.