I bought these from a member on here a week or so back, and of course my car breaks down while they're in transit to me...
They'll be showing up on my door step today and I need to get them gone ASAP so I can re-coup some money from repairs. The previous owner used them for approx. 10k miles. None of the shocks are blown or leaking per the PO and I will verify this.
Spring rates
450 front
400 rear.
Lowering
1.2" - 2.5" front
1.0" - 2.0" rear
Although the spring rates are stiff the dampers (Made by Bilstein) are pre-set and valved to match the car to produce a neutral balance while still being comfortable on the street.
These are NOT damper adjustable, only height. H&R created this coilover to be aggressive on the track, but still have a nice ride on the street. They are also designed to use your stock top hats, so none will be included.
Description from Perrin's site:
H&R coil overs are engineered for street use. Unlike traditional twin-tube shock absorbers, H&R Coil Overs feature a state-of-the-art mono-tube gas shock construction. Combined with the knowledge and skill of H&R's suspension engineers, the use of this state-of-the-art technology results in the best suspension product that you can buy for your vehicle.

When most people hear the word "coil over", they immediately think"racing suspension", and consequently, "rough ride". With H&R, great handling and great ride go together. Using only the highest quality materials, our engineers tune each coil over shock witha progressive rate spring for a superior designed, great handling, and comfortable suspension system –– specifically designed for each vehicle. Price: $1349.99
This is a generic picture, I will post up actual pictures as soon as they get here.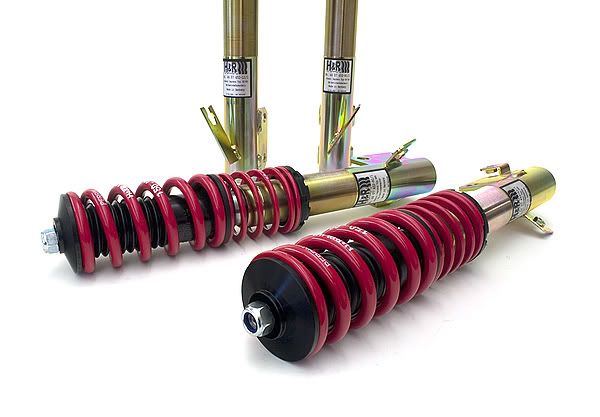 Looking to get $800 Shipped/PP'd for these bad boys or I will entertain some trade offers with cash.
D-Specs (This would be awesome!)
Catback: Must be LOUD and angled
(Would also be awesome!)
JDM STI Bugeye Scoop
Sway bars/Endlinks
Maybe some other Bugeye stuff + cash