I just completed the opposite conversion on my 03 WRX.
I went 02/03 --> 04/05
The forum has some information on front end conversions. Most are helpful but none that I've seen gives a complete step-by-step.
I did mine with the info I found around, and made up my own way combining different ideas with my own once I got it started.
your options are:
1. Buy a 02/03 complete front end from someone.
2. Buy parts individually from random sellers and the dealership and adapt what you have to make it work.
option 1 will most likely be cheaper.
If you're not set on making it a bugeye... there was a guy on this forum selling his entire 04/05 front end and only asking $800. ...which is an incredible bargain.
If you're sure about the bugeye, then post up pics of your front end, I might be able to help walk you through some of it. I'm sure there are at least a few other guys on this forum who could help too.
Without seeing what the damage is, I can't say for sure what you'll need. If you can't find anyone selling a bugeye front end and have to piece it together, the parts you definitely need to be on the look out for are:
1. Radiator core support
2. Front bumper reinforce bar
3. Fenders
4. Bumper cover
5. Headlights
6. Hood
7. Grill
Try to salvage as much as you can of what you already have.
Essentially, what you're doing is trying to accomodate a different shape of headlight. This requires different parts for everything that comes into contact with it.
The hood and fenders will bolt straight on. the only thing that's different on those is the cut of them near the headlights.
The radiator core support and bumper reinforcement are needed to allow everything else to bolt on that otherwise wouldn't really be compatible with your 05 front end.
Here are some pics from the guide I'm putting together for the forum. The parts highlighted in green are the Radiator core support. The bumper reinforce bar is in yellow.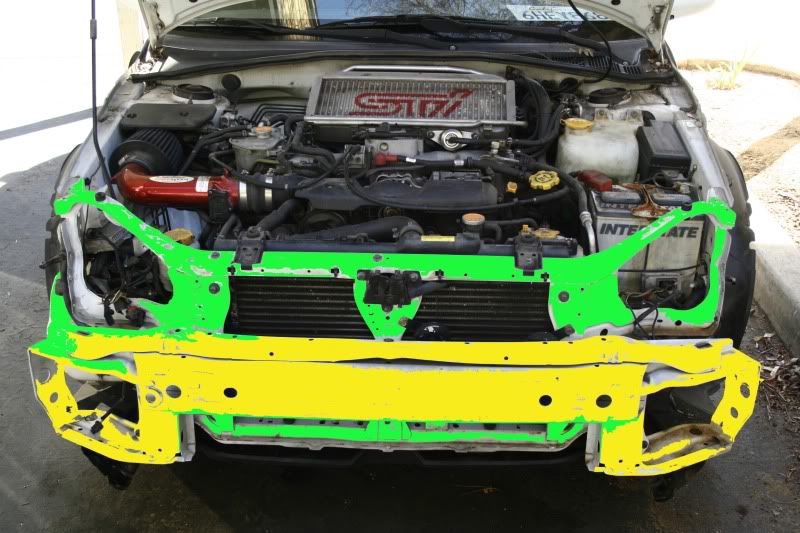 [IMG]http://i70.photobucket.com/albums/i111/euyeen/BugeyeConversion2.jpg
[/IMG]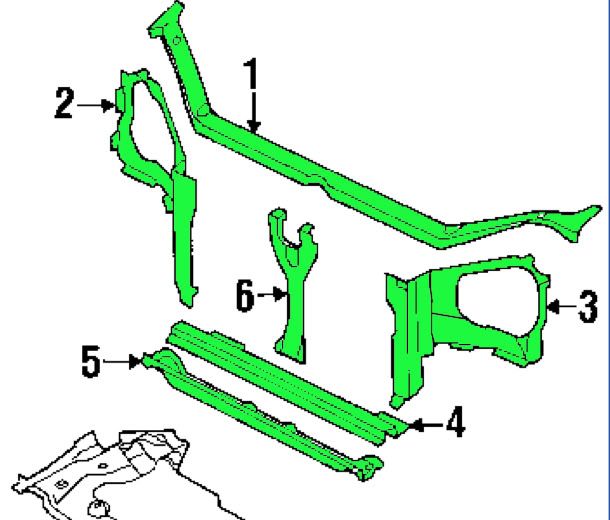 hope that helps you get started!