I'm a Subie newb with a recently acquired
'98 JDM Impreza STi
wagon. I want to stiffen the suspension up a bit... and among other things, I've bought a set of
Prothane 16-1104
poly bushings for the rear 20mm sway bar. They look just like these...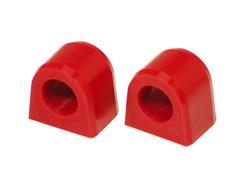 I'm not 100% sure these are the proper ones to fit the mounting brackets, but the hole size is at least correct.
As anyone knows who's worked with poly bushings, these things are rather stiff. I was surprised to discover that there is no split in these bushings. I haven't tried it yet, but I imagine it's a little difficult to slide these things into place from either end of the sway bar. Then there's the challenge of trying to get some lube between the bar and the bushings.
Is there any reason why the bushings couldn't/shouldn't simply be slit open so they can be "snapped" over the rear sway bar... like this fella did? (Although I think I'd rather use a nice sharp box cutter knife as opposed to a hacksaw.)
Advance to 1:10 if the video doesn't start there.
Comments?