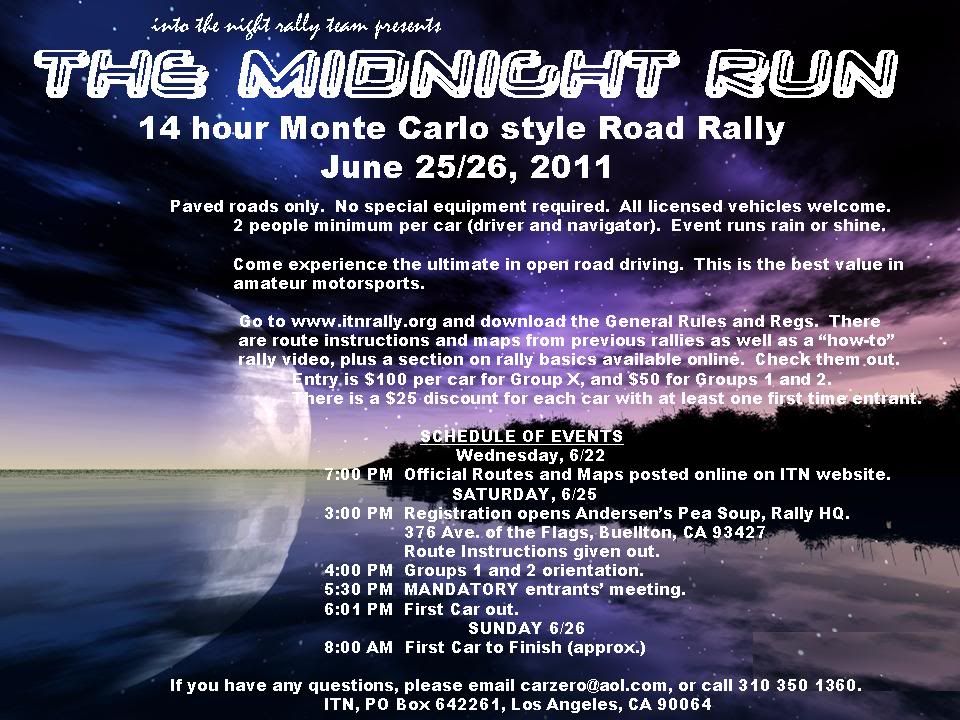 MIDNIGHT RUN is next weekend, June 25 and 26. This is our one epic event of the year. Itís going to be a jam-packed 15 hours with a Course Control, Standoff or Checkpoint almost every 15 minutes. Rallymaster David B. has put together some of our all time favorite driving roads plus some great new ones. Youíll start out in Buellton and head out through the farm fields, canyons, and river valleys. The first 3 hours or so will still be daylight, so youíll get to enjoy the long summer sunset.
But the real fun starts about midnight, when the course heads out into really empty territory and really incredible roads. Itís be dawn before you know it.
There are ample breaks throughout the rally. Route Instructions are scheduled to be posted by 7pm on Wednesday night with the links on the homepage at
http://www.facebook.com/l/80242wi6rU...w.itnrally.org
. The Official Map for this rally is the AAA ďCentral Coast Region including Kern CountyĒ. You can pick one up at any AAA office. They wonít be marked yet, or course, but you should be able to find where things are. We will have the full map with all the normal markings available for everyone at Registration.
Registration will be open from 3pm to 5pm at Pea Soup Andersenís in Buellton. There is a mandatory entrantsí meeting at 5:30pm. First Car out at 6:01pm. Finish is at the same place as Start.
You really do not want to miss this event. We sincerely hope youíll be able to be there.
Special NASIOC price only $20 regardless of first timer or not.That's $30 off!