Hello All,
I am the only owner of a 2002 WRX, which was a gift to myself after spending 8 months in the desert in 2001/2002. Well, the Home Budgetary Committee has decided that the WRX must go. A little history: as you look through the parts list, you'll see a bunch of OEM and aftermarket stuff. My intentions for the car changed several times in the last 9 years, and the last version that I was planning for involved a large increase in power, but this plan was interrupted by a marriage. As a result, the car is a bit of a mish-mash right now, but I still drive it to work on a daily basis. So, here it is:
2002 Impreza WRX, Silver
120,000 km s/ 75,000 miles
1 Owner
Full service history and receipts for everything
-new timing belt and new clutch at 115077 km/ 71505 miles
Car plus everything listed below for $7500.00
Engine Mods:
OEM TMIC with Turbosmart Supersonic BOV
STi Intake Manifold
STi pink injectors
VF-39
Perrin fuel rail kit
Walbro 255 fuel pump
K&N air filter
Kakumei GT-Spec headers and uppipe, wrapped
Prodrive downpipe with cat
STi cat-back
AccessPort v1.0
Arc rad cooling plate
Arc alternator/pulley cover
NGK BKR7EIX 1-step-colder iridium plugs
SPT turbo heatshield
Samco turbo inlet pipe
Exterior:
Genuine Prodrive Edition front bumper
JDM HID headlights
Spec C roof vent
Carbon-fiber version of OEM spoiler
Painted sideskirts
OEM rear underspoiler kit
STi hood scoop
CF/Fiberglass WRC-style hood with AeroCatch locking hood pins
Nukabe tow hooks
Endura-Tech CF hood-dampers
2 Hella Supertone horns
STi CF sidemarker covers
Interior:
2004 STi interior (seats, carpet, door cards)
Suede-wrapped 2004 STi steering wheel
Sparco harness bar with 4-point harness for both front seats
JDM STi 260 km/h cluster
Defi/STi Genome gauge pack (boost, oil temp, oil press, water temp) and Link controller
Pioneer Avic Z-2 CD/HDD/GPS with PS2
Pioneer Bluetooth phone kit for Avic Z-2
JDM hazard light switch
Headlight height-adjustment rotary switch
STi aluminum shifter trim
STi 5-speed shift knob
Kartboy short-shifter
CF dash surround
Suspension:
Bilstein B16/PSS9 coilovers
Whiteline Max-C adjustable front strut tops
STi Group N rear strut tops
Whiteline front and rear swaybars with links
Cusco front strut tower brace
No-name rear strut tower brace
17" Bronze Rota Tarmac II with Pirelli SottoZero M+S 225/45
18" Bronze Rota Torque with Bridgestone Potenza RE050A 225/40
Brakes:
2004 STi Brembo front and rear calipers
Ferodo DS2500 front and rear pads
Goodyear stainless brake lines
DBA standard slotted rotors front and rear
Other Parts Not On The Car:
Autobahn 88 FMIC
JDM v7 STi TMIC
OEM TMIC splitter
OEM TD-04 turbo with heatshield
OEM headers and uppipe with heatshields
Kakumei catted downpipe
Invidia decatted downpipe
OEM WRX downpipe
HKS Silent Hi-Power cat-back
Tein Flex coilovers with EDFC
OEM intake manifold
OEM fuel rails and injectors
STI pink injectors (another set)
OEM fuel pump
A'PEXi Power Intake (short-ram)
SPT intake heatshield
WRX door cards
WRX fog-lights
STi fog-light covers
WRX aluminum hood (slight damage)
EDM non-HID headlights
Prodrive edition grill
OEM headlights
2004 STi steering wheel (a second one)
WRX steering wheel
WRX gauge cluster (the original one)
HKS SSQV BOV
APR GTC200 CF wing
WRC replica front grill
OEM brakes
No-name front strut tower brace
Cusco oil catch-can
Cusco license plate relocation kit
Books:
High-Performance Subaru Builder's Guide
Hyper-Rev vol.107
Sigh, that's a lot of time/money/effort. So, the lucky buyer will get a car plus a lot of goodies to either try out or sell as he/she desires. Probable the only downside for those of you in Europe is that I'm currently stationed at Geilenkirchen, a NATO airbase up by Dusseldorf, which is about a 3-hour drive north of Ramstein (depending on how heavy your right foot is). Also, the STi gauge cluster is in Km/h only; the original one that I still have is Km/h and Mph, but will need to be reprogrammed to reflect the actual mileage.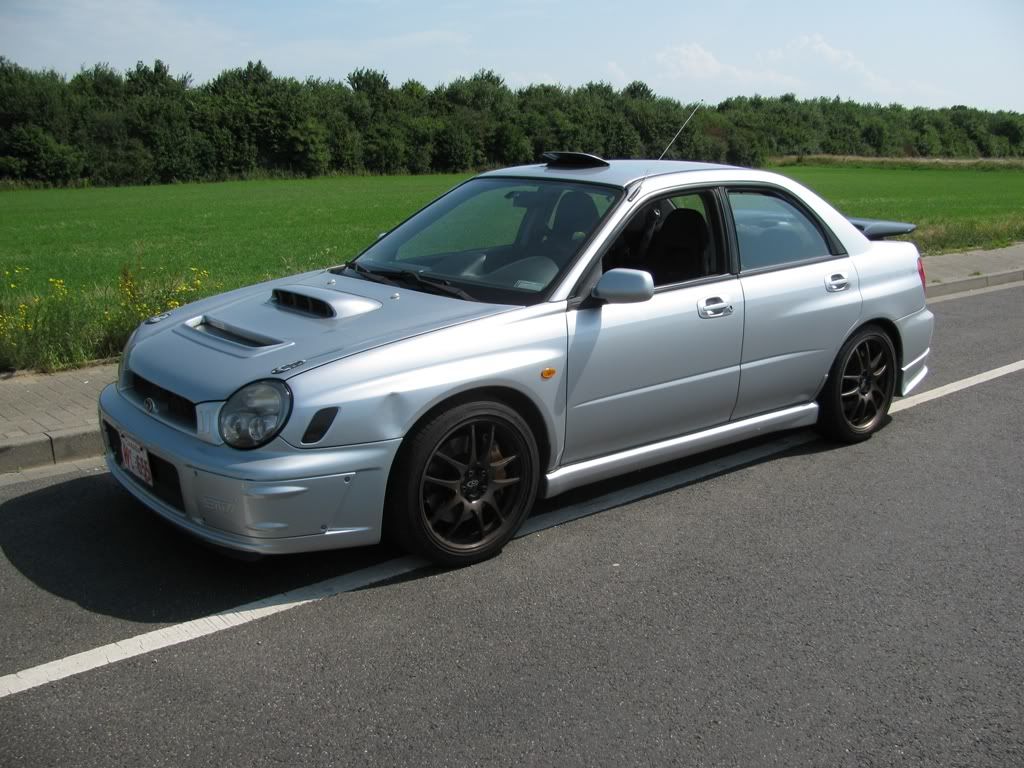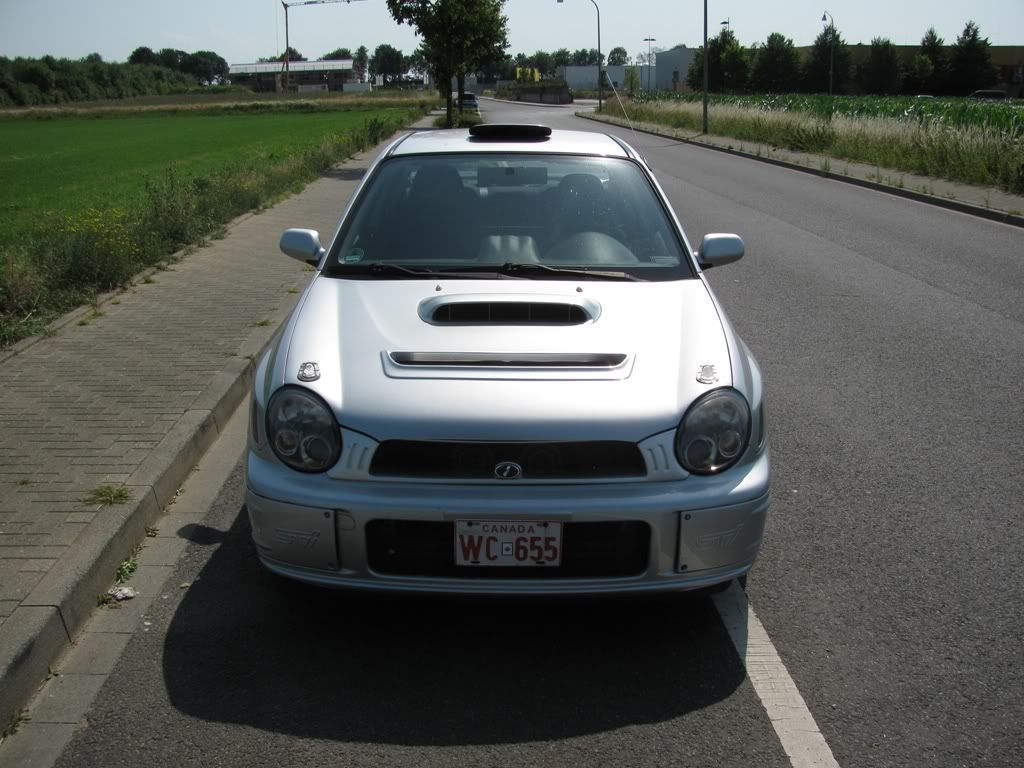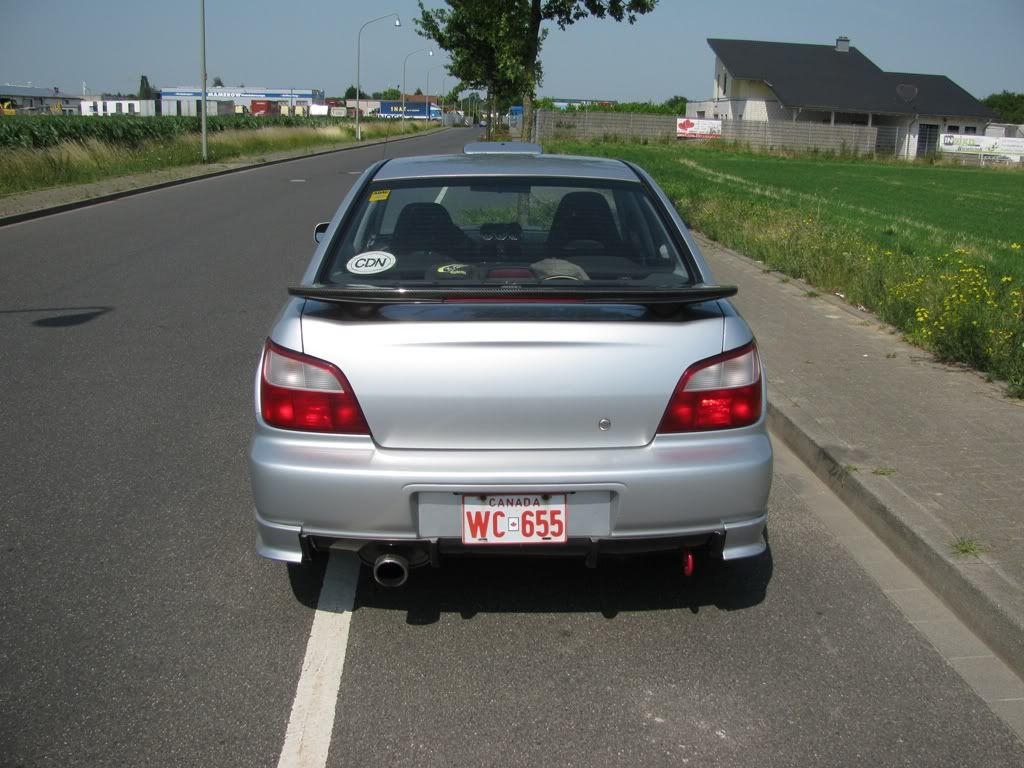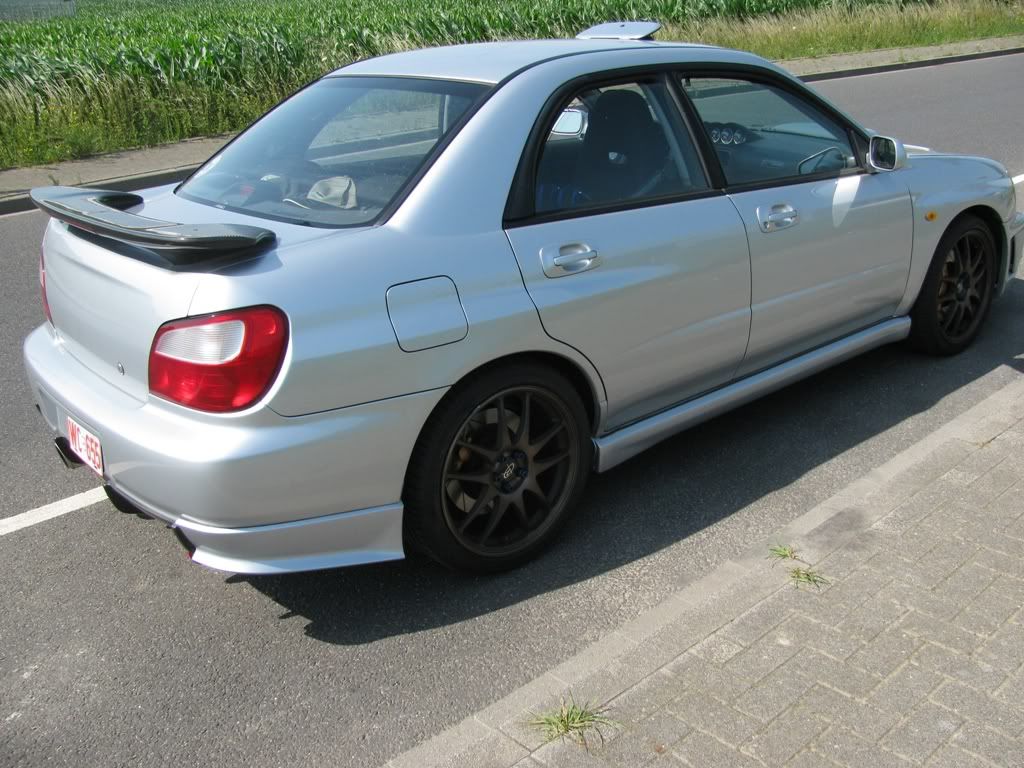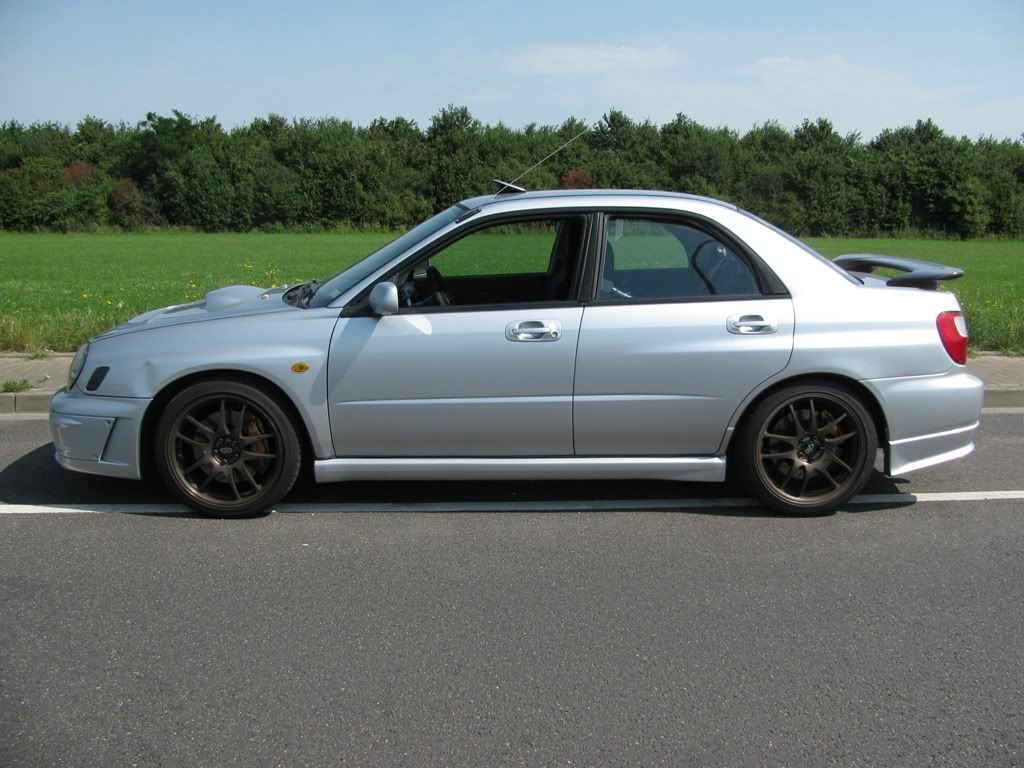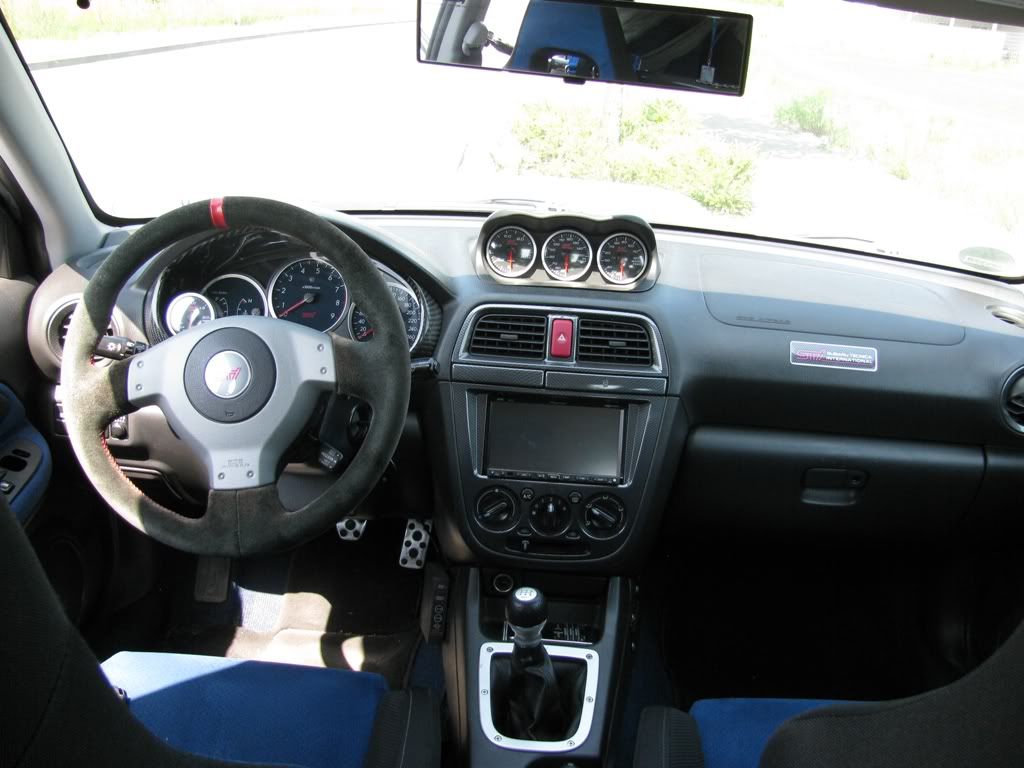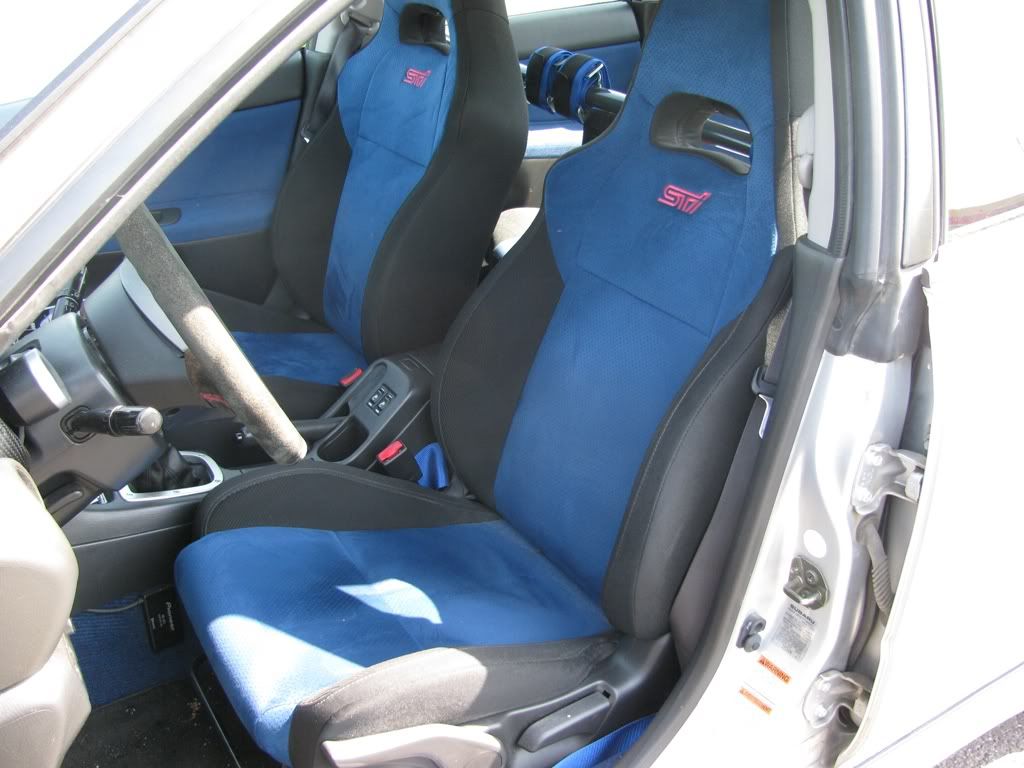 Oh, and if anyone wants a '99 GSXR-750, I have one for sale......