After competing in several LeMons events, the car formally known as Austin No-Power competed in it's first Chump race. Staying with a similar theme, the car was renamed the "Alan Parsons Project" for the 18-Hour endurance race at Texas World Speedway in College Station.
To make the event somewhat tolerable, Chump started the race at 4PM Saturday and ending at 10AM this morning. That said, track temps were around 120 at the start of the race and ambient temps were still in the 90s around 10PM. There were no breaks and the field had approximately 40 team entries.
Our team of 4 did a great job not only finishing an 18-hour marathon, but finishing 14th overall and overcoming typical **** that comes with an event like this. The car performed great with no major issues other than a bad Dodge Neon coil pack, absolutely no gauges (except fuel) and losing a good chunk of our exhaust.
We started the race on a set of used (from the last LeMons race) Falken 512s and needed the back-up set before midnight.
Hot Pit Tire Change:
We had no pit crew other than ourselves and everyone got 4 or more hours of seat time. No bulk fuel was allowed so we had to take turns making fuel runs (for our 5 gallon jugs). Sleep was limited, but each of us did get some rest. Everyone had to race at night on a course that had little to no lighting, except for the car headlights. Our Hella driving lights absolutely sucked. I should have learned from our last night race but got cheap and opted not to change them to something better. Our lights were so bad there were many sections of the 2.9 mile course the we just couldn't see so we relied on other cars lights to help.
Driver changes came at every fuel stop, roughly every 2 hours. Our fastest driver turned a 2:14.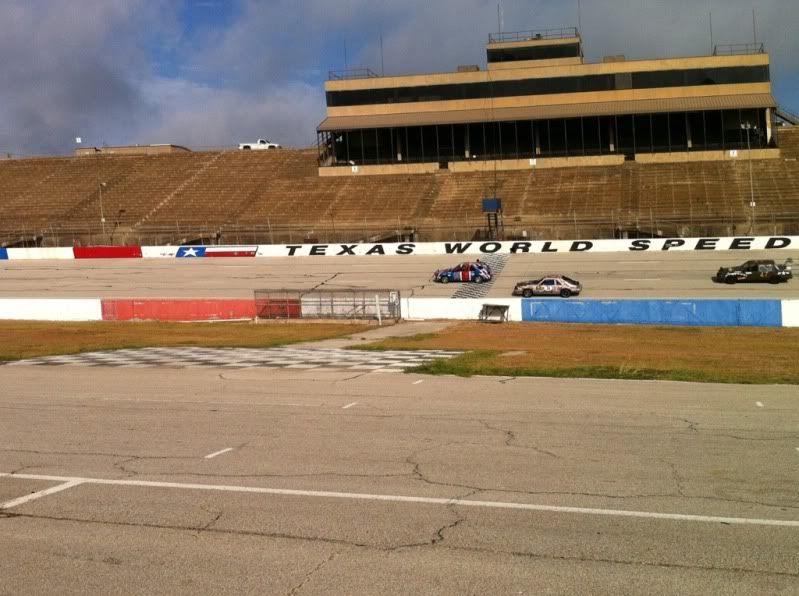 The day before the race we made an 11th hour decision to replace the FWD trans. After the last LeMons race we were pretty sure the synchros were going and decided not to wait and see if the trans could make it and swapped in another impreza FWD trans.
I installed Glowshift gauges two weeks before the race and knew we might have issues since the tach sent to me was jacked from the factory. As soon as the first driver hit the track - no tach (I removed the speedo cable since we rarely use it anyway). The only gauge that we could trust was Volts, but we opted to just cover them with electrical tape. In short, I'll be changing to Autometer. The glow****s might be ok for a street car, but the vibrations were just too much. If you bumped the brakes the water temp gauge would jump 20 degrees, WTF? Not having gauges didn't hurt as we are very familiar with the car.
We had a great time and have entered the next Texas Chump race at Harris Hill in San Marcos. We were all very impressed with the Chump staff. While similar to LeMons, there are no severe penalties for incidental contact or going off course. I went 4 wheels off doing a 540 spin in the dirt and did a touch and go in the penalty box never leaving the car.
Great event, super fun track and one hellava weekend!