Hi guys, I upgraded my cheapo Karcher and got another electric pressure washer that I felt was worth mentioning for anyone else that's in the market for one.
I decided to look into the things that I knew I wanted. Metal nozzles, non tipping, hose reel, longer hose (if possible), more pressure, more GPM.
Well, I could have gotten everything I wanted in a gas unit, but I was not a fan of the idea of the noise, the bulk or the gasoline requirement.
I decided on a compromise.
Greenworks 1700 psi electric. Now, GPM is pretty low at 1.4 and the pressure isn't anything to write home about at 1700, but there are some design features that made this one stand out from the rest.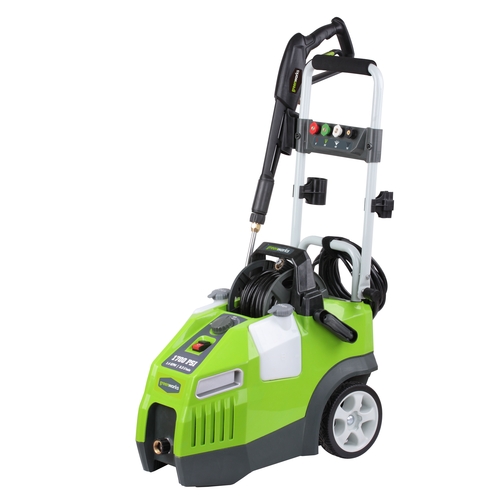 First, the thing won't tip over. It has a hose reel which makes things much easier when putting away. It has fixed nozzles that are brass. It has two relatively large tanks to put soap in. The pressure isn't much more, but the nozzles being tight and non adjustable means they won't loosen over time and the pressure is more than adequate for cleaning a car. It's also quiet.
The biggest "luxury" feature is a 25' pressure hose. 25 flippin feet! That is so nice because I am able to put the unit at one corner of the car and get around the entire vehicle without having to move the unit once. That's such a nice convenience.
It's a little more money than the "budget" electric pressure washers and the "specs" are a bit low compared to others at the price, but the design makes up for it. I paid 179 for it at Lowe's after tax with a gift card but I'm sure you could find it cheaper and "tax free" online somewhere.
If anyone would find it beneficial, I can get video of the unit in action. Sometimes seeing it in operation speaks more than the specs do.