hey guys,
i just recently swapped out a whole bunch of stuff on the car and cleaned out some old stuff in my garage. everything below has been pulled from my '04 WRX sedan.
located in toronto, ontario, canada. BUYER PAYS SHIPPING!
Kartboy Front & Rear Shifter Stay Bushings (5 Speed)
- front part no. KBU-001 5spd
- rear part no. KB-003-Rear
- cacme with the car when i purchased it
- ~40,000km
- still in great condition
PRICE:
sold to moose00015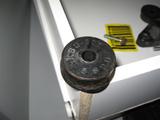 and visit my other threads!
-
razo ra64 shift knob + 12" ported sub enclosure
-
jdm front 4-pot calipers, oem '04 wrx sway bar
-
hks ssqv bov, hks 3" catless downpipe, oem '04 wrx catted uppipe
-
rays blue extended lugs
thanks for looking guys! pm is key.
-terence