For sale: USED Pioneer VSX-812K 7.1 Receiver asking: $150
This is a receiver I've had for a long time(about 8 years), with moderate use. It does have signs of wear on it(light surface scratches on top, only visible in direct light, and I think a little dent in the back). Unit has never been dropped, or abused. It has always been plugged into a surge protector, and most importantly, have NEVER had any problems or issues whatsoever. The only reason I am selling it is because I received another receiver as a gift. This receiver was well reviewed and has been my 'baby' for the longest time. It has good power for a small to moderate sized room(if you like your movies loud) and it sounds great! It decodes Dolby Digital, Dolby Digital EX, DTS, DTS ES! It even has 7.1 analog inputs and 5.1 pre-outs. Again, this unit is used and does show signs of usage, but it works perfectly and sounds good.
Included in this sale is:
A/V receiver and the remote, and FM antenna(pictured)
I don't have the AM antenna nor the microphone for speaker setup anymore, but you can do it manually(use an SPL meter from Radio shack to set up speaker levels) and it's much more accurate anyways).
I don't think I have the manual in print form, but I DO have in in .PDF format.
Look at the photos, and let me know. For the price, it's a good bargain. I'm asking for $150. Local DFW area and CASH ONLY! sorry, too many scams out there(including paypal ones)
For information and user reviews, click here:
http://www.epinions.com/specs/pr-Pio...Audio_Receiver
For good images of my unit, follow the links below: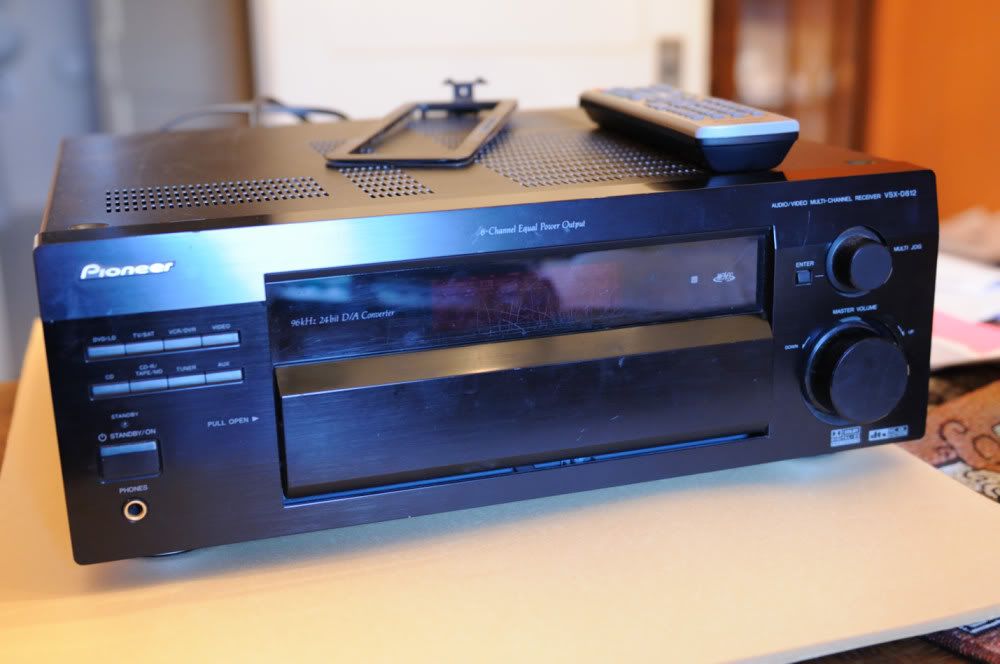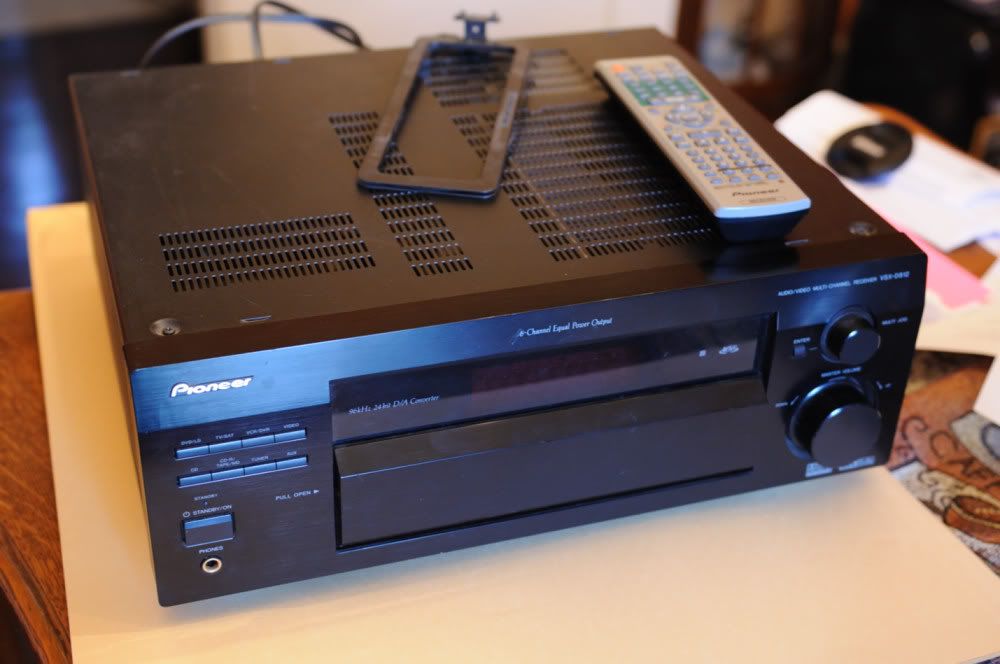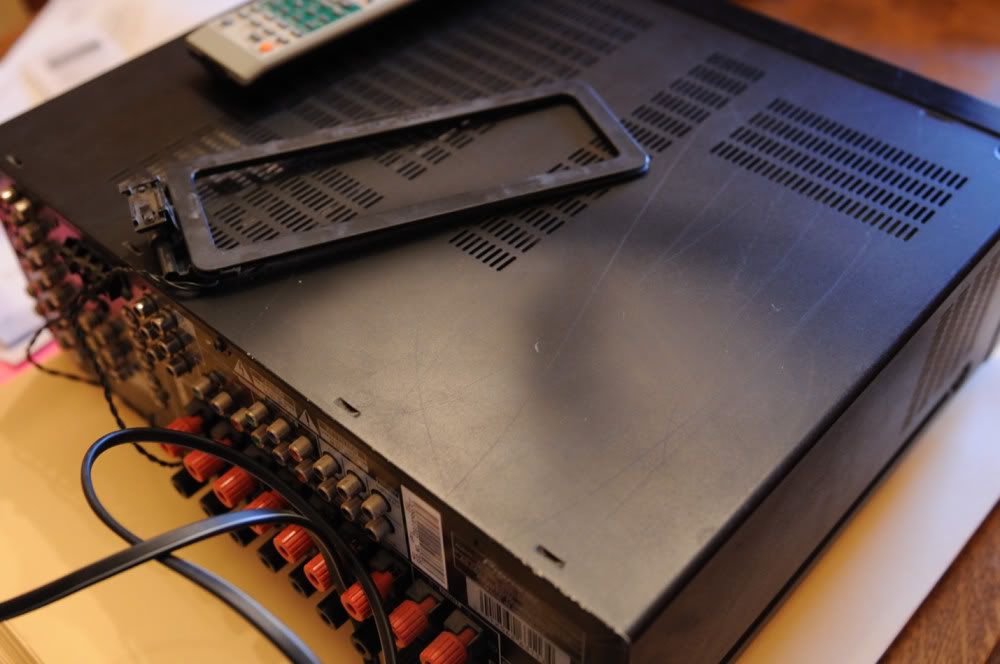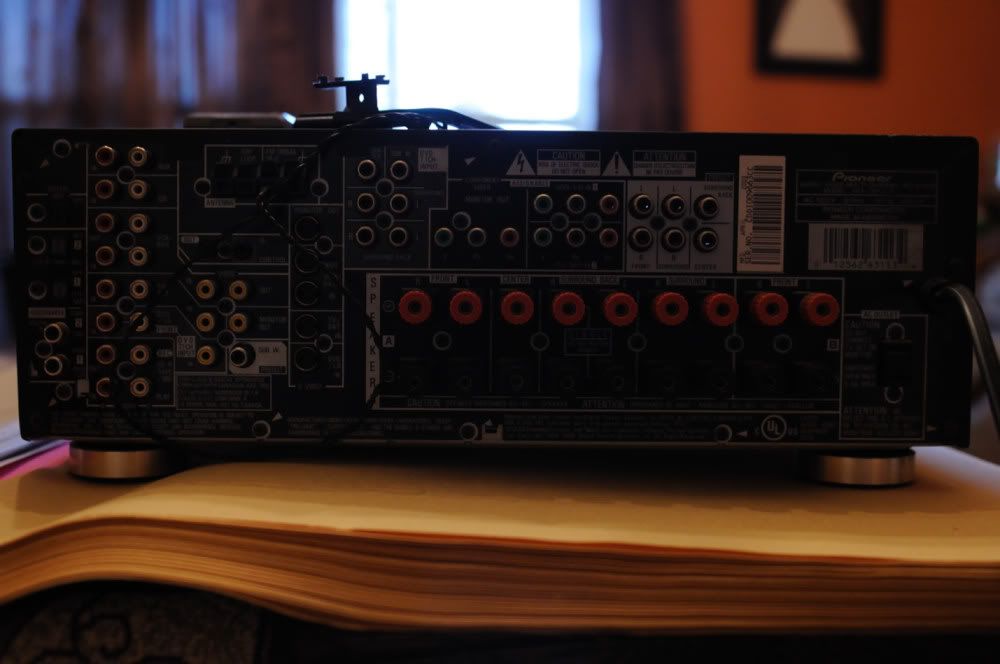 Type: Receiver
Number of Channels: 7.1 Channels
Stereo Mode Power: 100 Watt @ 8 ohm, 1 kHz, THD: 1%
Surround Mode Power: 100 Watt @ 8 ohm, 1 kHz, THD: 1%
Surround Sound: Dolby Digital® · DTS® · DTS ES® · Dolby Pro Logic II
THX Certification: No
DSP
DSP Modes: Game · Movie
Inputs / Outputs
Rear Input Connectors: RCA (2 Audio Channels) x 5 · Digital Coaxial x 2 · Digital Optical x 2 · Composite (Video) x 3 · S-Video x 3 · Component x 2
Rear Output Connectors: RCA (2 Audio Channels) x 2 · Digital Optical x 1 · Composite (Video) x 2 · S-Video x 2 · Component x 1
Front A/V Connections: Composite x 1 · Couple RCA Jack x 1 · Headphones x 1 · S-Video x 1
Surround Analog Inputs: 7.1 Channels x 1
Preamp Outputs: 6.1 Channels
Convenience
Speaker Selection: A+B or A/B
Tuner Presets: 30 Channels
Tone Controls: Bass & Treble
Remote Control
Remote Control Type: MultiBrand
Design: Keypad
Dimensions
Width: 16.56 in.
Depth: 15.38 in.
Height: 6.25 in.
Weight: 23.1 lb.