I looked around on the forums today just to get an idea if there was a step by step walk through on how to remove the rear bumper on a 04/05 WRX Sedan. As I could not find one I have created one.
We all have one retarded friend and sometime we let them drive our precious cars for reasons we still don't know. Mine backed up into another car causing no damage to the 70's model Cadillac but causing a large dent in my rear bumper right on the corner of the drivers side.
To Begin with you will need a deep well 8mm socket, Deep Well 10mm Socket, Deep Well 12mm Socket, an appropriate size ratchet, and a phillips head screw driver. Also you may need a flat head screw driver depending on how your crappy plastic clips are cooperating.
Begin by removing the plastic screw clips that hold down your carpet inside your trunk.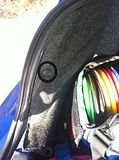 Fold back your carpet so you can get to the 4 8mm nuts holding your tail lights in. Remove the 4 8mm nuts on either tail light and unplug the electrical clip. Gently pull the tail light out and place it somewhere safe.
Next remove the 10mm screw on inside of your rear fender. This one may cause you some trouble because of limited space, just keep at it.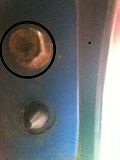 Next crawl your ass under the car and pop loose the 5 plastic clips (screws) or whatever those things are called. This may require a flat head screw driver (it did for me).
Sorry no image available for these plastic pops spaced out pretty well and I don't think the forum needs the extra 5 pics.
Next right underneath where the tail light would normally be you will find a 10mm odd shaped bolt marked #1 in the pic. Be careful with this as it crewed into plastic and will strip out if over tightened. There are also 2 more plastic pop screw thingies (#2 & #3).
We're almost there. Next you got back inside your trunk and behind the carpet just below and towards the center of the bumper from where the tail lights were you will find two 12mm nuts that need to be removed.
Finally pull the bumper loose but not all the way off. The Licence plate light still have to be removed. If you have a second person this is easy if not you may want a electric screw driver. You remove the two outer most screws.
That's it for the bumper removal.
This next information should only be done if you're confident in your abilities. I am not a licensed auto technician but I did receive this information from a man who did body work for 40+ years.
Now if you have a dent like mine you will need a heat gun or a hair dryer, heat resistant gloves (mechanics gloves work great), and a towel. I find it best if you lay the towel on grass and lay the bumper on top of it. Heat the inside of the bumper a little at a time checking the flexibility every 30 seconds, longer if you use a hair dryer. Press and hold the bumper in the correct spots till they cool. If the bumper is still warm there is a chance the bumper will not set correctly. It is almost impossible to get the entire dent out, but should get it damn close if you take your time and have patience.
This is my finished bumper prior to touch up paint.
If this post helps at least one person I won't feel like I wasted my time :P Good luck to you all.