June 8, 2012 Vendor Announcement-Draco Performance co-owner, Barry Bodine, begins working with the Subaru-PUMA Global Rally X Team
Draco Performance is excited to announce that Draco Performance co-owner, Barry Bodine, is the newest addition to the Subaru-PUMA Global Rally X team for the remainder of the 2012 season.
For those of you who have been long time clients of ours, I am sure this is no surprise. It's great to carry our level of commitment, expertise and extensive knowledge of the Subaru platform over to Global Rally X.
This addition to our schedule will have little to no affect on the work load we carry here at our shop and our scheduling of work. What it does do is reinforce that our knowledge and expertise is proven through our relationships and oppurtunities we are able to share with the community.
Needless to say, if we are qualified to work with some of the most abused and demanding Subarus in the sport, we can make your mild AND radical projects work for you!
Stay tuned to our Facebook page for behind the scenes photos, shop project build ups, Draco Sponsored events, specials and giveaways.
Right now we are hosting a contest for like referrals on our page. Who ever refers their friends to like our page from now through July 31, will have their name put in a Subaru-PUMA Global Rally X hat for each like and we will draw for some Subaru Swag! The person who refers the most will automatically get some swag sent their way. Your friends must be on our page for the term of the contest and they can PM us with your name to let us know you sent them!
www.facebook.com/DracoPerformance
Unloaded at our shop last weekend and heading in single file!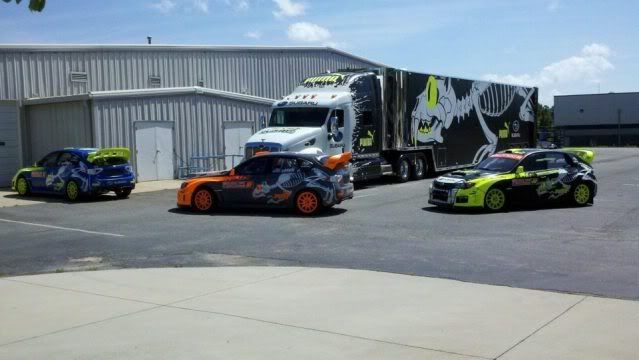 Below is a picture of one of the rally cars while they were working out of our shop after the Charlotte event next to our Time Attack car.