I started my Koni install today and got most of the way through the assembly process for the front struts.
I used '09 WRX struts as cores and had no issues in removal, disassembly, cutting, etc. When I got to the assembly stage, I got stuck. Before I go beating things with a deadblow hammer (recommended by Koni), I wanted to make sure that I got things right on the cutoff.
So I made it to here: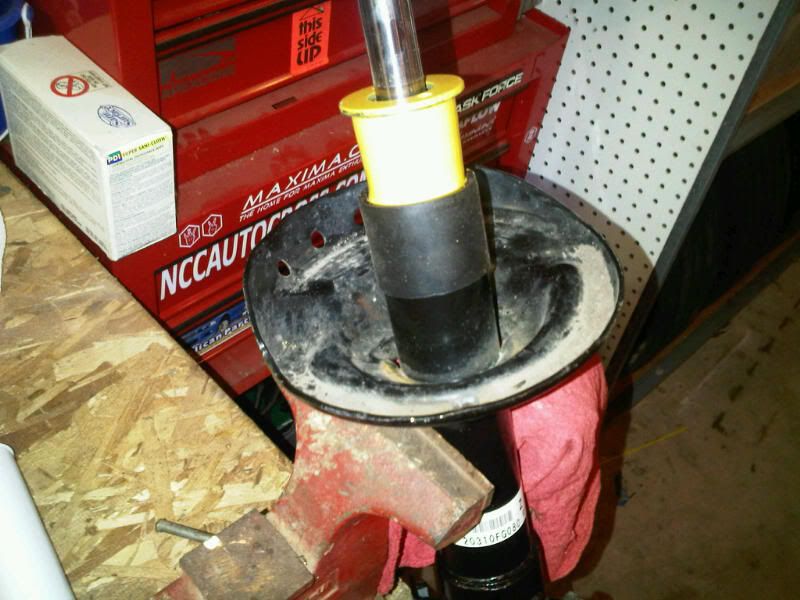 The strut insert seems to be at the correct location when looking from the top of the housing, but when it comes to the interference fit, I feel like just pounding the insert is a bad idea.
I read some thread on here that recommended using the bottom bolt to draw it into place, but the bolt does not reach the threads on the insert.
The directions state that if the interference nubs are 46mm from the top of the insert, you come down 40mm onto the body and make the cut.
Here are my measurements:
The bolt is 1" long. The insert is 1 5/16" inside of the housing.

What is the best way to go?
Longer bolt to draw it in (then replace with proper bolt)? Does anyone know the bolt size/pitch?
Dead blow hammer?
Cut the housing down by a few more mm to make it easier?
Thanks in advance!
Edit: For those not familiar with the process, I found this thread informative about the general process, but not about drawing/pushing the insert into the OEM housing:
http://forums.nasioc.com/forums/show....php?t=1219607