Event: Dyno (dynojet)
Location: Moto East 2016 STI DD
Ambient Temp: 70
Elevation: 400
Weather: cloudy/rain
Car: 2016 STI
Tuner: Moto East
Transmission: Stock 6 speed
Gear: 3rd
Peak HP at RPM: 363 @6200 (uncorrected, but runs are within 10 degrees ambient)
Peak Torque at RPM: 339@3800
Baseline hp/tq for a stock on same dyno: 274 for STI
Target Boost: 18 psi
Target AFR: 11.2:1
Fuel: E75
Engine/Power Modifications:
STOCK motor w/14k miles (11,000 on this setup)
Moto East Flex Fuel Kit
EcuTek Based Flex Fuel Tuning
AEM CAI
Grimspeed downpipe
Grimspeed top mount IC
ATP GTX3071R drop in turbo
ID1000's
DW300c FP
Perrin 3" inlet
OMNI 3 Bar Map
Custom 3" full exhaust w/single outlet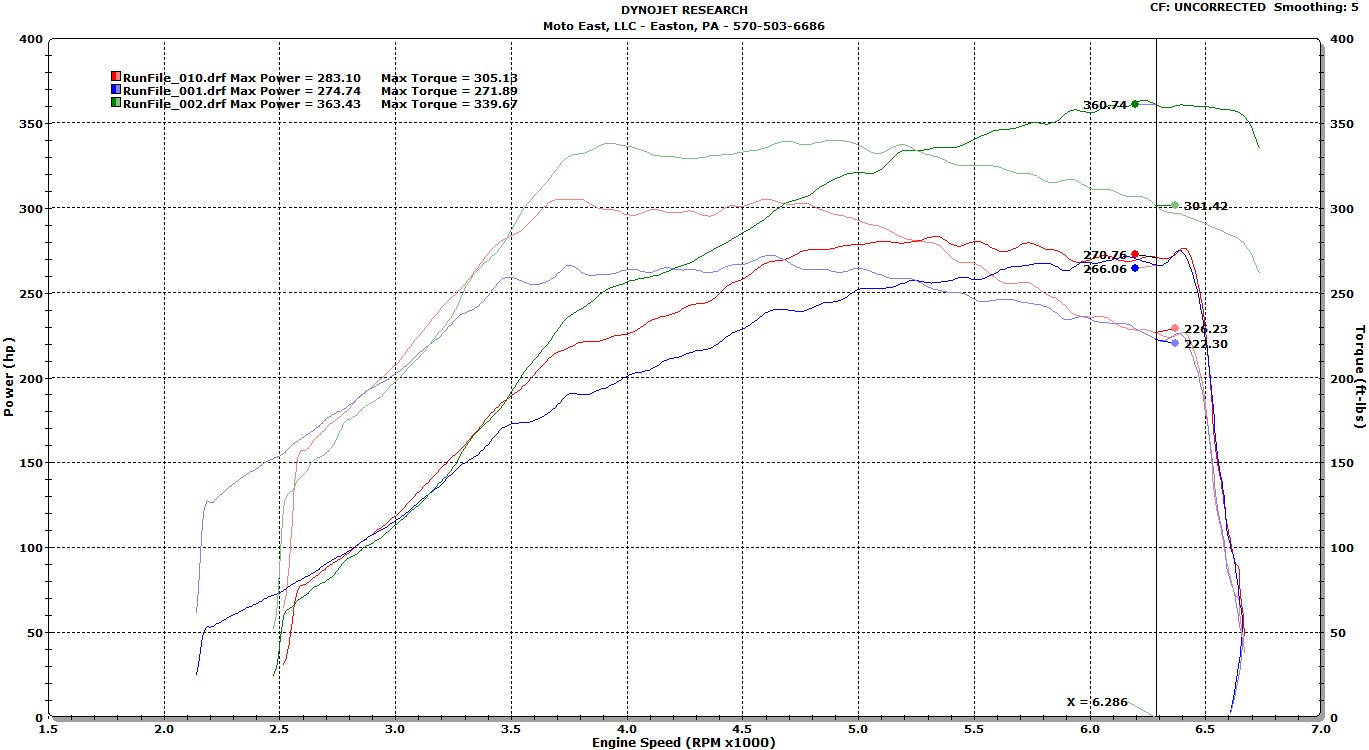 This is my personal DD after we racked up 50k on the supercharged BRZ (OEM motor the whole time) and in a span of 10 months we got 14k miles on it, driven hard because that's the only right way to do it. I have enough seriously modified cars that the goal here is to make a reliable STI with enough power to get out of its own way but not bog me down with a harsh overly loud ride, sub par drivability, and frequent maintenance. Normally when we tune the stock turbo cars you can get a good gain down low, but the top end is wheezy due to the stock turbo running out of steam. Goal here is to be modest with torque (18 psi), but keep the boost going strong to redline without having to push timing to the ragged edge. You'll always make better, safer power with boost versus riding the knock threshold. Blue line represents a stock STI, red line represents a tuned STI on pump gas, and the green line is on e70 with the GTX3071R stock location ATP kit.
Here we achieved our goal, 363 WHP that pulls strong to redline, with a net gain of about 90 WHP up there. Notice that spool is barely affected compared to the stock VF. This is reading
18 psi
on the dyno, while we see about 20 psi on the street due to better airflow. It does closer to 400 WHP VD at that setting. With the current spring tension on the wastegate we couldn't get past 18 psi on the dyno and didn't want to mess with it since it is perfect on the road.
So this is at 14k miles and I expect to drive this thing hopefully another couple of years before we tear it down for a bigger build. But for now it's been a great ride, and a relatively low cost upgrade for a 90 WHP gain over stock. Even with the cost of the car it is around 40k, which is quite reasonable considering the whole package.