Ok, so nobody freak out. I'm a devoted WRX owner and i'm trying to help out my brother. He lost a leg and can't drive a manual tranny anymore. I thought maybe I would have luck on here. I can post pics if anyone is interested. Don't know how long this will last in the forum. But admin this needs to be local. thanks.
'98 Mustang GT. All stock except for a K&N CAI and 17" Cobra wheels. The car is black on black.
- 4.6L V8
- Black leather interior
- OEM CD with mach system
- 5 speed
It has appx. 117,000 miles on it. Runs good and shifts good. It definately needs tires and brakes. The clutch is new and so is the fuel pump and a handfull of associated fuel components. The AC runs but he says he has to recharge it every few months. The paint is fair. No major dents or bad places 7/10 i guess. Interior is okay too. 7/10.
KBB has the car listed at $5000.00 in good condition. He wants to shoot for $3800.00. OBO is okay, but real offers only. Or, he would like a trade. He wants a comparibly valued auto truck. V8 or V6 full size or a Dakota for some reason.
just pm me if anyone is interested. And please dont hate on me. Just helping a brotha' out. Literally.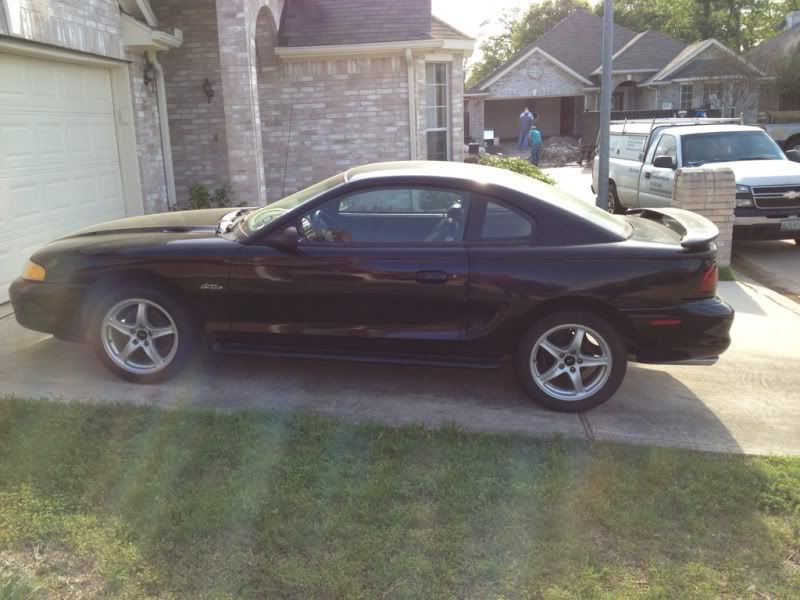 [/IMG]
[/IMG]