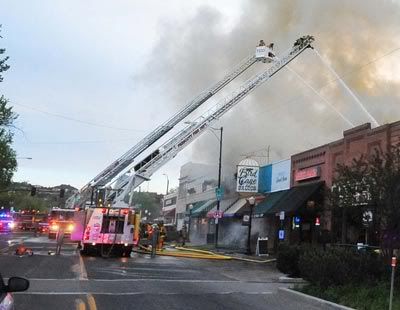 A fire on Prescott's famed
Whiskey Row
has already destroyed three businesses and is threatening others, according to preliminary reports from the scene.
At about 6:20 p.m., an employee at the Bird Cage Saloon noticed smoke and, unable to find the source, got her customers out of the bar and called 911.
Prescott Fire and the Central Yavapai Fire District responded with at least eight engine companies but were unable to stop the blaze from passing through the roof of the Bird Cage and entering the Prescott Food Store and Larry & Hy's BBQ restaurant.
Reports from the incident describe a surreal scene as more than 100 people have gathered on the courthouse plaza to watch the action, while others are still watching from the balcony of another bar on the row.
Traffic on Montezuma is blocked off between Goodwin and Gurley streets.
More reports to follow.