Lesson #1
How to make a proper selection.
1. Ignore the magic wand, lasso, and all other such nonsense. They are for amateurs, and you don't wanna be a noob do you?
The proper way to make a selection is to use the pen tool. There are some rules, and it takes a little bit to get used to, but it is 100% more accurate, adjustable, repeatable, and holds curve information, which NONE of the other tools do. This is because the pen works with bezier curves, and is a raster based tool, where all the others are pixel selects and work in 90degree increments only.
Step one. Determine the resolution of your image. There are NO hard cut lines in photography. Zoom in and keep zooming in until you can see your images blend space. I marked it with purple lines. This is the area where one object lays over the top of another, and this is your working area.
You want to keep your selections on the inside of this space baised toward the part of the image your trying to isolate.
As you are laying down your pathing, always click and drag. This pulls out the bezier adjustment tools, and adjusts the cut line to follow curves. THis takes a little practice to get quick with, and don't worry if its perfect, its adjustable.
To make those adjustments you need to manually work the nodes with the carrot tool (no clue what its name really is lol) On a mac, hold down option and click. Then you can change the shape of the curve and node length. Try to always keep both nodes linear to each other, unless you have a corner, or you will get a hard angle on your curve. If you need to change the location of the point itself press the command key, and you will get an arrow to make that adjustment.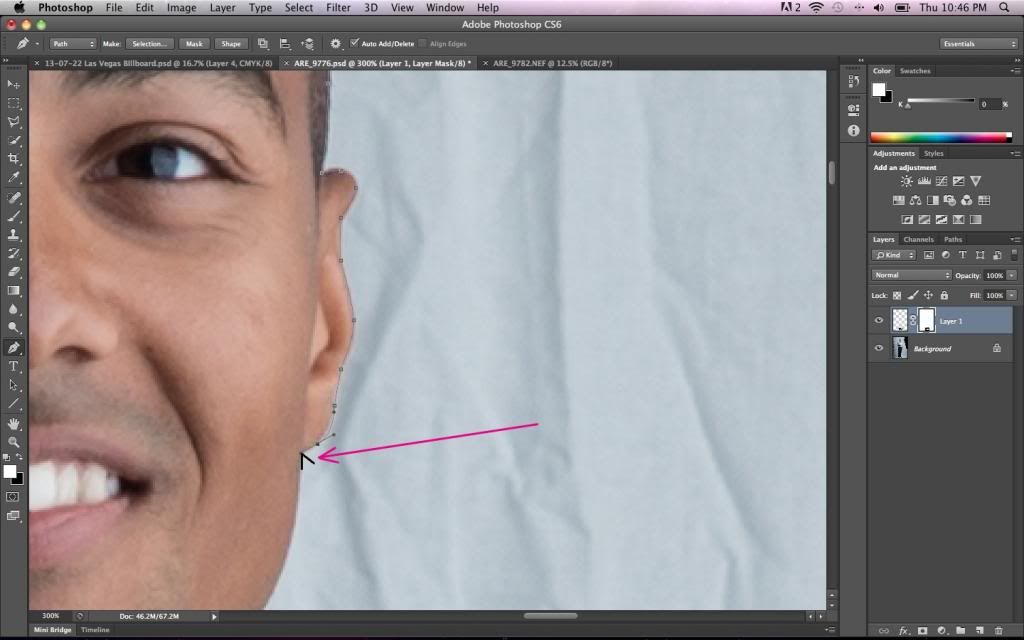 [/url]
Once you complete your path. Click on the paths palled, and save the path. (Otherwise it will be replaced by the next one you make, and this way it saves with the files so you can always adjust it.)
Then command click on the path in the pallet to turn it into a selection, and navigate to the feather command and put in 1px and hit return. This gives the path you created a nice blend very similar to your original blend space, and when you modify it, creates a seamless transition.
[/url]
If you are isolating for adjustment your done. If you are clipping an object go back to the layers palette, and click the layer mask button, and viola.. all done.
At this point I do a blend check. I make the image its own layer, and create an additional layer of pure magenta. The beauty of this, is anything that was done wrong shows up as a white halo. You can then just use your airbrush with white (for adding) or black (for taking away) and finish your path.
Here you can see a properly set blend, and one that was done too wide. The halo is the most common mistake people make.
Files should be saved as a .psd.
This is the basis of all HQ photo editing. It allows you to isolate image components for selective color adjustments, clipping, proper (fake) tilt shift and depth of field applications, etc.
End lesson 1.