Just a Feeler,
So the day has come for me to get rid of the RSTi, I don't drive it enough as much as I thought I would, so I want to see what kind of offers I can get. I would like to get in to something newer and casual. I recently sold my STI and picked up a Ducati so I need a decent daily driver. Since I got it back and in 100% working order I have driven it less than 3000 miles. I have put a lot of hard work in to this car and it shows it. Car is in 100% working order and no problems other than body work. Car was recently tuned at Turbo XS (330 lbs/ft and 320 HP) and all work has been done by me or Andrewtech.
The chassis has 197,XXX on it, the motor has less than 3000 miles on it, the 6 speed has about 36k on it. Also to note the Car just passed emissions here in Maryland on Tuesday 6-19-2012.
As for the exterior condition of the body it's 7 out of 10 and is showing the usual rust spots and some on the roof. I have tried to fix most of the rust on my own and have taken care of a lot of it. I have recently vinyled the whole car matte blue and it has definitely change the appearance.
Special Note
: The car's harness is merged so that 3 types of motors can be run without having to redo some to no wiring. You can run a EJ205, EJ207, and EJ251.
Let's get to the important stuff.
I am asking $15,000 Or Best Offer I am also open to trades for anything newer, shoot me and an offer and the worst I can say his no. Keep in mind I have well over $15 invested in the car.
* (Items included but not installed)
Powertrain/Exhaust (2.5L Hybrid)
:
2005 EJ257 Block (STI Rods and Crank)
CP Pistons (Forged)
2.0L Heads- Disassembled, cleaned, polished (all done by Andrew himself)
Walbro 255 fuel pump
VF-34
750cc fuel injectors
Injen catless 3" Downpipe (catless)
Blitz Nur-Spec Catback (with Kartboy Stiff Hangers)
Big OBX TMIC
Flex Up-pipe-Catless (don't recall the brand was installed on my Andrewtech, my HKS was misplaced)
U-tech with map selector (tuned by Jermaine-Turbo XS)
Injen Intake
TGV Deletes
Drivetrain
:
JDM Ver 7 STI 6 Speed (non DCCD- rear diff, all axles, driveshaft, and clutch, new throw out bearing)
Kartboy Short Shifter
Kartboy Front and Rear Shifter Bushings *
Brakes/Suspension
:
Megan Racing Street coilovers (3-4k miles)
Whiteline Rear Lateral links (1-2K miles)
04 STI Brembos (New pads, all hubs from the STi, Wilwood brake fluid used)
Stainless steel braided Goodrich brake lines
Brand new ball joints
E-bay front and rear strut bars *
Exterior
:
JDM V7 STI Wheels (Gold)
Wrapped in …
JDM Rear Tails (maybe 400 miles on them)
Big STI styled hood scope
Replica V5/V6 Grille
Eye lids*
Shaved door moldings
Vinyled Matte Blue
Charge Speed Replica front bumper (minor crack)
Charge Speed Replica Side Skirts*
JDM corners
Infinity J30 retro fit headlights* (have to be sealed)
Engine bay painted black
Interior
:
Sparco EVO L Seats with sliders (Black, driver and passenger)
V6 STi steering wheel
Pioneer AVH-P4300 DVD
6" subwoofer with Amp
Durcon 6 Speed shift knob
STI Rear Seat
Glow Shift Gauge Pod*
Defi Gauges (boost and exhaust temp)*
Pros
:
Car is perfect for someone who is looking for most of the work to be done and wanting more power. Car runs and drives perfectly. Car does have AC, just needs the condenser and all lines installed.
Cons
:
Body needs some care and love, only thing I can think of that's a con, other than high chassis mileage.
It will come with the extra vinyl wrap I have left over; you can wrap a lot more with it. Please pm with any questions you have, I know I am probably missing minor stuff here and there.
Thanks for looking
-Khurram
Before:
After: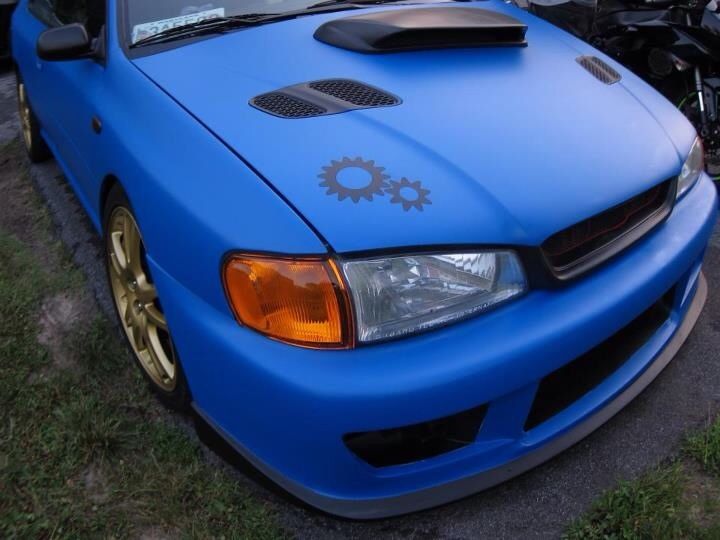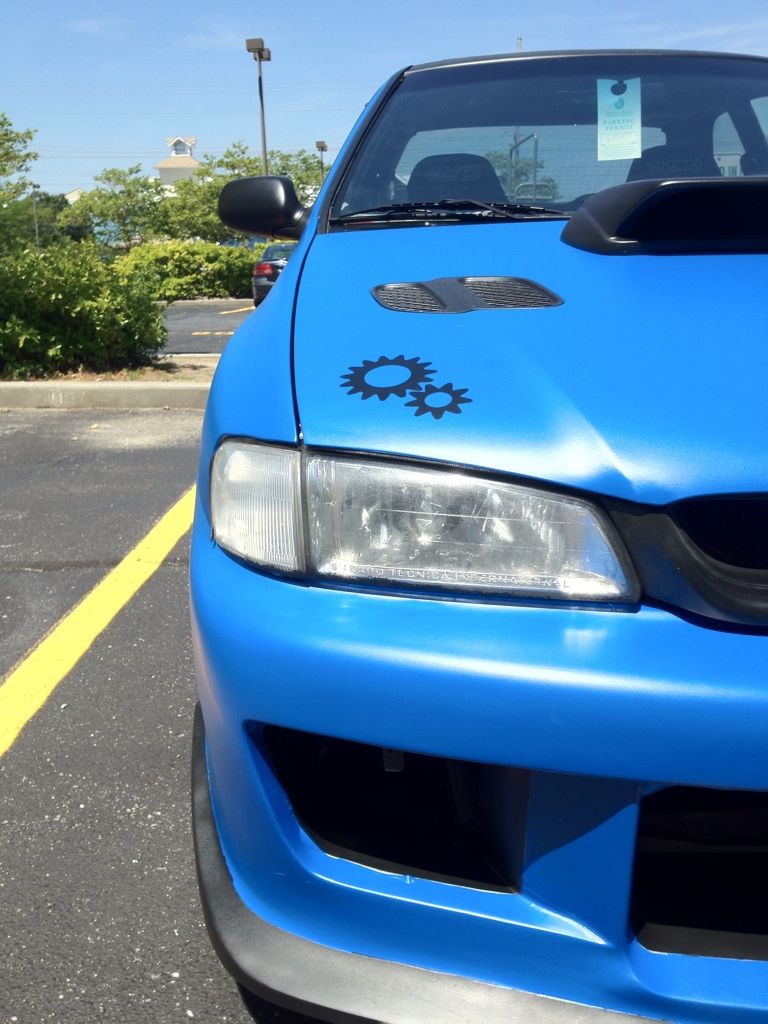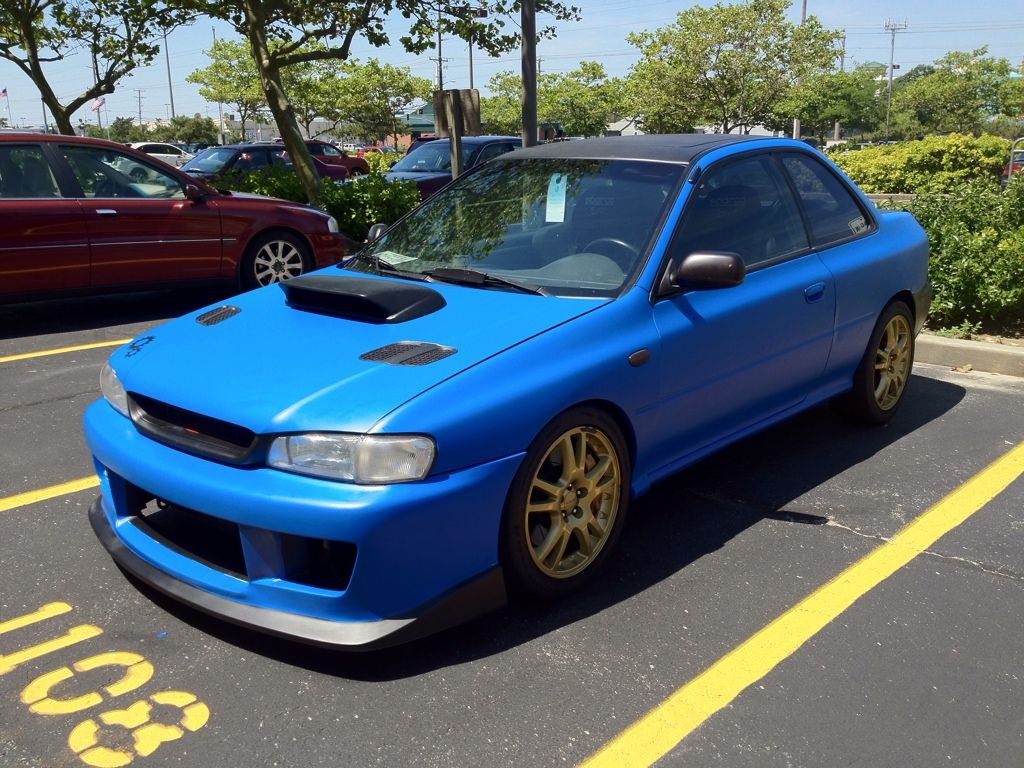 videos
http://s5.photobucket.com/albums/y189/khurram720/?action=view&current=602252b6.mp4
http://s5.photobucket.com/albums/y189/khurram720/?action=view&current=18362573.mp4