I have been building and racing my STI since 2006 back when I purchased it new. Year after year I have progressively rebuilt and changed my configuration in order to generate and support more and more HP, which both the industry and myself have demanded in order to maintain a competitive level in heads-up drag racing. When making these drastic changes it is always crucial to be extremely selective with not only the components that are chosen, but also:
1.)Who the manufacturer is
2.)How the components are made
3.)The quality and reliability of the components
Fast forward to this past winter, when I was in the process of changing my turbo setup from a "stock location" FP HTA Black Turbocharger, generating just over 500 WHP at 5800 ft of altitude, to a "rotated" FP HTA 3794 Turbocharger (and many other supporting components) which today currently makes just under 620 WHP on the same dyno at 5800 ft of altitude.
During the process I knew that my "stock" throttle body would certainly be the "bottleneck" in my system, and an alternative would be necessary. Fortunately, and ironically, I found that Boomba Racing had just released their new 75MM DBW Throttle Body for the STI. As you can see from the image below (borrowed from Boomba's website), there is a significant increase in diameter that is very noticeable. According to Boomba Racing their new throttle body gives almost 56% increase in throttle cross section area over the stock throttle body. Throttle bodies are CNC machined of billet aluminum, and I am extremely impressed with their quality. Yes, they do come in multiple colors such as this red shown in the picture below, however I went with a standard sliver color.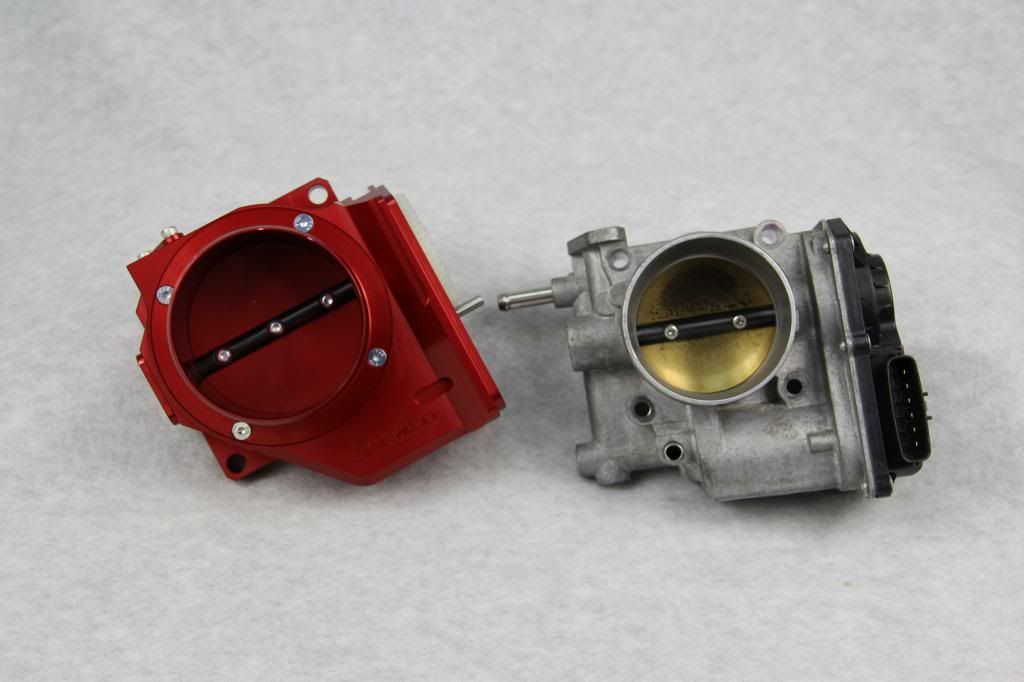 INSTALLATION:
Installation was very simple, and only took a matter of minutes. Once you remove the "stock" throttle body from the car, you simply remove the plastic TPS cover from your original throttle body, unscrew and remove the servo motor, and then reinstall into the new Boomba Racing throttle body assembly. All in all I don't think Boomba could have made it much easier to install.
Once you have everything installed back on the car, Boomba provides instructions for recalibrating the TPS when using the "stock" ECU. Aftermarket ECU vehicles will need to follow instructions specific to their ECU TPS calibration procedure.
RESULTS:
As you all know, every vehicle's results will very based on variables such differences in exhaust system, turbo, fuel type, fuel system I will provide a brief list of my vehicles modifications for reference:
2013 PARTIAL PARTS LIST:
-Boomba Racing 75mm DBW throttle body
-ASF Machine Darton sleeved block
-ACL bearings
-Manley I-Beam Rods
-Manley crank
-Manley 1mm oversized valves
-Custom 10:1 ASF Machine Pistons
-Brian Crower 280 cams
-Ported heads by Power Engine Performance
-ARP 625 + head studs
-Killer B oil pan, pickup, and baffle
-Forced Performance HTA 3794 turbo with 1.11 T4 divided A/R
-Aeromotive fuel rails and FPR
-Custom ASF Machine/JC Fabworks intake manifold
-Custom twinscroll turbo manifold built by JC Fabworks
-Treadstone front mount intercooler
-Custom intercooler piping by Power Engine Performance
-Custom Air/Oil separator by Power Engine Performance
-Custom turbo coolant reservoir by AR Design
-AEM 4-Channel UEGO Wideband Controller
-Injector Dynamics 2000 injectors
-Custom downpipe by JC Fabworks
-HKS racing II blow-off
-AEM EBCS
-Dual 38mm Tial external wastegate
-Custom ceramic coated Apex'i N1 catback exhaust
-NGK 1 step colder plugs
-Buschar racing dual walbro 416 double pumper setup
-Series II AEM EMS
With no AVCS and on 38 PSI of boost on Revolutions Performance low reading Dyno Dynamics dyno at 5800 ft of elevation the car made just under 620 HP and just under 490 TQ. As you can see from the dyno graph above, thanks to Boomba Racing's 75mm DBW throttle body the power curve is EXTREMELY smooth and free flowing as the car coming into boost/power with no bottle neck in the system when pushing air into the motor. Accordingly, with the help of Boomba's throttle body the restriction has now moved to the next location, requiring a larger cam in order to sustain power/airflow through the heads up top.
Final Impressions:
Boomba Racing's 75mm DBW throttle body is a wonderful product, and an excellent option for ANY and EVERY STI owner out there looking to improve the performance of their car. Additionally, I would like to note that when I did have any questions or concerns regarding the product, their customer service was not only excellent, but very quick as well. Thanks again for the great product Boomba!