Shop: Motion Lab Tuning
Dyno Type: DynoCom FX5000-AWD
Temp: 55F
Boost: 23psi
Fuel: 93OCT
Target AFR: 11:1
SAE Corrections: Default Corrections
Peak HP at RPM: 357whp @ 5600 RPMs
Peak Torque at RPM: 407wtq @ 4100 RPMs
Transmission: Stock 6 speed
Gear: 5th
Engine Management: Opensource
Engine/Power Modifications:
Mahle Pistons
OEM rods
Perrin Up-pipe
Silicon turbo inlet hose
Stock STi TMIC
Invidia N1 Catback
K&N Intake
FP Green turbo
This was a 2004STi from a few weeks ago that we finished up rebuilding the cylinder heads. He had coolant getting in the oil, so we ripped it out and dug in. The motor had been rebuilt about 10,000miles ago, but didn't upgrade from the OEM head bolts. They only rebuilt the bottom end with OEM rods, fresh bearings, and Mahle forged pistons. We ended up doing one of our 3-angle valve jobs and re-assembling with some slightly thicker Cometic head gaskets and a ARP head stud kit. We also found the up-pipe to be COMPLETELY broken in half at the flex bellow which is how we ended up with the high quality 321SS Perrin up-pipe. That free'd up some extra torque and better spool in the mid range. Now the car is running tip top, making more power than the first visit on the dyno, and holding more power up-top with the changes that were made.
Final HP/TQ with AFR and boost graph: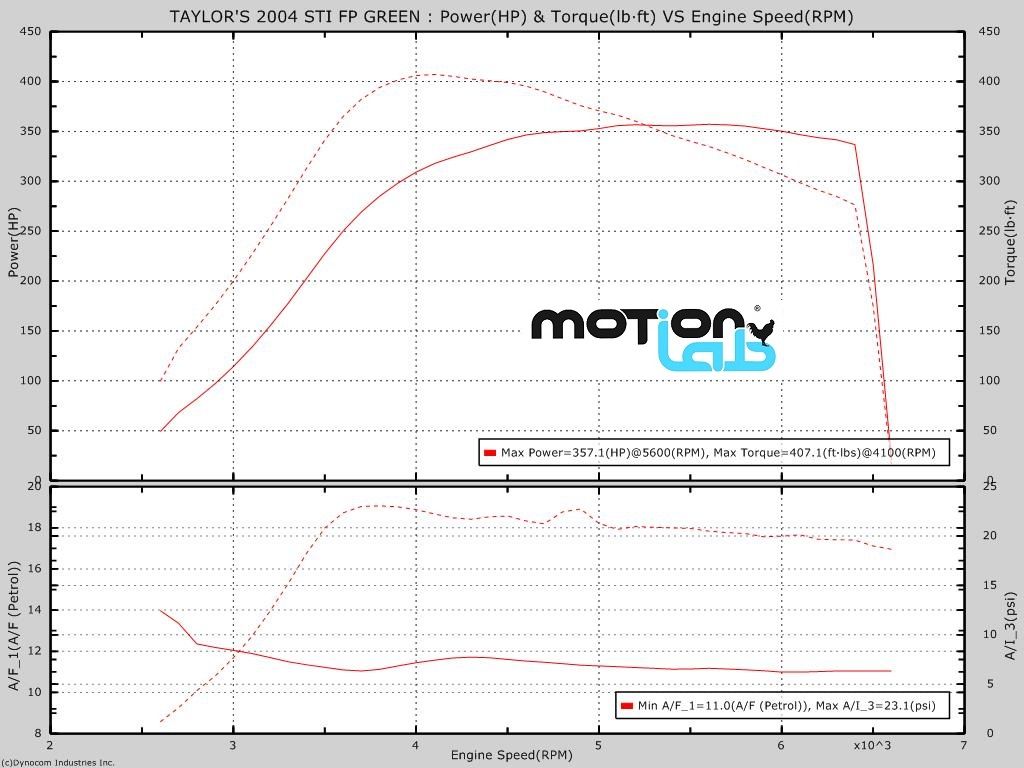 Thanks for looking!
Alex Goodwin
[email protected]
MotionLabTuning.com - Engineering Performance
Motion Lab on Instagram