So obviously not a subaru, but figure I would share this anyways.
So a little background.
First off, while I was still with my old employer (Late 2008) I had a 2006 Aspen White STi lined up at a dealer. Went to pick it up, and in my excitement about being approved without a cosigner forgot to get an insurance quote. 20 minutes later, dreams are shattered as the cheapest I could find was $684/month with the cheapest rate for an 06/7 WRX being $472/month. Being 20 trying to buy a newish* car is the worst....
So I had bought a '94 NA MR2 back in early 2007ish and always wanted to swap it. Being a broke high-schooler at the time that was obviously not happening.
Fast forward a couple years and I got a decent job in Ann Arbor as a service manager for a computer firm and the mod bug hit since the WRX/STi was out of the question.
Mods when I bought the car:
Exterior:
Border Body kit
Re-painted HoK Black with iridescent flake (Yes, its "rainbowie" in the sun
)
Motegi MM7 rims
CF Border Hood
And that was it.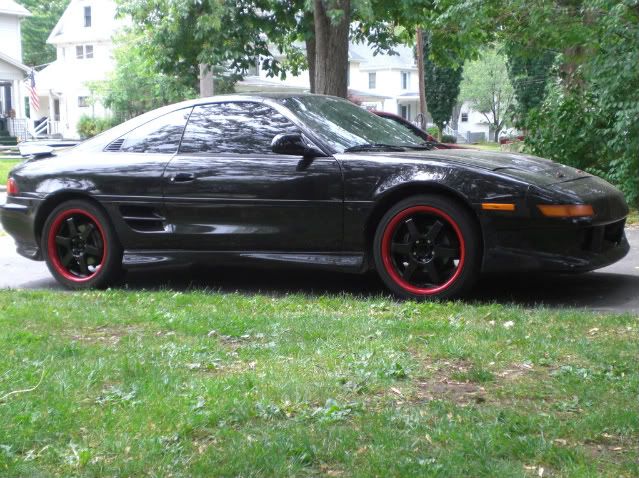 First things first. Replaced CF hood (was cracking) and re-installed oem rims
Then it came time for the plans on what to do. I didn't have a huge budget which is fine because you don't need a lot of power to make these cars quick. I originally was thinking a rebuilt gen 2 w/ 3071r kit, but I couldn't afford the supporting mods to really make use of the power. Instead I went for a 97 Gen 3 swap with a new E153 LSD Trans. I wanted a new trans which is what really won this decision over. Also while I was looking a very big mr2 shop was moving to a new location and needed to offload some parts, so after talking with him a while I ended up ordering my swap from him too for a great price!
Here is the crappy part. The phone I had when I started broke along with 90% of all my pictures. Whats left is just random ones I uploaded. I am looking for the sd card I backed everything up on but no luck yet.
Motor out:
While the motor was out I decided to clean up the car a bit while I had the room. I wanted to replace as much worn stuff with OEM as possible except where I was going to upgrade:
Chassis/Suspension:
-Removed all lines, bolts, plastics and de-greased entire under side of car
-Rubberized the entire under carriage of the car
-Stripped all Fender Wells and POR15'd all four corners
-Replaced Every bushing on car with Prothane Bushings
-Every bracket and suspension piece was media blasted and Powder-coated Gloss Black
-Stripped Struts (Housings Media Blasted and Powdercoated)
-TRD Lowering Springs (1.5" Front 1.25" Rear i think)
-New OEM Strut inserts
-New OEM Strut hats
-ST 22mm Front and Rear Swaybars
-ST Swaybar Re-inforcement Plate
-EMS Adjustable End-links
-New OEM Ball Joints and Tie Rods
-Stripped and Rubber lined Crossmember
-All bolts were replaced with OEM Toyota Bolts
I had a ton of pictures of this but this is all I can find atm
Then I hit a standstill for the next year an a half or so. I got laid off from work, went back to school, and had to work about 60 hours a week + school to be able to pay the bills etc.
Worst thing was I only needed a clutch to put everything back into the car and start buttoning it up.
I was gonna finish it I told everyone, but days turned into weeks into months blah blah blah.
Well now something finally set my ass on fire and I started back up on it.
Ordered the clutch, resurfaced the flywheel, and started throwing everything back together last weekend.