I had a somewhat bad experience with this TBE and thought I should share my experience as I couldnít find a lot of feedback on this setup when I purchased it.
I purchased this system from Import Image racing a couple of weeks ago for $555 and installed it last Thursday. The exhaust consists of a CNT (formally ERZ I believe) and a Gimmick Motorsports catback. Not a bad deal if I didnít have to get it fixed but it definitely wasnít worth the headache.
The downpipe fit well where it connects to the turbo and looks pretty nice but thatís about all I can say good about the downpipe. Two issues I had where that the o2 bung leaked because they failed to completely weld it and it leaked badly where the midpipe and downpipe connected because it didnít mate up correctly. Iím honestly not sure it the second leak was caused by the downpipe or catbackÖ (fyi I had the same problem with stock hangers and Kartboy extended hangers)
I had a really hard time getting the exhaust to line up correctly at the midpipe and tried everything to get it to mate up but could never really get it to work right. I ended up taking it to a few shops to get their opinions and they all pretty much said the same thing, I needed to put a flex coupler in the midpipe to make it work correctly. Here are a few pics-
Partialy welded o2 bung: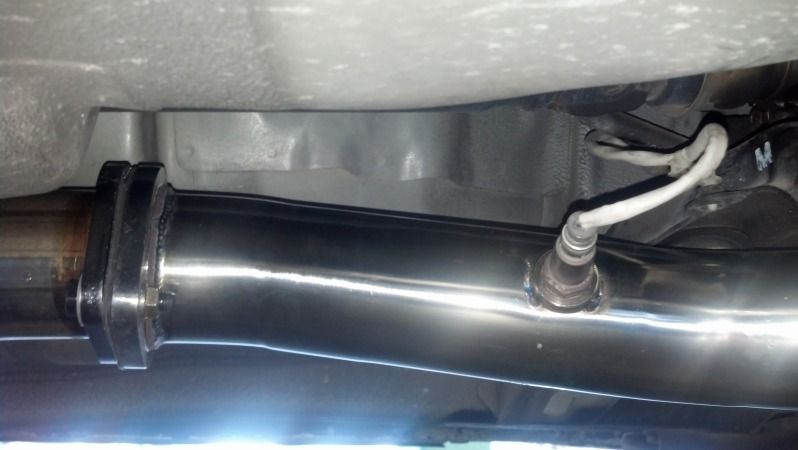 Midpipe fitment-this is everything bolted together and the bolts tightened to ****. They were so tight they snapped when I removed them:
This is diconnected to show the angle as well as distance. I could get it bolted up but it put things in a pretty bad bind:
So I ended up taking it to a shop to have it fixed. O2 bung was only $20 so that's not an issue but the flex coupler was $115 so that kind of sucked and washed away a little of the money I saved on the exhaust. Here is the final result, you can see the angle and how off it really was: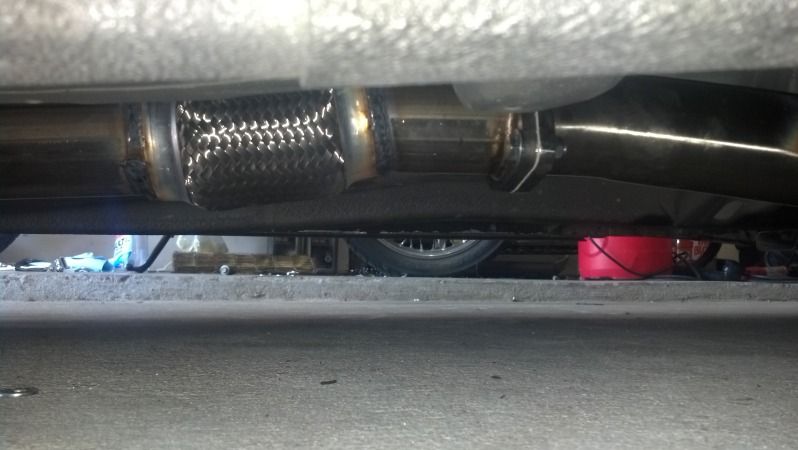 I initially called IIR to figure out what to do and it kind of seemed like they didn't believe that I was having issues because they said they never have issues with that TBE. In the end they ended up giving me some store credit and were pretty cool about it. I'm not upset with them but was pretty irritated with the situation; a little about the money but more about the time I spent working on it and going to different shops.
I honestly feel like the downpipe was mostly the cause of my problems in this situation. I've read quite a few threads on CNT downpipes and was really surprised that in my case the pipe didn't live up to the hype.
After getting all of the kinks worked out I am happy with the exhaust. I was able to go stage 2 which is fun, the exhaust isn't obnoxiously loud and it doesn't drone on the highway (and I do a lot of highway driving so that's important to me).
In summary I wouldn't recommend this exhaust although if you are considering buying it keep in mind that people have bought the same exhaust with zero issues. Maybe they rushed through manufacturing and made some mistakes... not really sure but it sure was a pain in the ass. Maybe that's what I get for trying to be frugal on a TBE.
***Don't forget to buy extended hangers so you don't burn your bumper***
( I wasn't aware that I needed them and did)
Hope this is helpful!