Just wanted to give my feedback on this item:
http://www.ebay.com/itm/3-High-Flow-...ht_4268wt_1163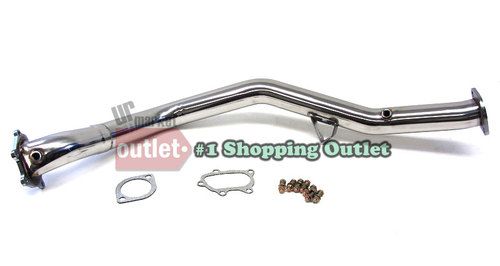 The install couldn't be easier. It fit VERY well length wise. The sound afterwords was AMAZING. It is catless so you will need to tune out the CEL. Overall, VERY happy and for $155 free shipping, definitely the best downpipe for the money. The low end burp the car now sounds AMAZING! I missed this so much when I had catless on my SRT4. Just blip the throttle and here a little pop pop out the exhaust. The tone all around is much deeper and you can really hear that subbie boxer now. The car is a little louder but it is definitely respectful w/ the factory exhaust. Its the nice middle between stock (aka all you hear is tranny wine) and Honda 4" tip status.
**Just realized there is a brand name called Nameless Performance. This is not from them. I called this Namless becuase the is no manufacturer name associated with it.**
Pros:
-Costs half what other downpipes cost.
-SUPER fast shipping, FREE as well
-Sounds great!!!
-A good fit (very slight modification needed)
-Noticeable slight power increase
-With an intake and Cobb stage 2+ tune this runs a perfect 11.1 AFR
-Did I mention the sound?
Cons:
-Although overall good quality, the weld for the waistegate part was rough, I used a dremmel and a lot of patience to smooth it out. It did fit and work without grinding though, im just OCD
-The exhaust hook does not line up properly but I did not need it to support the pipe
-the O2 sensor bunge is set further back than factory (atleast for my 2012 WRX) so you may need to trim back the heat shield a little to make the O2 sensor fit