I have owned my second 2002 wrx for a few years now and have been doing some little mods here and there, but have aspirations of turning it into a hillclimb/autoX event car and thought it was time to start making a build thread for my beat up project car.
I bought the car back in 2014 after selling my first wrx because of rust, for something a little cleaner. The motor had an oem rebuild by the previous owner 30k before I bought it, but the transmission was on its way out and ground 4th gear unless you double clutched and took your time with it. I bought it mostly stock, with the following mods:
Raceland coilovers
Specter intake
Turbo XS 50/50 BOV
Custom made straight pipe exhaust
Unknown brand short shifter
Full STi interior swap
StopTech drilled and slotted rotors front and back
Uhaul trailer hitch
gold 16inch rims - don't remember what brand
First off I noticed the rear camber was wayyy off.. one side had a reasonable amount of negative camber, and the other was a bit extreme for me, but was obviously different side to side.. First mod: whiteline camber bolts to the rescue! On disassembly I found a camber bolt was previously installed on one side, but not the other, so in the bucket it went and the whiteline ones went in. Had the car aligned and now have -1 in the front and -3.5 in the rear.
I drove the car as it was for a few months before I started having real issues... Cruising down the highway one day, and all of a sudden it was free revving in gear. No bangs or grinding, it just all of a sudden would free rev in all gears like the clutch wasn't engaging.. Had it towed home and hit up the local craigslist to see what my options were. I lucked upon someone parting out a 2004 Impreza 2.5RS with a 5-speed box in it with aprox. 130k miles and picked up the trans and rear diff for a bargain price. From my research, I would need the trans, diff, clutch, and flywheel from the 2004 impreza to make the swap, and would have a higher (4.11) final drive ratio as a result. I bought a Exedy oem replacement clutch, and an ACT lightweight flywheel for my new impreza trans, and a STi group N trans mount and pitch stop mount since I would have the old ones out anyways. I started the swap, and found that the oem pitch stop mount was completely missing
other than having to do the swap in a gravel drive way on jack stands, the swap went off without a hitch throughout the next couple of weeks. Finally getting to drive my car again, between the light weight flywheel and the shorter gears it felt like a whole new car!
No other mods over the next year while I was acquiring parts and saving my pennies while I was going to college, until finally I thought the time came to put to use all the parts I had bought, and a friend and I got to work in his garage. We installed:
850cc Injectors
Perrin turbo Inlet
STi top mount intercooler
DW 255 fuel pump
vf-43 turbo
Front strut tower bar
Swapped specter intake for an oem airbox
Front bumper quick release
WRX four piston front brake calipers
The project was fun for a while, but without being anywhere near a good tuner I sent my mod list to a shop in NY to get a basemap to drive on for a couple weeks until I could make it out their way to get it on the dyno. Put a few hundred miles on the new setup, and I could tell the car wasn't happy with something.. Not being sure what else to do, I limped it to the tuners shop to find I had no compression in two cylinders
Long story short, I got a used JDM ej205 online and had my bolt ons swapped over to that motor but used the td-04 that came with the motor so I could sell my vf-43 to pay for the swap. Numbers for that setup came to 243whp and 238ft-lbs of torque at 21psi on the teeny stock turbo, and would stay there for some time..
I had wanted to get into racing or autoX for some time, and about a year after I had it properly tuned I finally had the opportunity. The New England Hillclimb Association hosts weekend events where they close down mountain access roads to allow enthusiasts to race up the mountain against the clock, and there was an event coming up that was only a half hour drive from my mothers house! Only requirements I needed to meet were installing a fire extinguisher in my car, and buying a race helmet which I did promptly. At the event, I realized I desperately needed better coilovers, sway bars, and tires after I hit a bump on the last corner and killed a sapling with my passenger side doors...
Still, I had tons of fun and even placed 3rd in the stock/prepped class.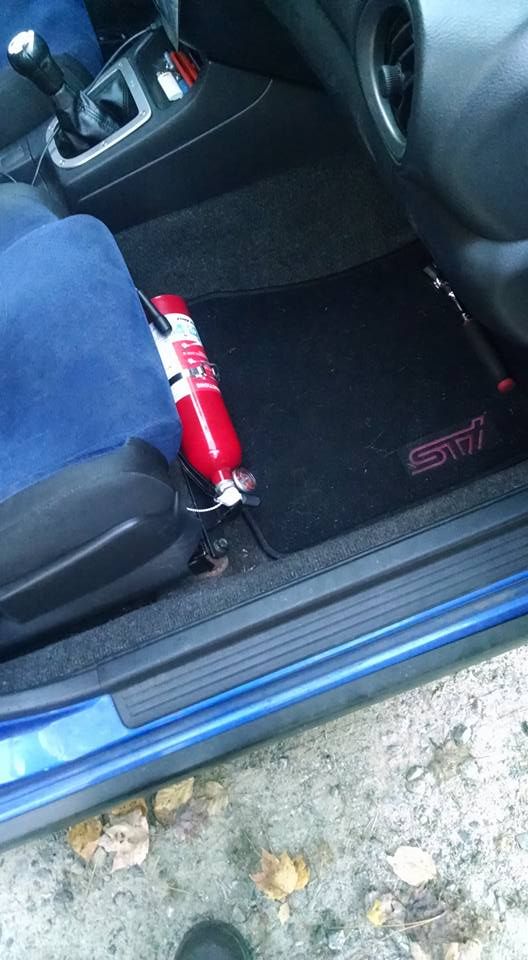 Since that event, I've bought whiteline 24mm front and rear sway bars as well as whiteline front and rear endlinks to install come spring and will also be buying BC BR coilovers with Swift springs, stainless steel brake lines, and some better tires to improve handling for the coming hillclimb season.
Will update after the parts are installed this spring, and as I compete in the hill climb events over this coming summer!