I applied to a Job to deploy overseas so I am putting my car up for sale.
Info:
Car: 2003 Wrx
Mileage: 200,500 (will go up daily as it is my DD)
Color: Rare Sonic Yellow
More information:
- EJ205
- Rebuilt heads and top end at 192,xxx miles
- Fuel issue was replaced under recall at Camelback Subaru 194,xxx miles
- All engine hoses replaced with new ones at Camelback Subaru at 194,xxx miles
- TIMING BELT, WATER PUMP etc.. was done when the heads were rebuilt
- All oil changes have been done every 3,000 miles with Delo 400LE
- Transmission flush at 195,xx miles w/ extra s
- Rear differential fluid changed at 195,xxx miles w/ extra s
- Coolant was drained and filled with new Subaru green radiator fluid at 195,xxx miles
- Front control arm rear bushings were replaced 2,000 miles ago with STI bushings
MODIFICATIONS
- APS 65mm CAI intake
- APS 50/50 recirculating bpv
- Invidia Bellmouth catless downpipe
- Grimmspeed Up pipe
- Brand New Skunk 2 CBE
- Perrin lightweight crank pulley
- Deatschwerks DW200 (255 loh) fuel pump
- Tuned on 91 octane by Travis from Snail Performance at Forced Air Technologies (247whp/244wtq) Have dyno sheets
- Car was tuned at 192,2xx miles
- Full tint all the way around
Wheels/ suspension
- TSW willow 17x8 + 40 (no longer has BBS wheels)
- Tanabe GF210 springs (like new) NOW has ksport coilovers
- tires and wheels full warranty through discount tire
Exterior
- Stock WRX wing
- Yakima roof rack w/ all accessories (lock, key, etc)
- Blacked out side markers
- Mesh black fog light covers
- Rally Armour UR mud flaps (black w/ red)
Interior
- 04 STI front and rear seats
- Glowshift Boost gauge
- Plasti dipped all silver pieces in the dash (looks amazing black IMO)
- Interior is literally spotless with no rips, tears, stains etc. Looks amazing since its an 03.
I think that is all I can think of as of now. To be honest, this is one of the cleanest bugeye's and one of the nicest sonic yellow wrx's out there. Not too much done do it but just enough to put your own taste into it.
I average 28-32 Mpg and do not shift over 3k rpms. This is my daily driver so I can not afford to put money into a new motor or rebuild.
All maintenance is up to date on the car and car will have a new alignment done on it in the next week or so
I'm not in a rush to sell the car nor do I really need to. I just rather not have the car sitting while I'm overseas. I already have two other cars (2012 veloster and 1971 superbeetle ) so this would just be sitting. No trades, lowball offers.
Price is $8,500.00.
I bought the car for $7500. Replaced control arm bushings, struts, springs, tires, STI wheels, STI interior, APS CAI, APS recirculating bpv, removed dents, all the fluids etc etc. The car has been inspected by my mechanic at Camelback subaru when I took it there two months ago and I replaced all that was needed to give it a clean bill of health. Im upfront and honest so I wont waste your time and mine in return. If I don't sell it, then I will simply keep it. NOT PARTING OUT! please don't ask.
A few pics for now. More to come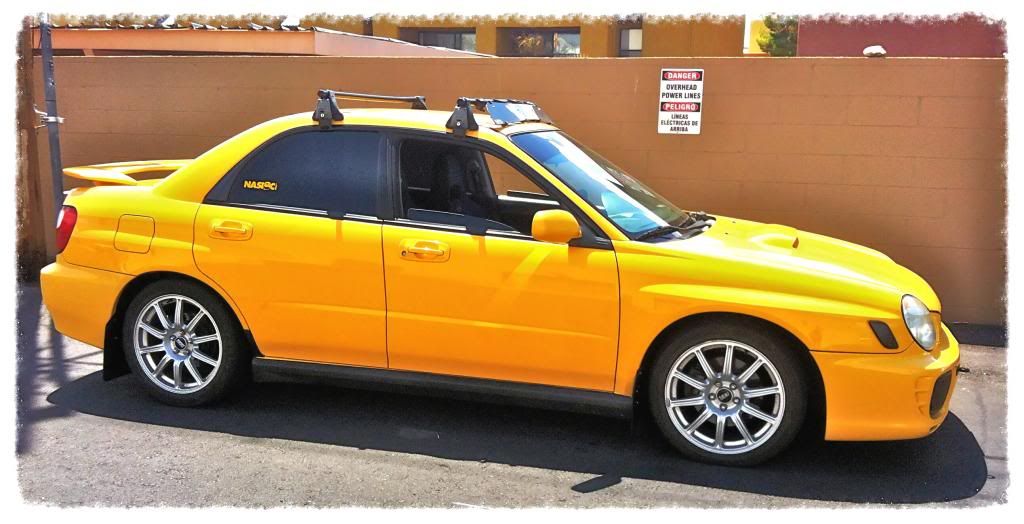 More pics will come this week
PM me if you have any further questions or details regarding this thread. Thank you for your time in looking.
Cheers
Paul
OUT OF STATE BUYERS: I will not ship. You will have to make prior arrangements to pick the car up, cash in hand.
MODERATOR deleted last thread..thanks Jack hope this is better
All it could of taken was simply removing what you didn't like
so i removed it. Thanks for bringing it to my attn!!!