VEHICLE IS SOLD! THANKS NASIOC!
Up for sale is our beloved
2004 Subaru Impreza STi
(It is actually my Wifes, I'm still stuck with my 2003 WRX). Our family is growing and we'll need something a little quieter, a little softer and a lot larger.
All of the owners of this STi, ourselves included (we are the 3rd owners), have all been avid Subaru enthusiasts. As a result, this car has been very well taken care of for all of its 93k mile life and has been tastefully modified. This car get looks and comments at nearly every drive-thru and gas-station. New owner warning, be prepared to talk shop!
The car currently has
93k
miles (this car is weekend driven only, so expect this to rise a little). The paint is consistent with an 8 year old car, it still shines up nice, but the front is lightly peppered with small rock chips and the like but all of the other panels are VERY good. This is the original engine that came with the car, it has been spiritedly driven by the previous owners but always maintained accordingly, it runs smooth and strong. The vehicle is located in the far north Dallas area (Frisco/Little Elm, specifics will be provided via PM to those interested).
Asking $17,000 or throw me an offer.
As a bonus, I also have VERY rare AUDM Headlight covers to go with the car (they won't fit anything else I own). They are missing a small plastic piece that is needed to mount them but I think one could be fabbed up pretty easily.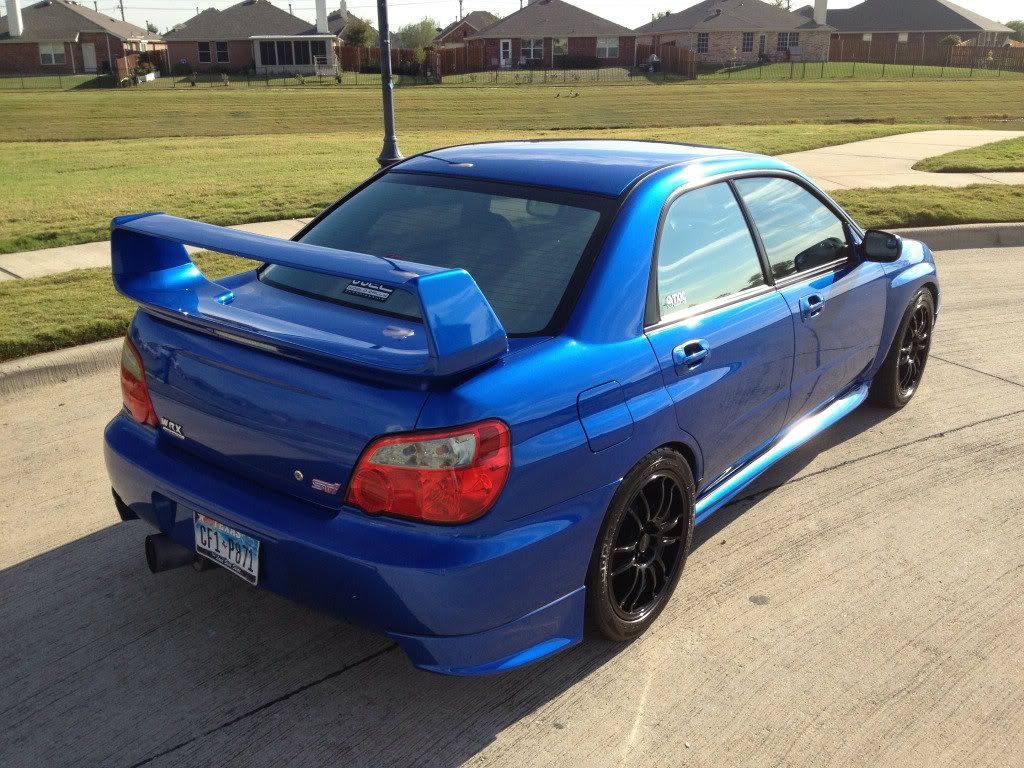 Modifications:
Engine and Drivetrain:
APS Cold air intake
Samco MAF hose
Samco turbo inlet hose
Stainless clutch line
Radiator shroud
Cusco JDM catless downpipe*
HKS Carbon Ti catback exhaust
Agency Power lightweight crank pulley
Cobb Accessport engine management (Protuned by PDX Tuning)
Greddy catch-can
Cobb urethane exhaust hangers
Handling and Suspension:
Drag DR-38 17x8 Wheels with Blue accent line.
BFGoodrich G-force Sport tires 235/45/17 - with a healthy amount of tread left.
Tanabe GF210 lowering springs
Cusco subframe brace
Generic rear strut tower brace
Generic H brace (not currently installed, will be included)
Whiteline rear transmission bushing
Rolled fenders to accommodate wider tires
Appearance and Audio:
Viper alarm with remote start
OEM optional Fog lights and shroud.
JDM Pink I badge front
Rear JDM aprons
Kartboy short shifter
Autometer EGT gauge
Autometer boost gauge
Gauge cluster
Rare Subaru JDM STi version 8 front lip (damaged)*
Rare Subaru JDM rear spats
Pioneer DEH-P500UB MP3 head unit with USB input, Apple connector for iphone and ipod currently connected.
Soundstream 600W amplifier
Infinity tweeters
Painted mirror mounts (sexy)
Hood struts
OEM stock fog covers/deletes (not installed, but will be included)
Other good stuff:
new brake pads.
new front wheel-bearings and hubs (professionally replaced by Cobb Tuning)
Newly replaced A/C compressor high-side and low-side O-rings. No leaks and blows very cold.
The bad:
The rare JDM STi front lip is damaged and the paint is peeling on it due to poor prep-work when it was painted. It could possibly be repaired by an experienced body shop. This was how we got it, and never got around to fixing it.
This STi suffers from the very common STi strut-clunk, it is unnoticeable at highway speeds but around town it makes a little noise. It does not affect the handling of the vehicle.
Trunk latch from inside the car is defunct and must be opened with the key on the outside, it is common for the release cable to stretch in the STi. This can likely be fixed by a collar and set-screw.
The car is due for a clutch replacement, It runs and drives fine (again daily driver) but on boost it slips, we've taken this into account and reflects on our pricing.
The downpipe is JDM and as a result doesn't fit the car as well as it should, it occasionally taps the body, a good muffler shop should be able to fix it up easy.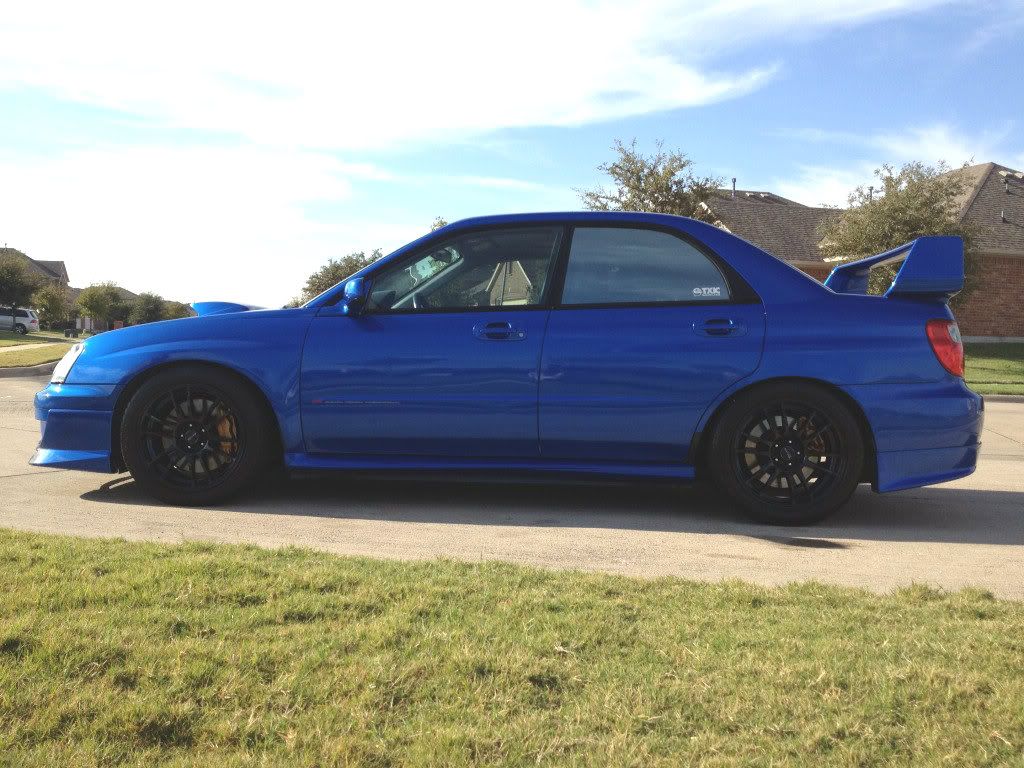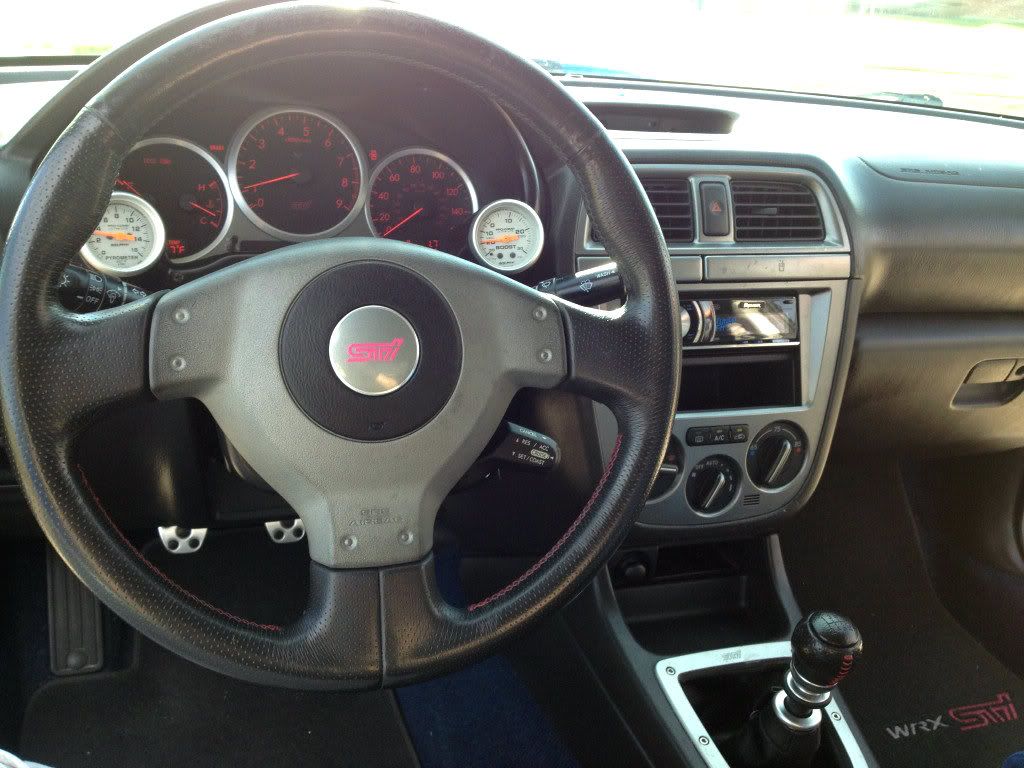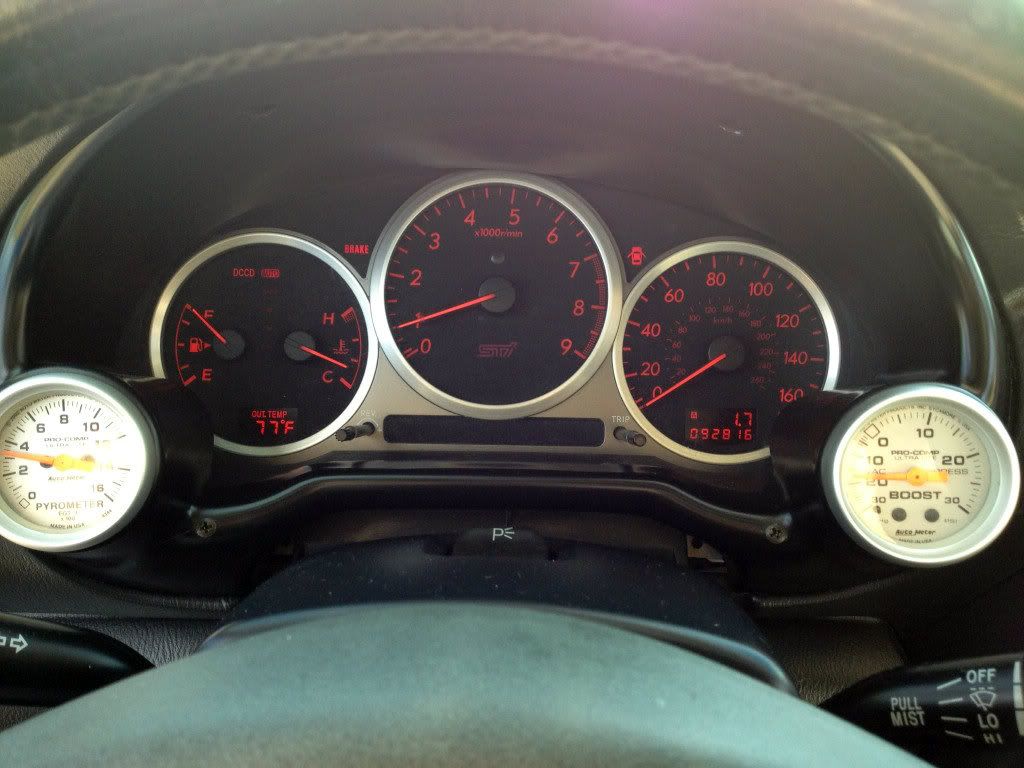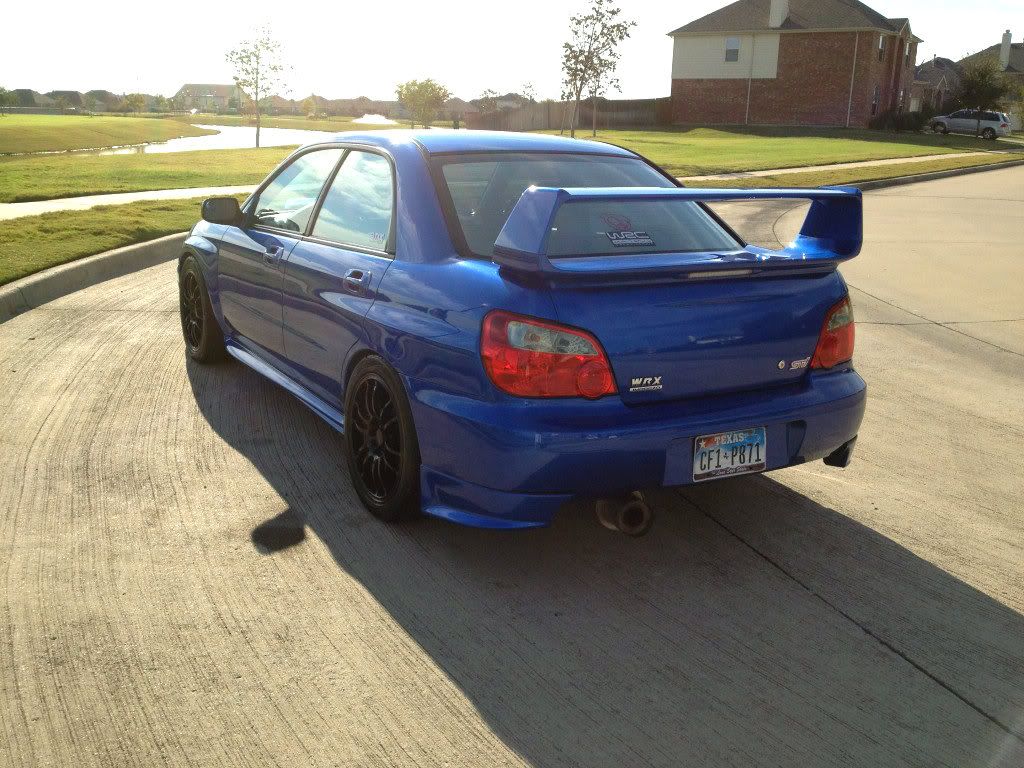 Thanks for your interest.