Shop: Motion Lab Tuning
Dyno Type: DynoCom FX5000-AWD
Temp: 55F
Boost: 17psi
Fuel: 93OCT
Target AFR: 11.5:1
SAE Corrections: Default Corrections
Peak HP at RPM: 285whp @ 5950 RPMs
Peak Torque at RPM: 314wtq @ 3800 RPMs
Transmission: Stock 5 speed
Gear: 3rd
Engine Management: Cobb V3 Accessport w/ Speed density
Engine/Power Modifications:
Invidia Divorced WG HFC Downpipe
TOMEI Titanium catback exhaust
Perrin Performance cold air intake
Stock TMIC
Stock boost controller
Cobb V3 Accessport
Had a few GR WRX come in Friday/Saturday last week for some installs and tuning, one sedan and one hatch with very similar mods. The biggest difference was one had upgraded to the Process West TMIC and 3port EBCS, the other kept these items stock. This one was a 2013WRX hatch that came to us to throw on some nice mods he had been collecting. Starting with the basics we installed his Perrin Performance cold air intake system, TOMEI Titanium catback exhaust, and Invidia catted downpipe. He also had us throw in his Cobb short shifter set-up including the front and rear bushings. Overall a great starting point for this clean Satin White Pearl WRX. Tuning was done through the excellent speed density software available through the Cobb accessport. We kept the boost mild to make sure we had reliability with the OEM TMIC. Unfortunately the GR WRX TMIC have a problem with the plastic end tanks separating from the intercooler core at higher boost pressures. I will post up a 2011WRX we did the very next day that had the Process West intercooler to show the difference just one part can make on a stock turbo set-up like this. Still, you can see that quality parts made for good results on the dyno even at the somewhat modest boost level.
Final HP/TQ with AFR and boost graph: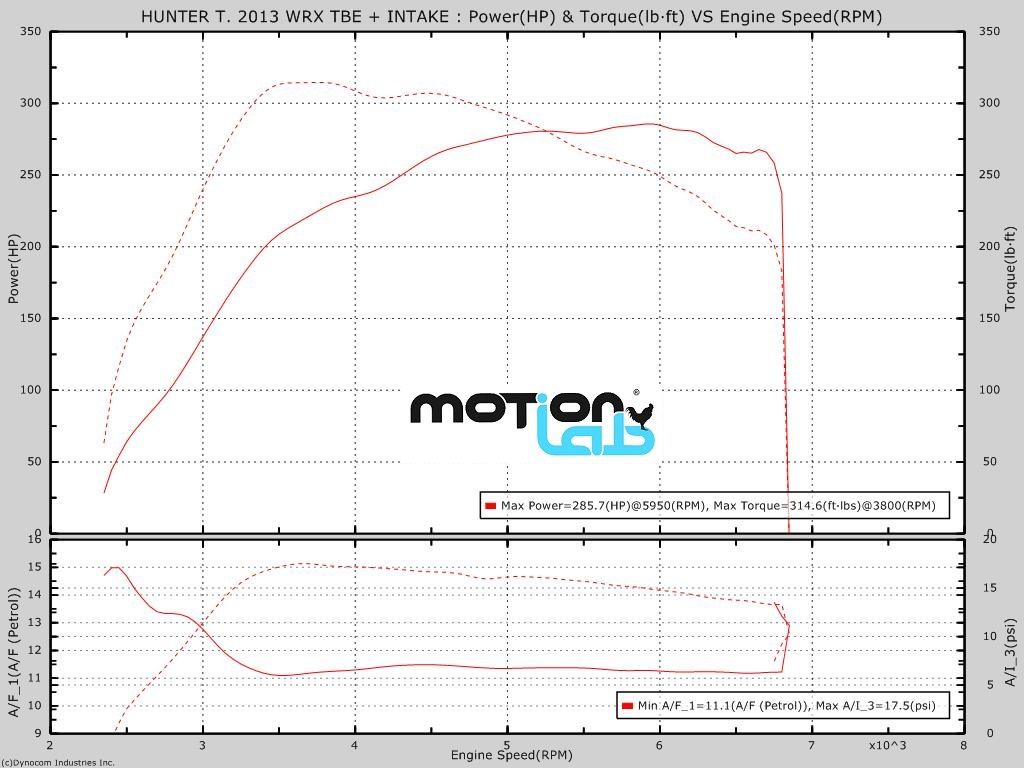 Thanks for looking!
Alex Goodwin
[email protected]
MotionLabTuning.com - Engineering Performance
Motion Lab on Instagram