I recently purchased one of these from eBay, knowing that it was not a true STi product. I needed a shift knob to accommodate the lock-out ring on my 6MT swap, but didn't have the money for a Lathewerks so soon after buying the STi driveline.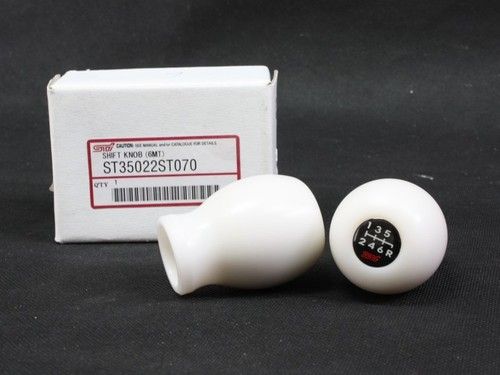 For $11 shipped from China, I am 100% satisfied with the purchase. If I had paid $30-50 plus shipping, believing it was a genuine STi part, I may have been disappointed in myself, but I still would have no complaints about the shifter.
The shifter has a matte finish with very fine tool marks indicating it was cut on a lathe, rather than being molded. There were still a few shavings in the threads from when it was tapped. I actually picked at the shift pattern sticker a bit to see if it needed more glue, but couldn't get a finger nail under it. When the knob was tightened down on the shifter it completely covered the threads and allowed for full movement of the lockout ring.
Before ordering the shifter, I had read on a couple of subie forums that the sticker falls off. At this time I have not experienced that issue. If it does happen in the future, I plan to rough the surface with some sand paper and use some decent glue.
Another complaint, I have read, is that some shifters had the threads cut to deep and fully tightening interfered with the movement of the reverse lock out ring. Most of the users with this issue quickly figured out that material could be added to serve as a spacer before threading the knob onto the shifter. Luckily, for me, the one I received fit 'just right'.
I am sorry to hear that a few people were disappointed in the performance of their $10-20 shifter. If you are looking for a perfect fitting, weighted shift knob with an engraved shift pattern and a company that stands behind it's product, checkout WC Lathewerks. From what I have seen and read that dude does great work. Honestly, I plan on buying one from him when my budget allows. If you need a decent shift knob at a competitive price this ebay part should do fine. I think most of the complaints about this ebay piece came from people who haven't been using the stock bugeye shifter for the last decade. I'm wishing I'd dropped the $11 years ago to replace my crap Subaru 5MT shift knob, with this more than adequate ebay piece.